The Real Reason Shop Owners Are Boycotting Etsy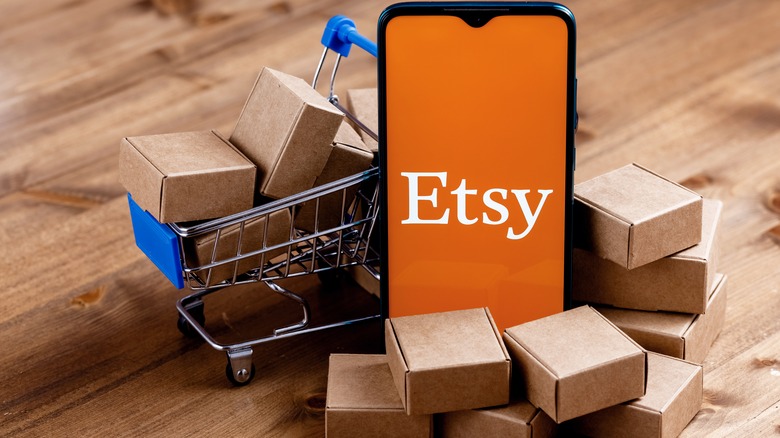 Sergei Elagin/Shutterstock
Who doesn't love to have a good browse around Etsy, the e-commerce platform that supports independent artists and creators? Etsy is the perfect one-stop-shop for a personalized gift or the finishing touch for any room of your home. 
Incredibly, since its launch in 2005, the company has grown from a small operation based out of an apartment in Brooklyn to a multi-billion dollar enterprise that serves 90 million customers (via VentureBeat and Entrepreneur). Of course, the lifeblood of the e-commerce mega-store are the so-called shops that sell things like t-shirts and wooden signs to discerning buyers. And it seems these are the very folks who are not happy with Etsy as they are banding together to strike against the company. 
According to WKSU, as many as 13,000 shop owners will strike today, Monday, April 11, 2022 and refuse to process transactions on the site in protest of a new fee they see as excessive and potentially-damaging to their businesses. The fee, which accounts for a jump from 5 to 6.5% of sales, ultimately a 30% seller transaction fee increase, is so disruptive in the view of Etsy shop owners that it has spurred a Coworker.org petition, demanding that the fee hike be cancelled all-together.
The Etsy strike is gaining traction on Twitter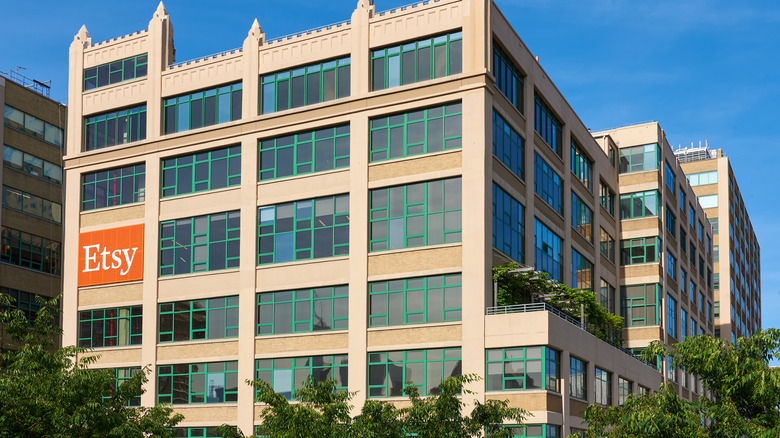 John Penney/Shutterstock
In the petition, the creator, Kristi Cassidy, notes that Etsy was a big winner during the pandemic, earning record profits. Now, she is asking the company to "work with sellers, not against us!" 
For its part, Etsy is defending the seller transaction fee increase, saying in a statement, "Our sellers' success is a top priority for Etsy" (via WKSU). The statement continued by assuring sellers that the company is receptive to feedback, going on to assert, "We are committed to providing great value for our 5.3 million sellers so they are able to grow their businesses while keeping Etsy a beloved, trusted, and thriving marketplace." But the statement also defended the fee hike.
Etsy shop owners are using Twitter to spread the word about their protest of the new rate to sell their goods, with the strike trending on the social media platform. "THIS WEEK DON'T CROSS THE PICKET LINE #EtsyStrike," one tweet reads. "I am 1,000% joining the #EtsyStrike and will also close my shop. I support and appreciate other creators who are striking," someone else declared.
Other similar tweets cited the "corporate greed" of Etsy as the reason for deciding to close their shops. The strike is currently planned for one week.