Do RPDR Queens Know Who They Are Competing Against Before Filming?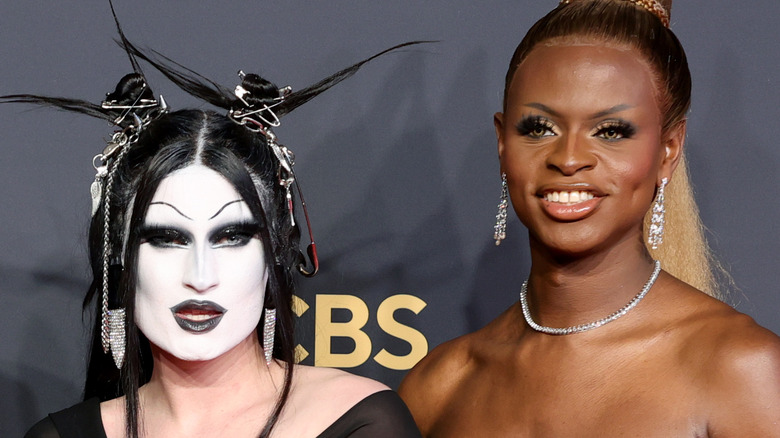 Rich Fury/Getty Images
The production team behind "RuPaul's Drag Race" runs a tight ship. Once queens are invited to compete on the competition reality series, they prepare all of their runway looks and fly to California for filming — this aspect of the show has been controversial, with some feeling the runway outfits have commercialized the show (via Paper) — but when they arrive, they're ushered away in secrecy so that the public doesn't know who's competing. After all, the production team wants to have an official Ruveal for each season's cast to officially mark the beginning of "Drag Race" season. Ah, our favorite holiday.
Naturally, this means the production crew blindfolds the queens upon landing before escorting them to the hotel at which they'll stay during the course of filming (via The Tab). All of this also means that the queens' cell phones and other Internet-capable devices are confiscated once they land so that they can't interact with the outside world or cheat during filming. "Drag Race's" producers also ensure queens don't sneak out, though queens like Shangela have successfully done so throughout the years.
Still, one question remains: Are the queens' introductions to each other in Episode 1 of each season genuine, or do they know who they're competing against before the show begins?
The queens technically shouldn't know who's competing with them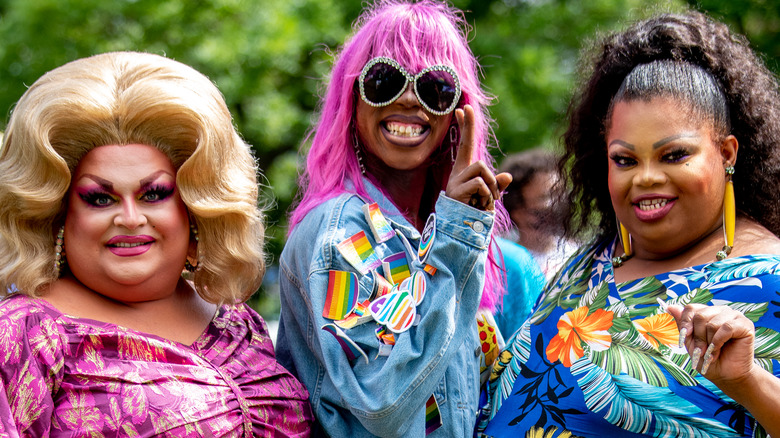 Roy Rochlin/Getty Images
Of the many "RuPaul's Drag Secrets" we're not supposed to know, perhaps one of the biggest is that the queens competing on each season aren't supposed to know who they're competing against, but sometimes do. After all, while the drag scene has grown alongside the show's trajectory, it's still not a massive market, with queens across the country, nonetheless the world, knowing each other.
World of Wonder, the production company that brings "Drag Race" to our televisions each week, made this clear when they posted in 2016 a short documentary-style video capturing the queens of "All Stars" Season 2 the day before the show started filming. Published on YouTube, the video sees fan-favorite queens like Alaska and Katya saying that they don't know who they'll be competing against the next day but that they're excited to see who World of Wonder and RuPaul have chosen. 
Still, some queens correctly guessed other contestants, including Phi Phi O'Hara saying, "I'm sure Katya, because who doesn't love Katya? I'm sure she's here." O'Hara went one step further and even advocated for her, adding, "Is it bad to say that, even though I'm competing, I'm kind of team Katya?" 
Ultimately, as The Tab puts it, the responses each queen has to their competitors when they walk into the werkroom one by one is real, as they aren't supposed to know who else is competing. Still, there's no ruling out that word of mouth hasn't spoiled who else is competing before filming, especially with queens often using the same designers and hair experts.