Joe Biden's Speech Gets Interrupted In A Hysterical Way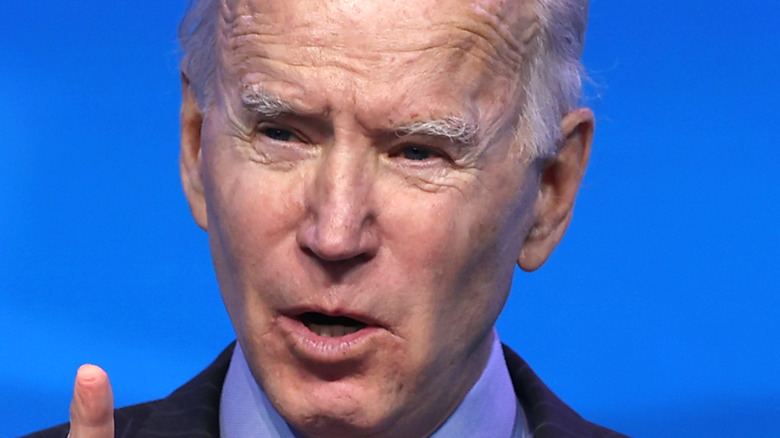 Chip Somodevilla/Getty Images
It seems like a simpler time but, per The Guardian, for one brief, glorious moment, a fly landing on Mike Pence's head mid-debate brought everybody together. The Republican vice-presidential candidate was facing his democratic opponent, Kamala Harris, when the bizarre moment occurred. 
The funniest part was that Pence didn't seem to notice the fly, which sat happily in place for a good two minutes. "Flies" soon trended on Twitter, as users scrambled to create memes about the incident. In fact, there was even an account dedicated to the cheeky little insect.
Impressively, the Biden-Harris campaign seized on the opportunity to catch prospective voters' attention by launching a fundraising appeal with the prompt, "Pitch in $5 to help this campaign fly." 
Harris, meanwhile, discussed the incident during an appearance on "The View," according to the Los Angeles Times. Co-host Whoopi Goldberg, who is currently taking a break from "The View" for a short while, gleefully asked what the politician's take on the biggest talking point of the debate was, to which a laughing Harris reasoned there were more important issues to discuss. 
"But I appreciate the question," she acknowledged. The history-making VP might find herself at the center of a similarly awkward line of questioning shortly, however, given what just happened to President Joe Biden.
Does this bird speak for the American people?
President Joe Biden got the worst response to a recent speech in Iowa when a bird seemingly defecated on him. According to the New York Post, Biden was in the middle of a rousing address about rising inflation costs when a white spot appeared on his suit.
The president continued to speak, unaware of the white splotch sitting just above his American flag lapel pin, and he subsequently chatted amiably with guests, none of whom, it should be noted, embarrassed Biden by pointing out the stain to him. 
Naturally, a clip of the instantly iconic moment is currently doing the rounds on Twitter. The commander-in-chief was standing next to a massive corn silo at the time, so there were also cries of "Fake news!" from certain corners. "If you guys knew your way around a corn silo at all, you'd know it was corn," wrote White House Communications Director Kate Bedingfield. 
Either way, the president's critics used it as yet another example of how Biden is letting Americans down. "Even the birds know," quipped serial tweeter Donald Trump Jr. "That bird speaks for anyone who's filled their tank or gone shopping in the last 18 months." 
This is the second time in as many weeks that the president has attracted online attention for all the wrong reasons. Biden recently went viral for looking lonely in a video that was extensively shared on Twitter.