Khloé Kardashian Admits To Huge Photoshop Fail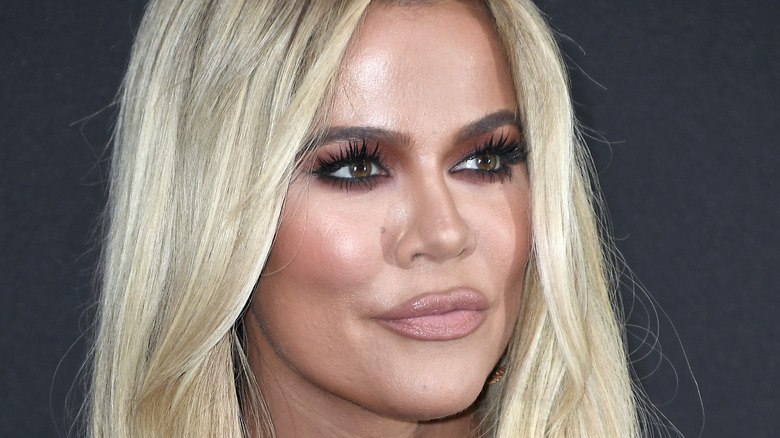 Frazer Harrison/Getty Images
Another day, another Kardashian photoshop fail, but this time, Khloé is coming clean. Of course, the mom of one is no stranger to being accused of altering images on Instagram. A notable recent example saw fans scratching their heads over her creepily-elongated fingers. The star denied having photoshopped the pictures in question, just like Kardashian also pushed back against rumors that she got butt implants after people had thoughts about how her rear end looked in workout posts (via People).
But this time, the Good American mogul is sheepishly admitting her daughter, True Thompson, who recently celebrated her fourth birthday with both of her parents in attendance at a lavish party, was photoshopped into Disneyland pictures.
It was actually Kim Kardashian who posted the offending images to her Instagram several months ago. In the series of shots, we see her daughter, North West, seemingly enjoying the park with her cousin, True. Several fans blasted the former "SNL" guest host for photoshopping the images. A TikToker actually went viral for calling out the blurry photoshop fail and pointing out that it was actually Stormi Webster — Kylie Jenner's daughter with Travis Scott — whose body was used in the photos with True's head.
But it's only now that Khloé has been caught red handed.
Khloé Kardashian tries to have a sense of humor about the photoshop fail
Although the TikTok video in which a creator pieced together the Disneyland photoshop fail is months old, it's only now that the admission the images were altered is coming out, and only because Khloé Kardashian just found herself caught in a lie.
In an Instagram Story posted this week, the star shared footage of herself and her daughter at the California theme park about to start their ride on Small World and can be heard saying, "This is True's first time to Disneyland!"
But wait, wasn't she there with her cousin North West already?
"Welllppp I [messed] this one up," the youngest Kardashian sister tweeted after being called out about her mistake. And then, she did what the family seemingly does best and used the mess-up as an opportunity to promote their brand. "Anyways..... let's focus on something else. Our show airs in a few days," Kardashian added.
Fans are left wondering why this even happened, with many commenting on the original TikTok that the point was to get people talking. Mission accomplished, we guess!