Why Khloé Kardashian's Hands Have Fans Scratching Their Heads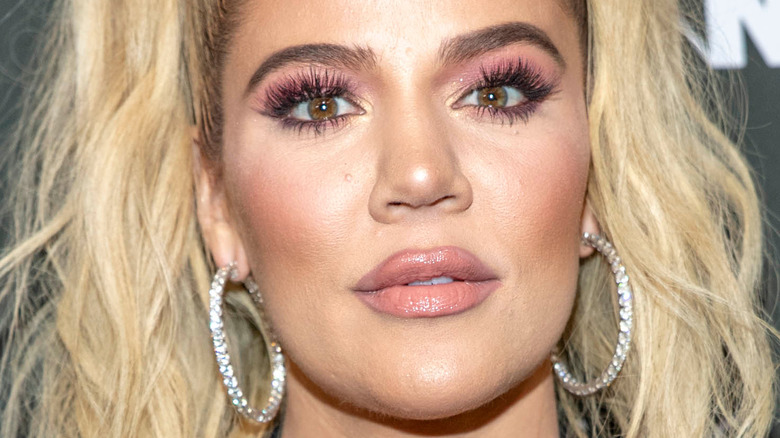 Eugene Powers/Shutterstock
Another day, another Kardashian photoshop fail being alleged by fans. This time, the controversy is swirling around Khloé Kardashian's hands. Recent Instagram images of the star seem to showcase especially-elongated digits. And not surprisingly, her devotees are not letting anything get past them, taking to Twitter to debate what is going on with her super-stretched hands.
The photos in question were posted by Kardashian in recent days. One post of the reality star has her hand resting on her neck and while the picture is truly lovely, the length of her fingers has caught the attention of many fans. Another image is promoting the star's Good American clothing line, but again, seems to also feature fingers some say are kinda freaky. Maybe it has to do with the claw-like fingernails she is sporting? Twitter was ready to debate the issue.
"Khloe Kardashian's hands look like the hands of what I imagine lives under my bed and grabs my ankles in my sleep," one person joked. And it only got more brutal from there.
People are seriously fascinated with Khloé Kardashian's hands
Twitter was not done having its fun with Kardashian's hands. "Khloe got hands like the Dark Lord," one person said. "Khloe kardashian really a shapeshifter, she forgot to change her hands," tweeted another person. Someone else pointed out that in another recent image the color of her skin seems to have been altered. "Something about khloe hands not matching her face is bothering me... why it look like somebody put acrylics on a raw chicken foot," the Twitter user commented.
No matter how much finger flack she may have received online, Kardashian was at the ready with a comeback (via Us Weekly). When one follower suggested she hide her hands, the star commented, "Lol never. My hands are beautiful baby."
And, the good news is that no matter how mean the internet was about her hands, the star has her fair share of supporters behind her, with one person saying, "Amazes me people find anything to pick you apart! Flaunt those hands! The world is cruel!"