Hailey Bieber Unleashes On Selena Gomez Fans In New Video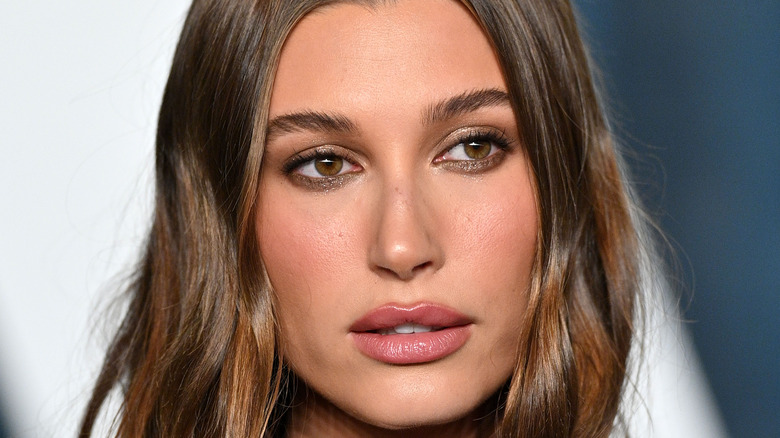 Lionel Hahn/Getty Images
Hailey Bieber has had enough. In a new TikTok, the star is speaking out against trolls that leave mean comments on her social media. And let's just say the model isn't beating around the bush, but rather sharing a very direct message for anyone who's "miserable" in her community.
"Leave me alone at this point," Bieber says in the now-viral TikTok, which shows Justin Bieber's wife wearing a comfy tee-shirt and her glasses, seemingly addressing her followers from her bed. The 25-year-old went on to assert that she's minding her own business, meanwhile captioning the video, "this is for you guys in my comments every single time I post."
It's assumed of course that Bieber is talking directly to Selena Gomez fans, who are known to disparage her relationship with her husband (via Page Six). As the world knows, the "Peaches" singer, whom she wed in 2018, famously dated the actress on and off starting all the way back in 2010 (via People). That's right — more than a decade ago, when the stars were just teenagers.
But as the Los Angeles Times reports, the young couple didn't break things off for good until 2018, and their split ended with Gomez accusing Bieber of emotional abuse.
Hailey Bieber has just one request
America's favorite relationship did not end on a good note. Selena Gomez said in a 2020 NPR interview about walking away from Justin Bieber for good, "It's dangerous to stay in a victim mentality. And I'm not being disrespectful, I do feel I was a victim to certain abuse."
Despite the fact that these shocking comments left fans with a lot of thoughts, Hailey Bieber thinks it's time for them to let go. "Enough time has gone by," she said in her new TikTok after pleading with social media trolls to leave her alone repeatedly. She added that this is her only request. "Be miserable somewhere else," the beauty brand founder ended her video by imploring.
Comments to Bieber's video address to Gomez fans were largely supportive of this very direct message. "You don't know how much I've been waiting for you to do this," one person applauded the star. Meanwhile, someone else noted, "Idk Selena, but i'm pretty sure she would agree with her."