New Video Of Megan Fox And Machine Gun Kelly Proves Their Honeymoon Phase May Be Over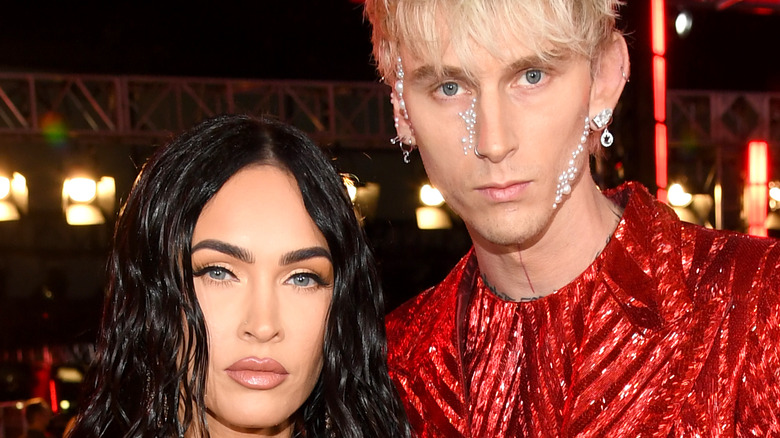 Kevin Mazur/mtv Vmas 2021/Getty Images
All relationships have their ups and downs. After all, nothing is quite like it seems on Instagram. But since the beginning of their relationship, it did seem like Colson Baker, AKA Machine Gun Kelly, and Megan Fox's relationship has been all highs. The pair were seen making out on red carpets and posting intimate photos on Instagram over the course of their two-year romance. Heck, they even took it to the next level by getting engaged and drinking each others blood (via Instagram). That's a good thing in the world of Fox and MGK, by the way. Now it's coming out that everything might not always be as great as it seems.
Celebrity love goes through phases in general. There's the phase of the couple names, where couples like Jennifer Lopez and Ben Affleck's "Bennifer" nickname became a thing. There's even the lay-low and love phase, where celebrity couples stay out of the public eye, as shown by Beyonce and Jay-Z. Lately, the celebrity PDA phase has been alive and well, and MGK and Megan Fox have been co-presidents of the club. 
When we say that these two are all over each other at all times, we mean it. Everything that they do is uniquely intimate. She's grabbed his crotch on the red carpet and they've stuck their tongues down each other's throats for the cameras (via Cosmopolitan). Now it seems like that phase might be over.
Megan Fox might be over PDA with Machine Gun Kelly
The world is used to these twin flames showing up to events attached to each other in every way possible. Quite literally, they even wore attached pinky jewelry for a nail event once (via The Cut). But apparently they showed up in very different spirits for their latest red carpet. According to Page Six, Megan Fox seemed to want nothing to do with Machine Gun Kelly's PDA at the 2022 Daily Front Row Awards, and there's a video to prove it. 
The video, shared by Footwear News, shows the pair lining up to walk down the red carpet together. Instead of their typical hand holding and tongue licking, Fox can be seen dodging MGK when he comes up next to her. He was caught smiling in the background, but her stone-cold face makes it look like she is not having anything to do with his antics. Either the car ride over didn't go so well or she might be ready to move on from the PDA.
Of course, the video is not proof that their relationship is in shambles. If anything, it is somewhat refreshing to see that the A-listers are a normal couple with their own ups and downs. Their relationship seemed almost too good to be true for a while. Some people even suggested that it was a PR stunt (via CCN). This video, if nothing else, proves that the lovers are human like the rest of us.
Fans can relate to Megan Fox's feelings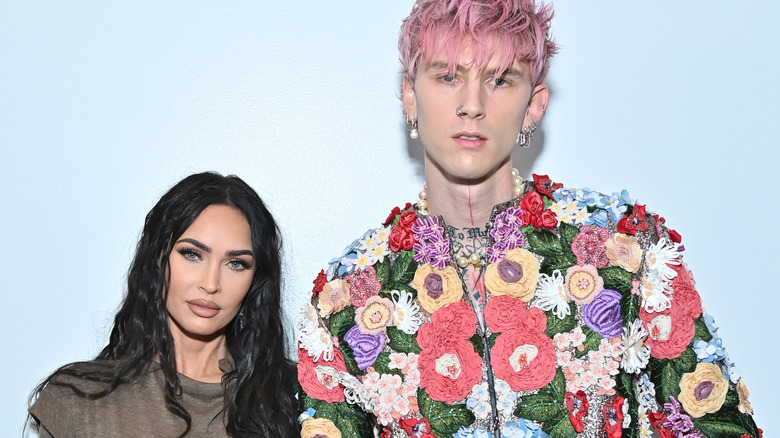 Stefanie Keenan/Getty Images
While not all of us can relate to intense make outs on the red carpet, we have all experienced a time where we just weren't having it. Instagram is going crazy with comments about Megan Fox's attitude toward Machine Gun Kelly in the video (via Page Six). Overall, some people seem to really relate to the vibes that the actress was putting off. 
 "Megan not here for his shenanigans," one Instagram comment read with a crying face emoji next to it. Another stood in solidarity with Fox. "We've all been there," they wrote. Honestly, these comments are pretty spot on. It's not uncommon for couples to have a moment or two where they aren't in sync. Just, you know, it's not always on the red carpet with tons of eyes watching. 
Some fans are even attributing the attitude to Fox's zodiac sign. "She's such a Taurus," one Instagram comment read. "I do the exact same thing when I'm not feeling it with my man." Fox and MGK are both Tauruses, so there's a good chance he understood her mood.
Either way, we hope all is well in the couple's world, and they head back to their usual blood-swapping selves soon.