What We Know About Jennifer Lopez And Ben Affleck's Starbucks Snafu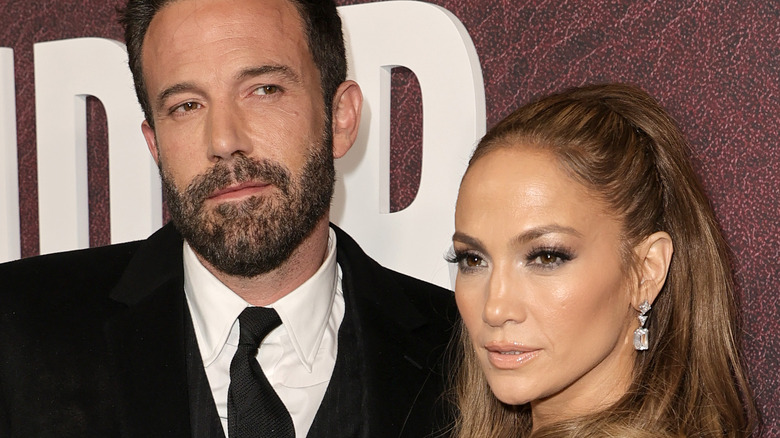 Kevin Winter/Getty Images
Are we going back to 2004? Of course this was the year that Jennifer Lopez and Ben Affleck broke off their engagement, reportedly because the stress of living out their relationship in the press got to be too much. As the singer said on "The Graham Norton Show" in 2010, their romance "did suffer" over the intense media spotlight cast upon them at the time.
Now, Bennifer is giving love another try, with Affleck having proposed to Lopez for the second time just recently — and with a huge and very rare green diamond ring, no less (via People). Did we mention the proposal took place while the actress was in the bubble bath? And that Affleck's ex, Jennifer Garner is reportedly totally cool with it? But we digress.
The matter at hand is it seems the press is back to hounding the A-list duo. In an incident that took place on Wednesday, not only was the couple's privacy a casualty, but also a Starbucks sign had to suffer. 
According to TMZ, paparazzi was on hand when the Oscar winner drove up to a West Los Angeles Starbucks. The outlet reports that the "Argo" director struggled to make a turn and a sign announcing today's coffee specials got pinned between Affleck's expensive vehicle and the "Drive Thru" sign.
Meanwhile, the actor, Lopez by his side, looked very nonplussed.
But Jennifer Lopez doesn't drink coffee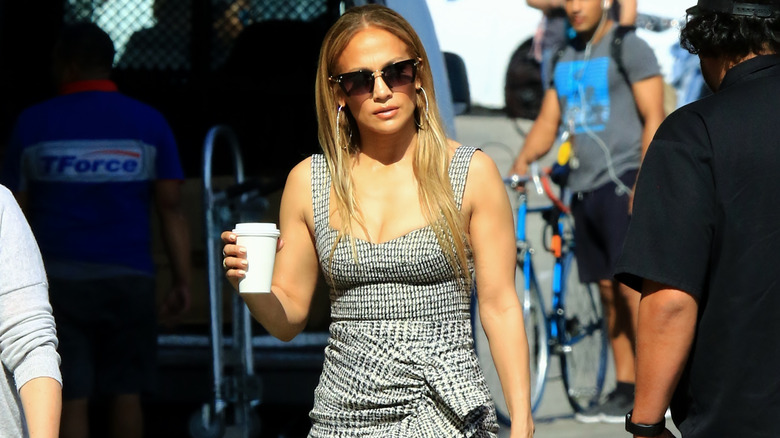 RoidRanger/Shutterstock
TMZ filmed Ben Affleck and Jennifer Lopez attempting to get a caffeine fix in private, but also showed a paparazzo help the star pry the sign out of the wheel of his car. So maybe it was a good thing photographers were on hand to click away while the two Hollywood icons did a simple errand?
Meanwhile, it's worth noting that the "Marry Me" actress is well-known for sticking to a very specific diet that eschews both caffeine and alcohol (via Cheat Sheet). It's most likely the couple was at the L.A. Starbucks to order a coffee for Affleck, who TMZ reports was also smoking a cigarette at the drive thru.
In fact, the "Good Will Hunting" writer is so into coffee, People even devoted an entire slideshow to photos of him with beverages from Dunkin'. Page Six published a story that shows the multitude of times that Affleck has even had the fast food restaurant deliver coffees to his house. And we're guessing after this latest Starbucks snafu, the actor will go back to that mode of caffeine acquisition.