Jersey Shore Star's Stressful Life Circumstances Land Her In The Hospital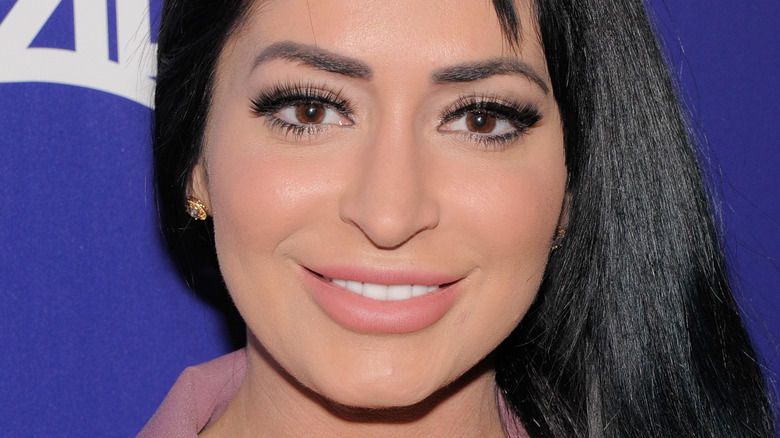 Ron Adar/Shutterstock
While "Jersey Shore" alum Angelina Pivarnick struggled to stick with the group during the first iteration of the franchise, she's become a fixture of the updated "Jersey Shore Family Vacation." Fans of the MTV reality show even had the chance to watch Pivarnick wed her longtime friend Chris Larangeria during an early season of the reboot (via In Touch Weekly). 
Since their dreamy wedding, the duo's deep feelings for one another have dwindled. On January 20, 2022, Larangeria filed for divorce from Pivarnick because of "irreconcilable differences." Though casual followers of the reality stars were upset to learn of their split, hardcore viewers of "Jersey Shore Family Vacation" can recognize it was inevitable.
During a June 2021 episode, the 35-year-old revealed that their marriage had its cracks. She told her costars, "It's, like, we'll fight, and then whoever starts the fight won't want to bang. So he don't want to bang, I don't want to bang, no one wants to bang." Shen then added in a confessional, "Honestly, I don't know if we can get the spark back in our relationship. And that's not a good thing." While Pivarnick and Larangeria may discover that they're ultimately better off without one another, the stress of their unsettled divorce is taking a toll on the former (via Page Six).
Angelina Pivarnick is 'not doing well'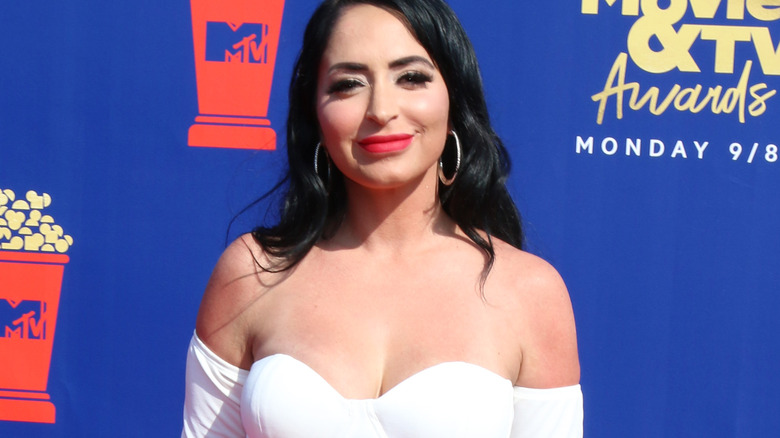 Kathy Hutchins/Shutterstock
The stress from Angelina Pivarnick's split from Chris Larangeria has landed the Staten Island star in the hospital. Pivarnick revealed on her Instagram Story that her current health complications are directly related to her divorce. "My immune system's been super low from all the stress I've endured the past couple of months. I wish this pain on no one in this entire world," she explained (via Page Six). "I hope this too shall pass and I hope brighter days are ahead of me. Stress is definitely a killer." Pivarnick also shared a video of herself in her hospital bed, IVs emerging from each of her arms.
Despite her current situation, the influencer knows that she will get through this difficult time. She assured her followers that there are good things in store for her if she just sticks it out. In fact, she closed her post by saying, "I have been keeping prayers and god closer than ever and I know he's got big plans for me. I love you, God" (via Us Weekly). 
According to the Daily Mail, Pivarnick has faith in her recovery, with her saying, "I need to get better. My health comes before everything else." We're definitely pulling for Pivarnick to make it to the other side of this trial, and we're always interested to know what our favorite "Jersey Shore" personalities are up to, including Snooki, who is worth less than you think.