Insider Reveals If Charles Would Be Willing To Have Meghan And Harry Return To The Royal Family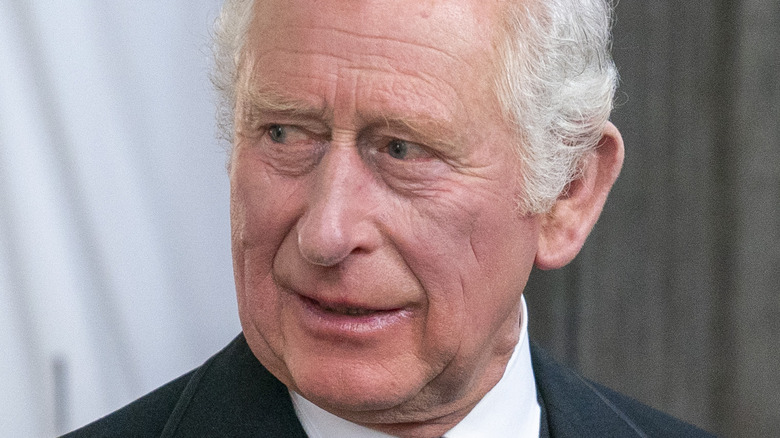 Wpa Pool/Getty Images
The past few years have been full of major changes for the royal family, despite Queen Elizabeth still being alive. If anyone was expected to exit the royal focus, it was the queen herself, at least in terms of duties carried out on a full schedule. Instead, her son, Prince Andrew, and grandson, Prince Harry, made their exits from the family.
Andrew's circumstances for leaving official royal duties differ greatly from Harry's. The disgraced Duke of York recently settled a lawsuit with Virginia Giuffre, whom he met through his friendship with convicted sex offender Jeffrey Epstein. Giuffre alleged she was forcibly coerced into having sex with Andrew, fearing what would happen if she didn't comply because "of their powerful connections, wealth, and authority," per The New York Times. Giuffre was a minor at the time of the alleged incident.
Many wondered what Andrew escorting Elizabeth to Prince Philip's memorial six weeks after the lawsuit's settlement meant, if this was a sign he was being welcomed back into the firm, as the royal family is called. One royal expert told People that it was the queen's way of showing she believes her son and stands by him, citing the recent announcement she made about Camilla Parker Bowles being queen having a similar effect. Robert Jobson, author of "Prince Philip's Century," told People, "As she did when she made a statement about Camilla being Queen's Consort, many people will now accept the Queen's word and judgment."
But many are wondering if Andrew has been welcomed back, and what this means for Harry and Meghan Markle.
Harry and Meghan could return to the royal family once Charles becomes king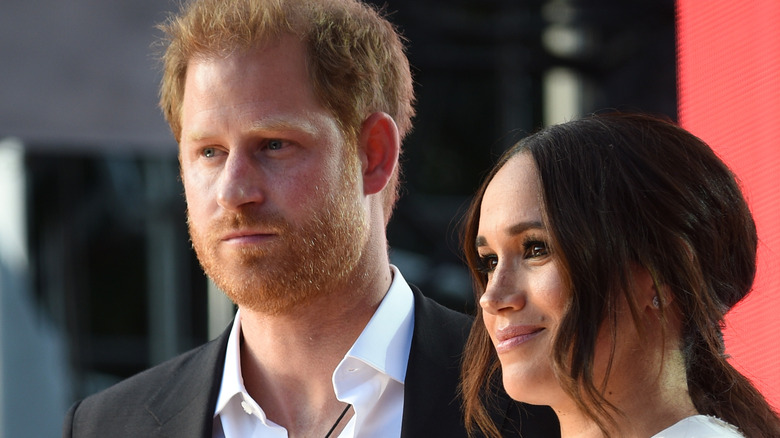 Kevin Mazur/Getty Images
When it comes to Prince Andrew and Prince Harry, there's a division among senior royal family members on whether either should be welcomed back in any official capacity. For Prince Philip's memorial, a source told People the rest of the royal family was strongly against Andrew being at the memorial, let alone in such a prominent role as escorting the queen.
When Prince Charles finally ascends the throne, however, royal experts believe the family dynamics are going to change, at least where Harry is concerned.
While there have been rumors of a continued strained relationship between Harry and Charles in the wake of Harry's exit and explosive interview with Oprah Winfrey, one source told the Daily Mail that, despite the tension, the two were actually in "regular contact."
This continued contact is being seen by some as an attempt to repair their relationship. Tom Quinn, author of "Scandals of the Royal Palaces: An Intimate Memoir of Royals Behaving Badly," told Us Weekly that he thinks this is because he believes Harry and Meghan Markle have changed their minds about wanting out of the royal family, at least full time. "I think Meghan and Harry are hoping ... Charles will be open to [them being] part-time royals, which is what they wanted from the start."
The amount of charity work the Sussexes have been doing is only going to help the royal family's image, especially as members continue to shift into taking a more active role in the charities they support. Time will tell what happens in the couple's future.