Did The Royals Regret Including Prince Andrew In Prince Philip's Memorial?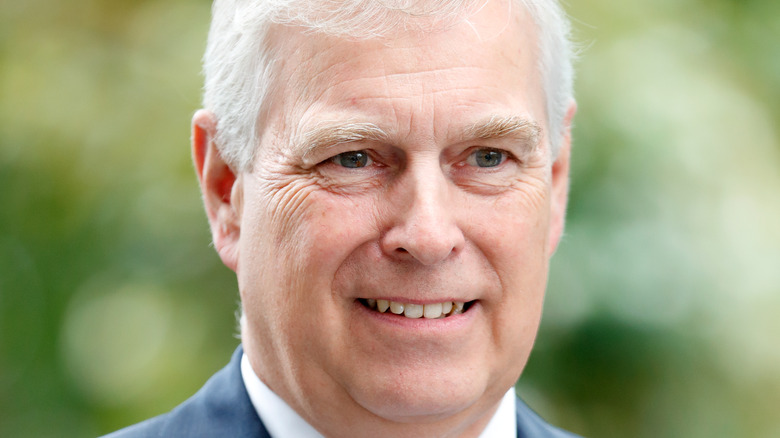 Max Mumby/indigo/Getty Images
Large family gatherings can sometimes be difficult. They can be even more fraught when you're part of Britain's royal family, and you spend a lot of time in the public eye. Even though Prince Andrew has a special relationship with his mother Queen Elizabeth, recently the queen has had to contend with unwanted media attention regarding her third child's behavior.
In January, the monarch formally removed Prince Andrew's "military affiliations and royal patronages," per NPR. The decision was in response to ongoing proceedings in a civil court case in which Andrew was accused of sexual abuse. Although he previously claimed willingness to appear in court and give testimony, the case was settled out of court in mid-February. As part of the settlement, Andrew paid an undisclosed amount, which was alleged to be millions of pounds, per BBC.
With the loss of his titles and the shadow of legal allegations, all signals pointed to Andrew retreating from public life. "This was always the only outcome for royal family in terms of damage limitation," says royal author David McClure (via Guardian). According to Vanity Fair, Andrew would not play an official role during the queen's Platinum Jubilee events.
However, while he's no longer a working royal, Prince Andrew has not remained out of the spotlight. On March 29 he made headlines again when he played a rather prominent role at his father Prince Philip's memorial service.
Prince Andrew stole the spotlight by escorting the queen to her seat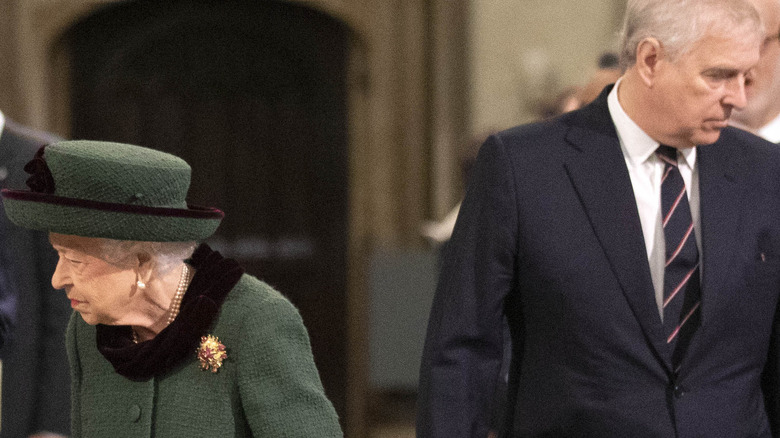 Wpa Pool/Getty Images
On March 29, approximately 1,800 people attended a service of thanksgiving to honor Prince Philip (via Daily Mail). The Duke of Edinburgh died in April 2021 at age 99, and — due to restrictions because of the COVID-19 pandemic — only 30 people could be present at the funeral, per CNN.
According to People, due to health concerns, Queen's Elizabeth's plans to attend weren't confirmed until the day of the service. However, Her Royal Highness was present and entered Westminster Abbey supported by her walking stick on one side and Prince Andrew's arm on the other. According to Daily Mail, David Hoyle, the Dean of Westminster, was supposed to escort the queen. Besides being an unexpected, unscripted change, members of the royal family were shocked at seeing Andrew in such a conspicuous position.
Express reported that Prince Andrew wanted to escort his mother from the start, but Prince Charles and Prince William didn't think it was a good idea. While the family believed Andrew should be part of family events, they didn't want him to attract unnecessary attention, given his recent court case. Onlookers also questioned if the action was a sign that Andrew might return to a more public role in the future, per Daily Mail.
A mother's love or a public endorsement?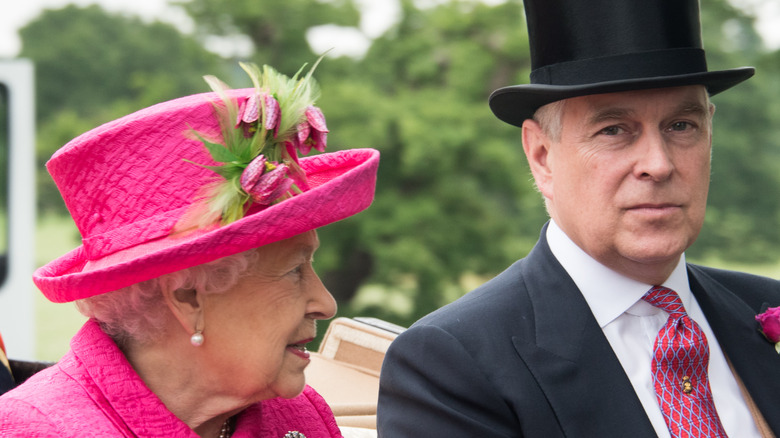 Chris Allan/Shutterstock
When Prince Andrew appeared with Queen Elizabeth on his arm, people wondered if the monarch was making a public statement. "You have to come to the conclusion that it was an opportunity for her to actively endorse her son, to point out that he hasn't been found guilty of anything," Peter Hunt, a former BBC royal correspondent, told The New York Times. Since Andrew's recent settlement involved allegations of sexual abuse, some spectators felt the incident marked a lack of sympathy for victims of these crimes, per Express.
On the other hand, Daily Mail pointed out that the arrangement makes sense if the queen wanted a family member to escort her. Unlike Prince Charles, Prince Edward, or Prince William, Andrew is divorced and did not have a partner at the service. Whatever the reasoning leading up to Andrew's entrance, his other relatives reacted coolly to his presence. According to Judi James, a body language expert, "there were no glances or even nods of greeting and no discernible eye contact" between Andrew and the other royals at the memorial (via The U.S. Sun).
Not matter what others think, the queen's relationship with Prince Andrew appears to remain steadfast. "It shows she wholeheartedly loves and believes her son," royal commentator Robert Jobson told People. "Even if he disappears from public life, he's been able to pay tribute to his father, who after all, was very proud of his service in the Royal Navy."