Why Martha Stewart Is Inviting People To Visit Her Home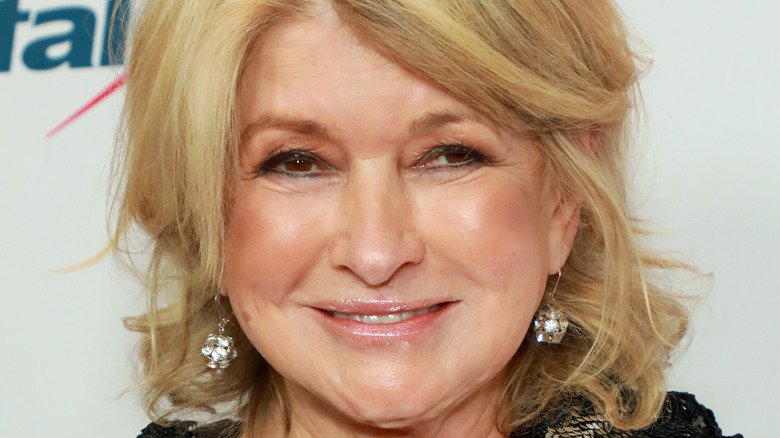 Jason Mendez/Getty Images
In addition to running her ever-expanding lifestyle empire, Martha Stewart spends a great deal of time focusing on passion projects. In 2006, the best-selling author founded The Martha Stewart Center for Living at New York's Mount Sinai Hospital (via Forbes). The 80-year-old started the holistic center to help progress geriatric care.
"This is an area where there is a huge sense of urgency, but urgency doesn't necessarily match the public focus," she said. Expanding on this mission, Stewart partnered with the hospital a second time to open another care center in 2019. Both centers, located on the Upper East Side and at Union Square, offer stress-reduction activities, yoga classes, tai chi instruction, and nutritional planning (via MarthaStewart.com).
Upon opening the second center, Stewart said, "From now until 2030, 10,000 baby boomers will turn 65 each day. This is the perfect time for leading academic medical centers and philanthropists to partner in improving care for this population and their parents." 
In order to fundraise for the organization, Stewart revealed on Instagram that she's hosting a tag sale at her home — featuring her personal belongings — and donating the proceeds to The Martha Stewart Center for Living.
Martha Stewart will host a charity tag sale at her home
Martha Stewart has made a stunning transformation over the years, from model to mogul to philanthropist. 
Now, she's hosting a two-day charity event, the Great American Tag Sale, starting on April 23, 2022, at her Westchester County estate in Katonah, New York (via MarthasTagSale.com). The businesswoman completely sold out the event, with tickets ranging from $25 to $250, based on the time slot. 
In an Instagram post, Stewart explained what her guests can expect to find at her tag sale. She wrote, "I'm selling thousands of items — furniture, tableware, kitchenware, textiles, lighting, bedding, rugs, vintage, antique, lightly used, and so much more!" Stewart accompanied this post with a few images of these highly coveted items, including various chairs and tables.
While Stewart is sure to raise a ton of money for The Martha Stewart Center for Living, a few of her followers felt she should've hosted the event for free. One commenter wrote, "Paying for a ticket so you have the privilege of spending more money has never made sense to me," while another said, "$250 for a ticket? Really?" 
However, most of Stewart's fans felt more than happy to have their ticket money go to charity. One said, "The varying costs should be manageable for all! A donation to The Martha Stewart Center for Living is something we should all be proud to invest in, AND the beauty of the estate, alone, will be worth appreciating at any cost!"
Meanwhile, Stewart is also focusing on a new business venture: This spring, her first restaurant will debut in Las Vegas.