Fans Are Swooning Over Meghan Markle's Public Comments About Prince Harry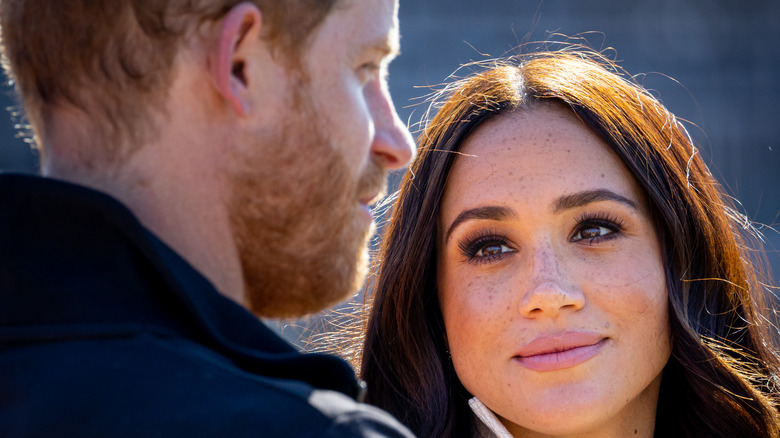 Patrick Van Katwijk/Getty Images
Marriage is a big undertaking for anyone, but a public marriage in the spotlight is intensified. However, when you're married and a member of the Royal family, that brings a whole new level of scrutiny to daily life.
You may recall Prince Harry and Meghan Markle's shocking interview with Oprah and then the stunning decision to leave the royal family as senior working members (via Harper's Bazaar). However, things may be looking up since they recently met with Queen Elizabeth on a pitstop on their way to the Netherlands for the Invictus Games. The Invictus Games are an international sporting event for wounded servicemen and women founded by Prince Harry. Before that, it had been two years since the couple visited the Queen.
Through all the recent turmoil, Prince Harry and Meghan Markle seem to have remained more in love than ever, and at the opening ceremony for this year's Invictus Games, Markle introduced her husband (via HuffPost).
Meghan Markle's sweet words for Prince Harry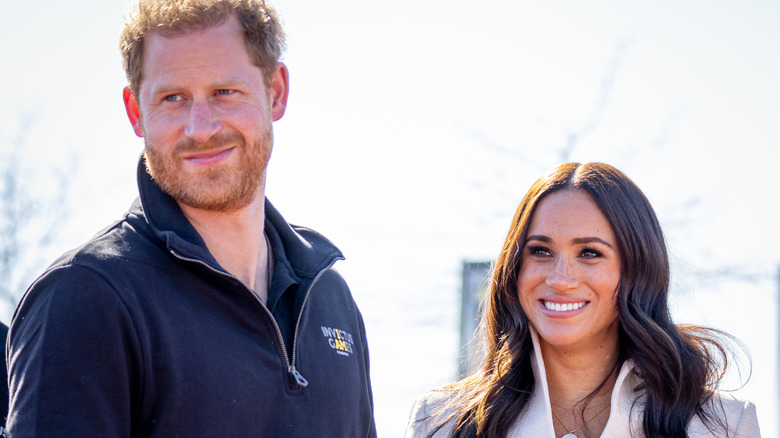 Patrick Van Katwijk/Getty Images
Page Six reports that Meghan Markle had nothing but praise and admiration for her Prince Harry as she introduced him. "I could not love and respect him more," said Markle. "He's the founder of the Invictus Games, and the father to our two little ones, Archie and Lili. Please welcome my incredible husband, Prince Harry, the Duke of Sussex."
Markle wasn't the only one enamored. After replying, "thank you, my love," the prince gave his wife a kiss. Then he shared how he spoke to his son Archie about growing up and picking a career. "What I remind him is, that no matter what you want to be when you grow up, it's your character that matters most," said Harry. "And nothing would make his mom and me prouder than to see him have the character of what we see before us today."
Though Markle's love for Harry was evident in the way she looked at him throughout the games, it wasn't the first time that Markle's gushed over her husband, and something tells us it won't be the last.