Nick And Vanessa Lachey Gave The Ultimatum's Madlyn And Colby The Most Iconic Baby Gift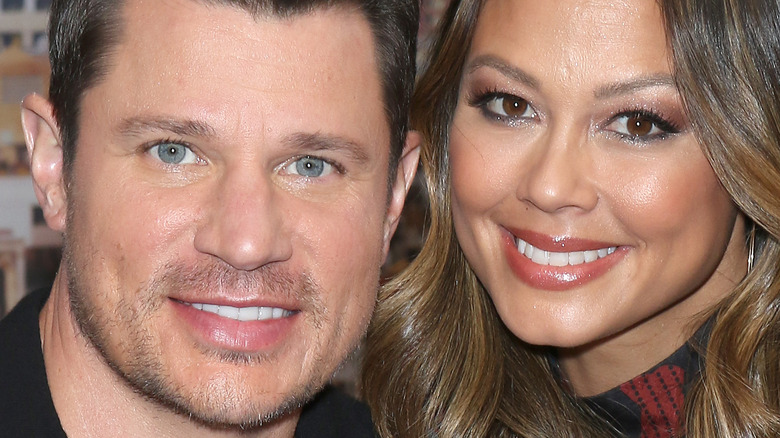 Jim Spellman/Getty Images
Netflix's newest dating series "The Ultimatum: Marry or Move On" is a masterpiece. The reality show follows six couples on the brink of marriage as they temporarily date another member of the group before deciding to reunite with their original partner or call things off for good. The series' features shocking proposals, blow-out fights, and extremely uncomfortable group dates. Though just about every moment of the "Love is Blind" sister show is tweet-worthy, fans have taken a special interest in the giant silver glasses the cast consistently uses.
"Dynasty" star Liz Gilles tweeted, "Hating these metal wine glasses in The Ultimatum," adding "It's not just in the apartments, these cups follow them to every dinner, every club, every restaurant...terrifying." 
While fans couldn't figure out why the glasses were in every scene, the series' set decorator, Mandalynn Myers, insists it was for a good reason, telling The Daily Beast, "It's just something that they decided would be good for editing and continuity." She added, "That's just a stylistic choice. It's fun, it brings something more interesting than a Red Solo Cup or just a plain dinner glass." 
Though the goblets were ultimately functional and fun, a surprise reunion gift was simply the latter (via Netflix).
The silver goblet lives on
Much like the first season of "The Ultimatum: Marry or Move On," the reunion featured many surprises. From Nate Ruggles and Lauren Pounds revealing their decision to have a baby to Shanique Imari, and Randall Griffin admitting they called off their engagement, to Zay Wilson storming off the set, the reunion was juicy. 
While most of the moments were tense, Colby Kissinger and Madlyn Ballatori's pregnancy reveal was a welcome respite. After debuting her baby bump, Ballatori was gifted a present from "The Ultimatum" co-hosts Vanessa and Nick Lachey. The pair took inspiration from the show's infamous silver goblets and gifted the mom-to-be a small silver sippy cup.
After the couple opened their gift, Nick joked, "What would our first "Ultimatum" baby be without a baby silver goblet?" Ballatori excitedly replied, "I love it. Thank you." Ballatori and Kissinger's baby girl will surely appreciate the special cup and, according to E! News, will get to use it soon. 
Madlyn Ballatori and Colby Kissinger are ready for their next chapter
In an interview with E! News published on April 13, Madlyn Ballatori revealed that she's entered the third trimester of her pregnancy. The IT project manager shared, "We are having a baby in a month. I'm 35 weeks pregnant. We're having a baby, we're taking on life together. We couldn't be happier." Ballatori and her husband Colby Kissinger learned about their pregnancy only three months after they finished filming "The Ultimatum: Marry or Move On."
While this next chapter of their life happened fast, Ballatori believes it was for the best. She told BuzzFeed, that this blessing has allowed them to spend more time focusing on the future, as opposed to partying and getting lost in the honeymoon stage. She closed, "We're at home talking about what it's going to be to set our family up for success and be the best that we can be — not for each other only, but for our kid also. It's been everything."