Why A Resurfaced Exchange Between Kim Kardashian And Ariana Grande Is Getting Attention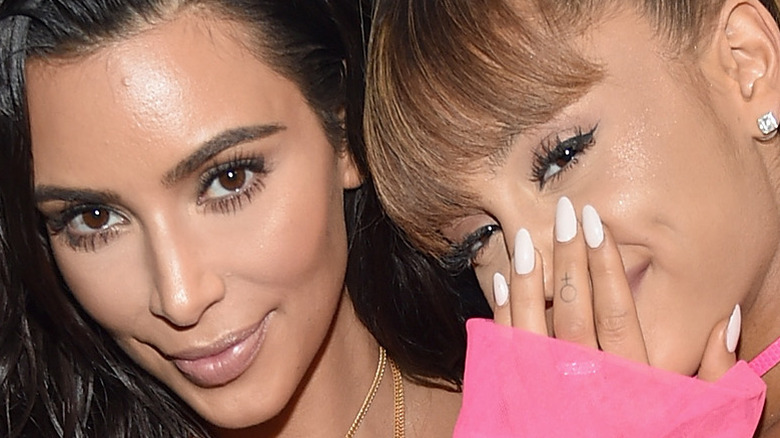 John Shearer/Getty Images
At this point, it seems like there's a new bit of Kim Kardashian and Pete Davidson tea coming out every single day. Whether you've deemed them couple goals or are still trying to figure out how they ever got together, people just cannot get enough of the unusual pairing.  
The two seem to get more and more serious all the time, based on what Kardashian recently told Robin Roberts on "Good Morning America." "I am a relationship kind of girl, for sure," she said. "I wouldn't be with someone if I didn't plan on spending a lot of my time with them." 
Davidson has had quite the celebrity dating past, including actresses Kate Beckinsale and Phoebe Dynevor, per Page Six. The "SNL" star thinks it has something to do with him being a "diamond in the trash," as he jokingly explained during a comedy set that he's a "steal," per Us Weekly. 
Well, whatever it is about him, his current leading lady cannot get enough of him. Although Kardashian posted a loved-up snap with Davidson to Instagram recently, another Instagram interaction from a few years back seems to have resurfaced — and the irony of it has the internet in stitches.
Ariana Grande and Kim Kardashian exchanged Pete Davidson lyrics in 2018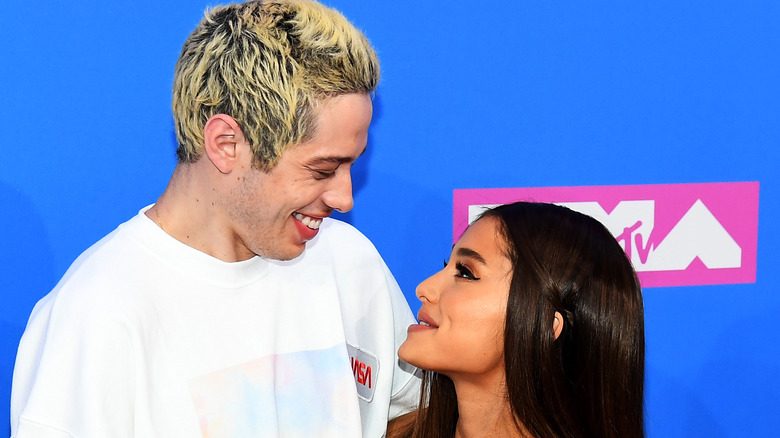 Nicholas Hunt/Getty Images
Before settling comfortably — and very privately — into her new life with husband Dalton Gomez, Ariana Grande's dating life used to be much more public, per Page Six. While her love story with the late Mac Miller will always be bittersweet, none of her relationships has been such a hot topic as her whirlwind engagement to Pete Davidson in 2018.
Later, when Davidson began seeing Kim Kardashian, some fans worried her friendship with Grande would change. However, a source confirmed to Us Weekly that the ladies still get along just fine. Grande even sent Kardashian a PR package from her new R.E.M Beauty line, per Harper's Bazaar. 
While that topic is settled, a little internet deep dive has uncovered a hilarious throwback involving Grande, Davidson, and Kardashian. An Instagram account shared an old screenshot of the two ladies interacting on a 2018 post on the platform. As a photo caption, Kardashian used a Grande lyric: "Universe must have my back." Then, Grande playfully finished the lyric in the comments: "Fell from the sky into my lap."
Seems low-key, right? Well, it just so happens that the song the two were quoting is Grande's "Pete Davidson," dedicated to her now-ex. Oops. The internet couldn't get enough of how hilariously this aged. Well, it looks like Davidson fell from the sky right into Kardashian's lap next.