A Fox News Commentator's Story About How He Met His Wife Has Twitter Creeped Out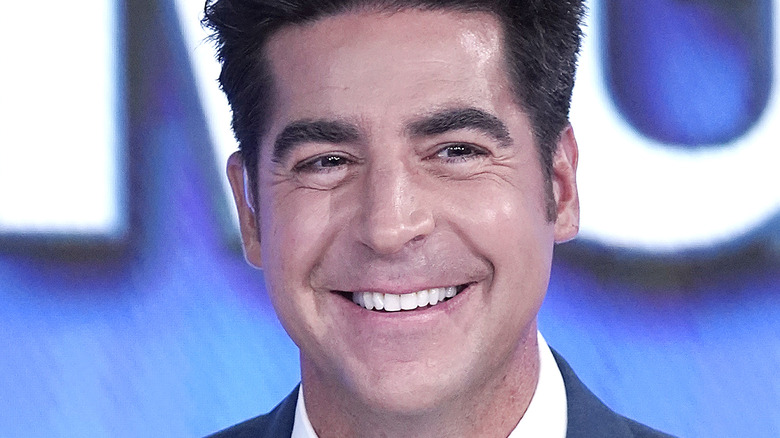 John Lamparski/Getty Images
Did he mean it as a joke? On Fox News' show "The Five," co-host Jesse Watters shared a super-creepy story about he got his wife to date him and let's just say — we hope he was kidding! In the now-viral moment, the 43-year-old said he "let the air out of" Emma DiGiovine's tires to get her to go out with him. "She couldn't go anywhere. She needed a lift, I said, 'Hey, you need a lift?' She hopped right in the car," Watters told his co-hosts, including Jeanine Pirro (via People).
Oddly, the other panelists laughed but seemed unsure if Watters was joking. "Worked like a charm!" he ended the segment by pronouncing. Of course, the couple's love story started out in a not-so-storybook way, with the Daily Mail reporting in 2020, the same year the couple wed, that Watters never denied having an affair with his now-wife when he was married to someone else. In fact, DiGiovine was a producer on "Watters World" when the two met — he was with his first wife, Noelle, at the time.
It's worth noting "Watters World" originally ran as a segment on Bill O'Reilly's Fox News show, before the controversial host was forced out of his role on the network due to sexual harassment allegations (via The New York Times).
Jesse Watters' story isn't sitting well with viewers
Jesse Watters jokes about how he courted a woman 14 years his junior. He let the air out of her tires so he could offer her a ride home. He leaves out that he was married at the time. This is some stalker nonsense. She also worked for him. It's a Fox News love story pic.twitter.com/ge9zZ2vMMH

— Decoding Fox News (@DecodingFoxNews) April 16, 2022
While the co-hosts of "The Five" may have been caught off guard by Jesse Watters' story about letting air out of his now-wife's tires to get her to go out with him, Twitter had a definite reaction to the bit — if it even was a bit.
"Sounds like the beginning of a dateline nbc story," tweeted one person. "Probably removed the inside door handle from the passenger side of his car too," said someone else, while yet another Twitter user joked, "And now we check in with Fox News Senior Analyst, Ted Bundy."
Watters was called a stalker and a predator in countless tweets. As the New York Daily News reported, the Fox News commentator is known for his sensationalist journalism, so perhaps this story was meant in jest and intended to get people talking? If so, mission accomplished, but also, is there a way to do this in better taste? We'd sure hope so!