Why A Royal Expert Thinks Princess Eugenie Orchestrated Harry's Meeting With The Queen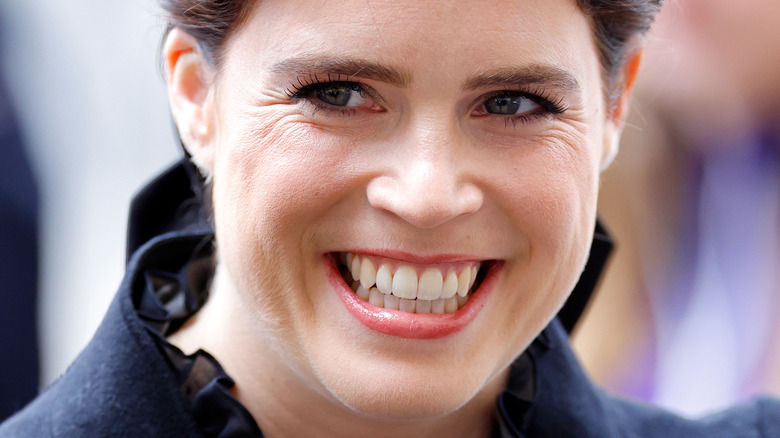 Max Mumby/indigo/Getty Images
We all have that one family member that acts as the glue that holds everyone together. You know, the one that reaches out to plan the get-togethers and calls to make sure you know it's someone's birthday. Well, it looks like the royal family has that member too. While you might think that the woman holding the family together is Queen Elizabeth herself, think again. It turns out that Princess Eugenie was the one who might have orchestrated Prince Harry's meeting with the Queen, and the reason that she did it might surprise you (via Us Weekly).
The royal family has been in a bit of a rough patch lately. After Meghan Markle and Harry decided to leave the royal family, rumors started flying that the latter and his brother, Prince Charles, were at odds with each other, per Marie Claire. Queen Elizabeth was even reportedly making subtle hints about how upset she was with them leaving, including not mentioning them during her Christmas address to the U.K. in 2021. But it looks like one call from Princess Eugenie might have mended Prince Harry and the queen's relationship by getting them together before his trip to the Invictus Games.
After all, family is family, no matter how famous you are. 
Princess Eugenie is reportedly the family 'peacemaker'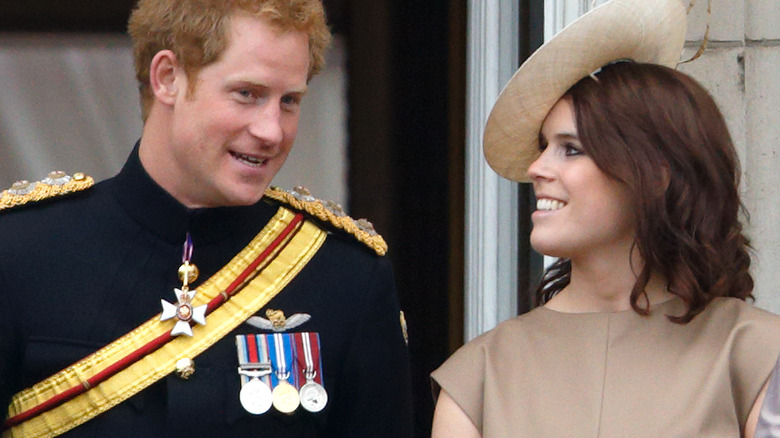 Max Mumby/indigo/Getty Images
As a first cousin to Prince Harry and the granddaughter of Queen Elizabeth, it would make a whole lot of sense for Princess Eugenie to step in for the family. There aren't very many people that could actually suggest a meeting, after all. If the decision didn't come from Prince Harry or Queen Elizabeth themselves, then it would have had to be from someone close to the family.
Apparently, orchestrating the event would not be out of character for the royal. "Princess Eugenie is a peacemaker," Jonathan Sacerdoti, a royal expert, told Us Weekly. "Eugenie may have been the person to suggest the meeting ... or to try and help arrange it, make the contact." This, to us, cemented Harry and Eugenie's relationship as a touching one.
You don't need to be a royal expert to see why it could be Princess Eugenie, either. The reason might just be written in the stars. Princess Eugenie is an Aries, which means she's a people-centered person. According to Your Tango, Aries love to make sure that everyone is included, so her arranging this meeting would only make sense. 
Prince Harry says the meeting went well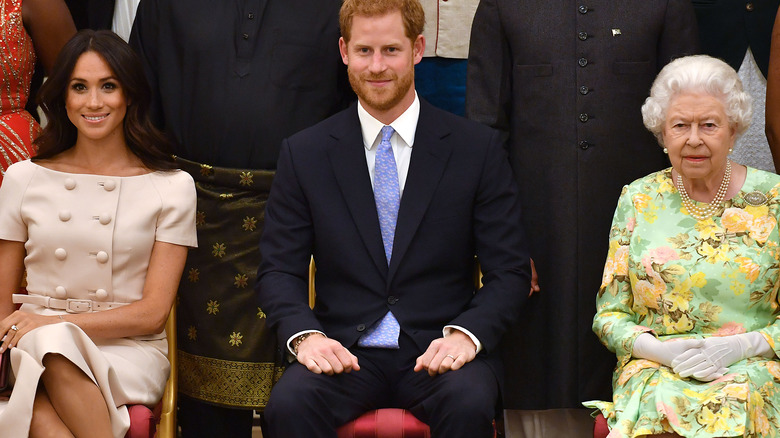 Wpa Pool/Getty Images
Meghan Markle and Prince Harry's meeting with the queen reportedly went well. Prince Harry said in an interview with Hoda Kotb that was nice to see his grandmother again (via Today). So it looks like, if reports are correct, that Princess Eugenie did the family proud. Worth noting is that Eugenie hasn't directly confirmed that she was involved in the meeting. Either way, all is good in the family, per Us Weekly. 
"[The Queen]'s always got a great sense of humor with me," Harry said in his interview with Hoda, noting that he made his grandmother laugh during the visit. "Both Meghan and I had tea with her. It was really nice to catch up with her."
The meeting might not bring Prince Harry back to England, but it's still nice to hear the family enjoying each other's company. If nothing else, it's nice to see the family all getting along regardless of the pond between them.