The Real Reason Adore Delano Dropped Out RPDR All Stars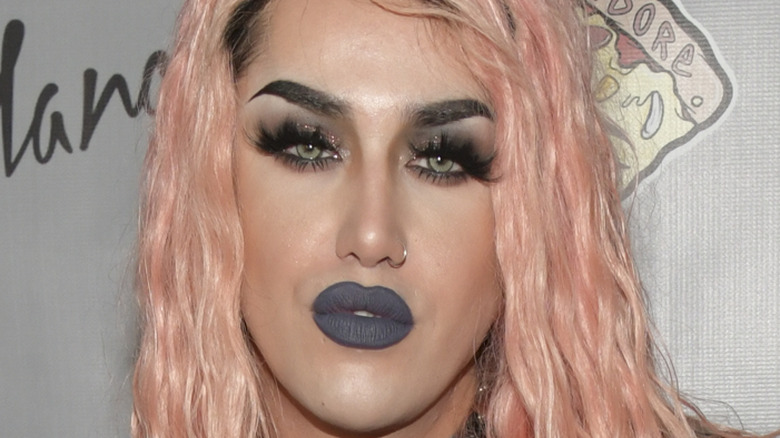 Rodin Eckenroth/Getty Images
"RuPaul's Drag Race All Stars," for the uninitiated, is the semi-annual team-up season of the hit reality show that gives fan favorites such as BenDeLaCreme and Alaska another opportunity to show off what they can do. 
Because the featured queens are already well-known and typically beloved, "All Stars" seasons are often more entertaining than the main show. In fact, anticipation for the upcoming installment is high even if all winners weren't invited to "All Stars" Season 7.
As Parade notes, the upcoming season, which drops May 20, 2022, is the first in "Drag Race" herstory to feature only winners from the previous seasons. It's therefore guaranteed to bring the drama, especially since the "All Stars 7" cast already has fans shook. 
However, despite the spinoff show's popularity, there have been increasingly loud calls to change the format. As RadioTimes argued, when Season 5 introduced lip-sync assassins, it made the competition even less merit-based than before. 
Usually, the top queens of the week compete for the win — and, with it, the opportunity to send one of the bottom queens home. If assassins win, they get to send whoever the group has collectively voted for home instead. 
Regardless, "All Stars" has been controversial since its inception, not least because fan-favorite Adore Delano exited her season early on. But what happened to send our beloved ocean creature home? 
All Stars 2 didn't work out the way Adore Delano expected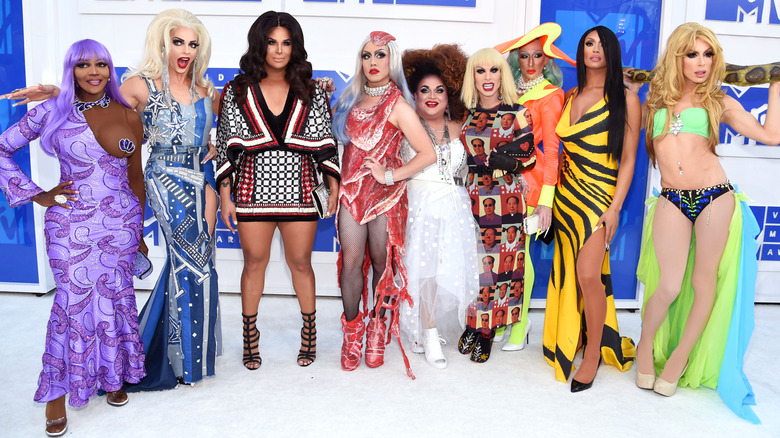 Jamie Mccarthy/Getty Images
Adore Delano was an instant fan favorite when she popped up on "Drag Race" Season 6. As CheatSheet notes, Adore made the top three alongside Courtney Act and eventual winner Bianco Del Rio, so her being cast on "All Stars" was a given. 
However, Adore became the first contestant to quit voluntarily, paving the way for BenDeLaCreme to spectacularly eliminate herself the following season. 
Adore left during the second episode of "All Stars 2," following harsh critiques from Michelle Visage and guest judge Raven-Symoné. During a backstage heart-to-heart with Visage, Adore admitted she wasn't prepared to be put under the microscope again, following years of touring off the back of her previous "Drag Race" appearance, much of which was with Visage herself, with whom Adore had also cultivated a close relationship.
Although Visage and the other queens tried to convince Adore to stay, she ultimately left to preserve her own mental health. However, during the subsequent reunion episode (via YouTube), the "American Idol" alum expressed regret for her decision. Acknowledging she felt "embarrassed," a visibly emotional Adore described it as "wack." 
It's worth noting, though, that in a comment from her official YouTube account (under Danny Noriega, Adore's real name), she clarified, "I don't regret walking off. I am saying here that I regret saying 'YES' to coming on the season in the first place because I would have saved everyone the disrespect and myself the embarrassment."
Would Adore Delano consider returning to Drag Race?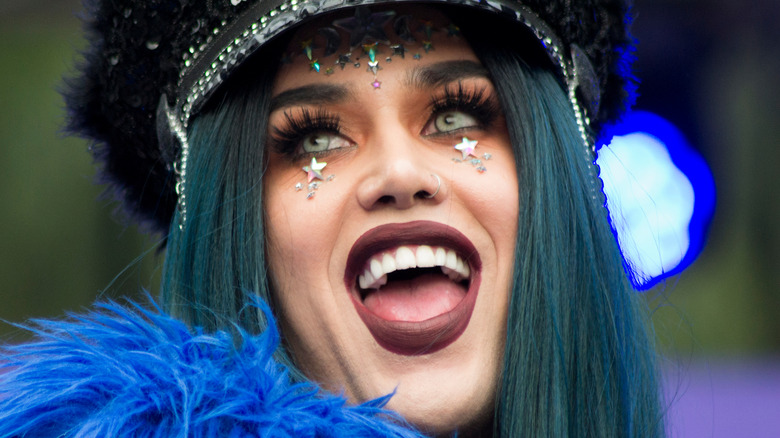 Tom Shearsmith/Shutterstock
She got burned badly by "All Stars," but the real reason Adore Delano wouldn't return to "RuPaul's Drag Race" is very simple. In a joint interview with Bianca Del Rio, for Gay Times, Adore explained, "It's a completely different show now, I wouldn't be comfortable at all." 
Although the "Drag Race" alum still watches at home, she feels like there's a significant difference between what's expected from queens nowadays and how it was when she competed in Season 6. Further, Adore confirmed, "Maybe it's because you're asking me while I'm sober. I probably said that [I'll go back] when I was drunk on stage to get a big crowd reaction. But no, I wouldn't go back." 
In an Instagram Live video (via YouTube), the fan-favorite revealed she'd been asked back for the recent "All Stars 6" season and initially agreed to take part. Adore shared, "I was actually almost going to do it, but my talent number was too risky, I think, but I was not letting up." Technical issues made it impossible to do her mysterious performance, which Adore teased had never been seen on "Drag Race" before. 
Suffice to say, it's highly unlikely we're going to see Adore back on "Drag Race" any time soon. Reddit fans are totally behind her decision to walk off "All Stars 2" in the first place, though, reasoning that Adore is a star, regardless.