The Behind-The-Scenes Truth About Taylor's Tumble From The Roof On The Bold And The Beautiful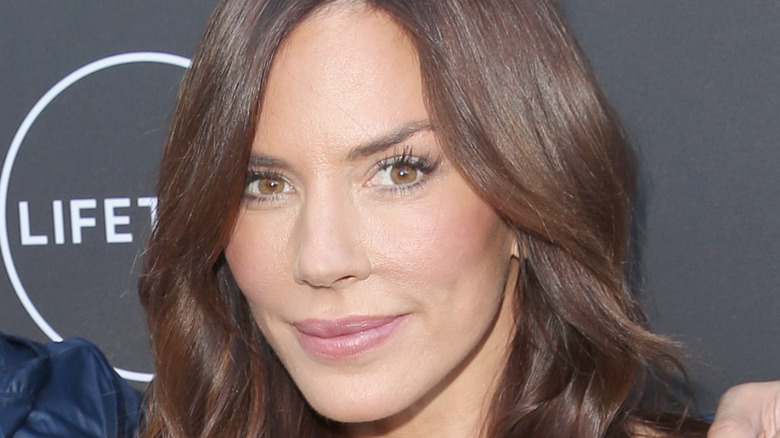 Jesse Grant/Getty Images
It was a shocking moment on "The Bold and the Beautiful" when forever-unhinged character Sheila Carter (Kimberlin Brown) stood on the hospital roof ready to jump. 
It was even more shocking when her longtime enemy, Taylor Hayes, whom she had shot years ago, did everything she could to literally talk Sheila down from the ledge (via Soaps.com). However, the real stunner came when Taylor grabbed at Sheila to stop her from jumping and went over the ledge herself.
Sheila managed to catch Taylor with one arm, and the episode ended on a genuine soap cliffhanger with Taylor dangling in the air watching the traffic of Los Angeles below. Yes, Sheila managed to pull Taylor back up to safety, with Taylor now forever grateful to Sheila for saving her life (via Soaps.com). 
Too bad, as of this writing, Taylor doesn't know the real reason Sheila wanted to jump that led to these terrifying scenes.
Why was Sheila up on the roof on The Bold and the Beautiful?
Sheila Carter has spent four decades popping on and off the two remaining CBS soaps, "The Young and the Restless" and "The Bold and the Beautiful," torturing other characters along the way. 
In 2021, fans learned she had given birth to yet another child during her off-screen years when nobody knew where Sheila was. She gave that son up to his biological father but introduced herself to him on his wedding day (via Soaps In Depth). Yes, she disrupted Steffy Forrester and John "Finn" Finnegan's wedding reception, and Steffy told her to get lost because she didn't want her in their lives.
For months, Sheila schemed to become close to Finn and her grandson, Hayes, but she also became preoccupied with ruining Brooke Logan Forrester's life and made sure to switch labels on bottles so alcoholic Brooke would drink real champagne on New Year's Eve.
When Steffy found out what she did, she threatened to expose her to Finn, so Sheila pulled out a gun, and it was Finn who stepped in front of Steffy and took the bullet (via Michael Fairman TV). A crazed Sheila then shot Steffy. Finn died, Steffy survived, and Sheila decided that, since she took her son's life, she should take her own.
The actresses bonded through the roof scene
Just like Taylor and Sheila bonded when they ended up saving each other's lives on the hospital roof (although Taylor didn't know that Sheila had just shot Taylor's daughter and killed her own son), so did actresses Krista Allen and Kimberlin Brown.
Allen shared a video of the two women between takes in which Allen is all smiles while Whitney Houston's "Saving All My Love For You" plays and Brown sings the '80s ballad to Allen.
Fans were equally impressed by the action scene. One tweeted: "I really want @KristaAllenXO and @KimberlinBrown to get some kind of award for today's performance. That hug after Sheila saved Taylor and them saying they saved each other's lives was incredible. Edith Wilson done sharpened her pencils! #DrinksTheDayAfter #BoldandBeautiful."
While Taylor now believes Sheila is a completely reformed woman (via Soaps.com), can we expect more thrilling location scenes when Taylor learns her new BFF is the person who put a bullet in her daughter's chest?