Chris Rock's Mom Has Something To Say About The Will Smith Slap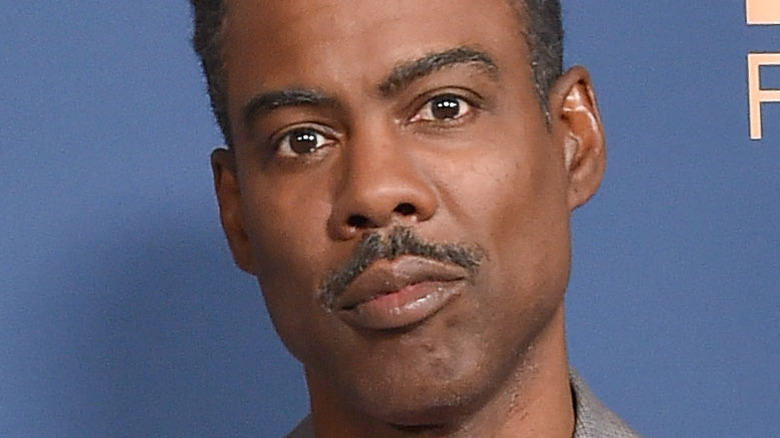 DFree/Shutterstock
Long after the world has forgotten who won the awards at the 2022 Oscars ceremony, the infamous incident known as "The Slap" will still be remembered. After presenter Chris Rock made a joke about Jada Pinkett Smith's bald head — not realizing she has the medical condition alopecia – Will Smith suddenly strode onto the stage and slapped Rock across the face. This not only put a damper on the rest of the evening (including Smith's own Best Actor win), but also resulted in Smith's being banned from attending the Academy Awards until 2032, per Variety.
Still, though Smith has apologized to Rock and is facing the consequences of his temper, the damage reaches far beyond those few seconds. That's the message Rock's mother, Rose Rock, is sending now. In a recent TV appearance with WIS News 10 in Columbia, South Carolina, she was asked how her son is coping now after his humiliating Oscars moment. "He is doing well," Rose said. "As he said, he's still processing it, because that's not something you expect." She told him that he was "standing on the shoulders of Sidney Poitier," the revered actor who himself showed dignity in the face of adversity.
But Rose's own reaction was very personal. "I told someone, 'When Will slapped Chris, he slapped all of us,'" she told interviewer Billie Jean Shaw. "But he really slapped me ... Because when you hurt my child, you hurt me."
Rose Rock doesn't think Will Smith's ban is enough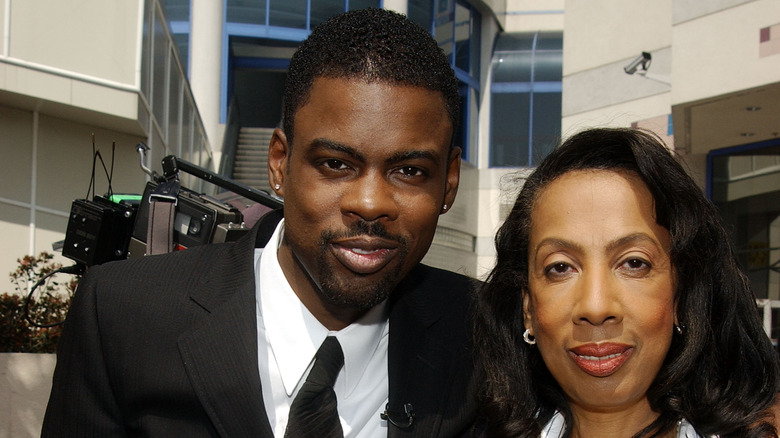 Vince Bucci/Getty Images
Rose Rock has a résumé as impressive as son Chris' resume. Not only is she the mother of 10, she's also the foster mother of 17 children, a former teacher and preschool administrator, and author. But on Oscars night, Rose was all mama bear. 
Asked by the interviewer on South Carolina's WIS News 10 what she would say if she could talk to Will Smith, Rose said, "Oh my God, I have no idea what I would say, other than, 'What in the world were you thinking?'" Rose suggested that Smith's smack was done just for the satisfaction of wife Jada Pinkett Smith, who was "bowled over laughing when it happened." Watching from home, Rose felt helpless not being able to reach out to her son right away. "No matter how old they are, they're still your babies," Rose said.
Mama Rock doesn't think much of Smith's Oscar ban. "What does that mean? [He doesn't] even go every year," she said. And while she doesn't think Smith's Best Actor award should have been revoked, she regrets that Chris was robbed of his own joy in being able to present the Best Documentary Feature award to Questlove.
The interviewer asked Rose whether she would like to see Chris and Will sit down to iron things out. "That would have to be on them," she answered. "Something like that is personal."