Ben And Cristi Dozier Of "Building Roots" Share Their Favorite Types Of Projects - Exclusive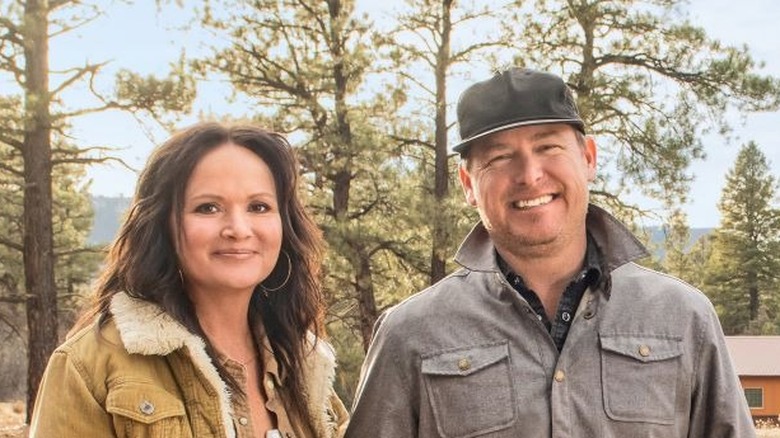 HGTV
No matter how much you enjoy your job, chances are there are parts of it you don't love so much. If you're a teacher, you may love working with students — but hate grading and lesson planning. And if you're a doctor or nurse, you may look forward to helping your patients every day, but dread the paperwork that goes with it.
For people in creative fields, the love/hate relationship with work can be even more passionate. The right project can spark your imagination and make you look forward to getting to work as soon as you wake up. But the wrong type of project can be a soul-sucking slog. Colorado-based designers Ben and Cristi Dozier, the stars of the new HGTV show "Building Roots," discovered early on that they had a distinctive style and strategy underlying all their designs. 
"Building Roots" celebrates this style, which incorporates local materials, such as reclaimed wood and stones already on the building site, and designs that harmonize with the local landscape. Over time, the Doziers have discovered exactly why their favorite projects meant so much to them. In this exclusive interview with The List, they share the types they love most.
The Colorado landscape inspires their designs
While not native to Colorado — the Doziers were both born and raised in Austin, Texas — they'd long loved visiting the Colorado mountains before deciding to make the region their permanent home. And they knew right away that the homes they designed in Colorado had to be different from those they designed in Austin. Whatever they did, the couple wanted it to honor the local landscape and its natural beauty. "We use a lot of reclaimed timber on a lot of our projects from old barns, old cabins in the area that have been torn down or collected," Ben Dozier explained. "There's always a sense of that somewhere on a lot of our projects, and then native stones, natural woods that are in this area."
The Doziers' goal, Ben said, was to create spaces that captured everything they love about the area around them. "There's an appreciation of Colorado and the mountains and the landscape, the pine trees and the aspens and the river," he said. "We really try to tie into that with that natural, warm, welcome feeling when you come here."
The stories behind their projects are their biggest inspiration
The Doziers pride themselves on finishing their projects with not only satisfied clients, but with new friends, too. For them, building relationships is as important as building homes. "We have some of the best clients. Many of these projects have a story," Ben Dozier told The List. "Even before the TV show, we found ourselves only doing projects that have a story. If it was a flipped home or return on investment or if it was a quick thing, I did not do well at those. I was not interested. I lost all type of motivation and inspiration."
Cristi Dozier agreed. "We seem to get more on board with those types of projects where the families are really passionate about their home and want to make it something special for themselves," she said. For the couple, their favorite projects go far deeper than satisfaction from a job well done. "The projects are great and fun, but the people were — I can scroll back through pictures and look at so many laughs and so many memories," Ben Dozier said. "It's more about people, less about the project."
"Building Roots" airs Sundays at 9/8 pm CT. Tune in to HGTV or stream episodes the same day on HGTV GO.