Inside Elon Musk's Multi-Billion Dollar Shopping Spree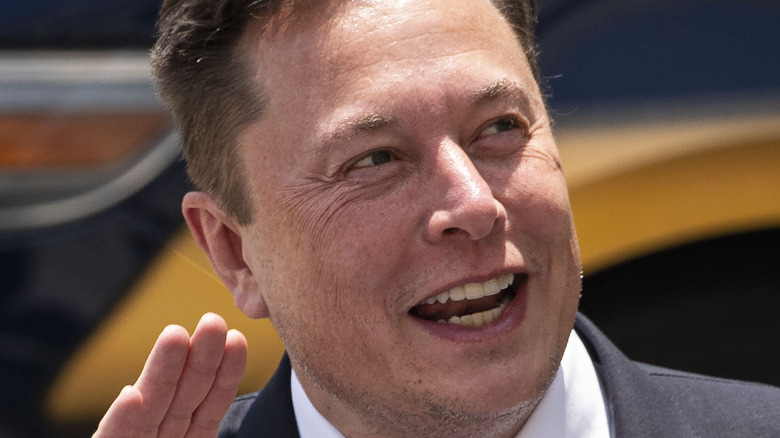 Bloomberg/Getty Images
There's having a lot of money, and then there is having an unbelievable amount of money.
When you a lot of money, you can go on a shopping spree and buy a new home on every coast in the United States, vacation homes in other countries, an expensive yacht, beautiful cars, designer bags, you name it — the sky's truly the limit. But when you are a multi-billionaire, your shopping sprees look a little (or completely) different. When billionaire businessman Elon Musk splurges, he takes on business ventures, some of them you may have had no idea about. Some of the 50-year-old entrepreneur's earliest business ventures included Zip2, a city guide software for newspapers, and SpaceX, which recently had its "first all-private space mission to the International Space Station," per CNN.
The serial entrepreneur's latest venture may or may not surprise you based on his recent business moves. It was a bit of an elaborate shopping spree where he spent $44 billion, to be exact. So what did he spend billions of dollars on this time? Here's what we know.
Musk's strong belief in free speech guided his recent purchase
On April 4, Elon Musk became Twitter's "largest shareholder and backed out at the last minute from an agreement to join Twitter's board of directors" with no explanation, per USA Today. Well, maybe it's because he had his eyes on an even bigger prize? Per Us Weekly, he is buying Twitter for a cool $44 billion. His deal was accepted on Monday, April 25.
"Free speech is the bedrock of a functioning democracy, and Twitter is the digital town square where matters vital to the future of humanity are debated," Musk said in a press release shared in Us Weekly.
Does this mean he will lift the ban on Donald Trump from Twitter and roll out the red carpet to welcome him back? We don't know about that but you can expect some big changes with Twitter once he pays the $54.20 per share in cash, per Us Weekly.
Per Us Weekly, the Tesla CEO is focusing his energy on making "Twitter better than ever by enhancing the product with new features, making the algorithms open source to increase trust, defeating the spam bots, and authenticating all humans," he stated in the release. The Time Magazine 2021 Person of the Year further said that he is looking forward to unlocking the untapped potential with the social media outlet and making it a new household name.
We are looking forward to seeing what happens next with the social media platform!