How Mason Disick Might Be Following In Rob Kardashian's Footsteps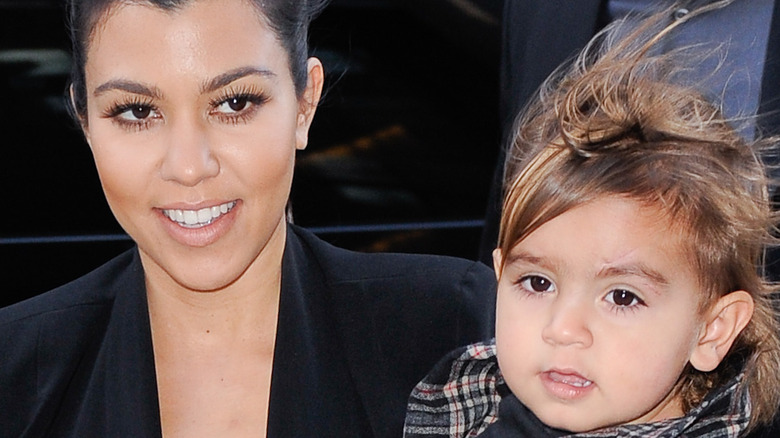 Ray Tamarra/Getty Images
Being a reality show star who is constantly in limelight isn't for everyone. Some people really embrace it and love the cameras and paparazzi following them. Most of the members of the Kardashian family love the cameras as you can easily see with their epic show, "Keeping Up With The Kardashians." Originally airing in 2007, the show aired for a solid 20 seasons on E!, per People. After the show ended, the Kardashian crew decided to continue chronicling their lives in a show on Hulu called simply, "The Kardashians," per USA Today.
Minus Rob Kardashian, most all of the adult Kardashian crew is featured on this show and are still active on social media. Since Season 7 of "Keeping Up With The Kardashians," Rob Kardashian pretty much disappeared from the public eye — whether it was on the show or on social media channels. He stepped away to focus on his mental and physical health and hasn't been back since.
As Rob has probably experienced, growing up in the limelight can be difficult. Mason Disick, Kourtney Kardashian and Scott Disick's oldest child, may be following in Rob's footsteps. But how and why? Here's what we found out.
Mason Disick was literally born for television
Scott Disick and Kourtney Kardashian may no longer be an item, as Kourtney is with Travis Barker now, but they seem to be on the same page when it comes to raising their children. All their children are growing up in the with cameras, on social media and a large fan following to boot.
Mason Disick, the former couple's oldest son, was literally born to be on television. According to BuzzFeed News, on December 14, 2009, they birthed Mason "in front of the 'Keeping Up With the Kardashians' film crew" and millions of television viewers from all over the world. Since then, Mason has been a star on the show  and fans were enamored by how adorable the little boy was as he grew up right in front of our eyes.
It looked like Mason was going to stay in front of the camera forever, then something changed in 2020. Mason went viral on Instagram Live, inadvertently causing issues by telling his family's secrets, according to BuzzFeed News. He answered questions from fans about relationships and even told them that "his auntie, Kylie Jenner, wasn't back together with Travis Scott," per the outlet.
Mason Disick seems to be laying low, like his uncle, Rob Kardashian
Soon after Mason Disick's viral live on Instagram in 2020, Kourtney deleted all his social media accounts. She did that because he created these accounts without permission from his parents, Scott Disick and Kourtney Kardashian. "I did delete it," said Kourtney in her own Instagram. "He started an Instagram yesterday and he didn't ask us."
Since then, he's been linked to various accounts that are fake, but he actually hasn't had any social media accounts since 2020. Mason, now 12 years old, seems to have disappeared from any social media posts with the family and is rarely seen on camera on the Hulu series, "The Kardashians." Kourtney, Scott, and the rest of the Kardashian family and associates, appear to be making it a point not to post any pictures of him. In fact, they caught slack for posting the other two Disick children and not Mason, to which Kourtney responded, "Just because he's not in the photo, doesn't mean he's not with us," per BuzzFeed News.
Is this disappearance temporary or will it be long-term like his uncle, Rob Kardashian? Only time will tell.