The New Way To Remove Heavy Eye Makeup Without Damaging Your Lashes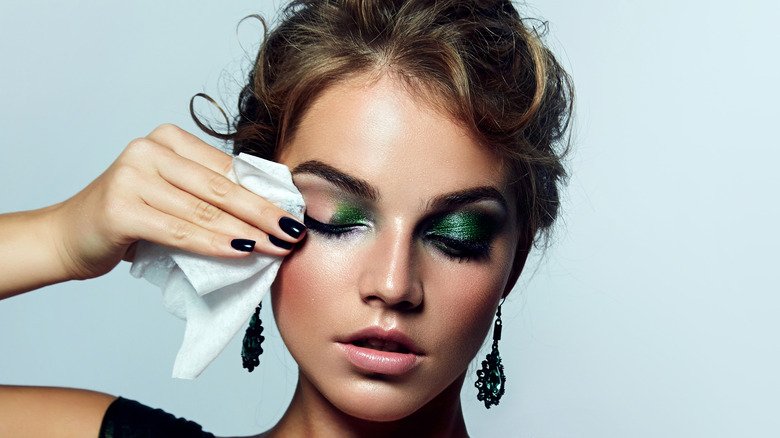 Ekaterina Jurkova/Shutterstock
We may receive a commission on purchases made from links.
If your eyes are the windows to your soul, you want to dress them up to fit your personality and mood. Whether you are a minimalist with just an eye pencil and a few coats of mascara or a maximalist with multiple layers of carefully blended eyeshadows with a cat-eye and perfectly shaped eyebrows, you want your eye makeup to last all day without fading. Makeup artist Dominique Lerma told Makeup.com that it's important when applying eyeshadow to "do so in layers to allow for a more impactful application and to protect it from diminishing throughout the day and night." Lerma says it is vital to use a primer to set the base, choose products that are labeled "'long-wearing,' 'water-resistant' or 'waterproof,'" and topped off with a setting spray so your eye makeup doesn't budge all day. That way, you are all set for the day without worrying about anything.
Your look will stay on point, but you have to remove your eye makeup at the end of the day because going to bed with makeup on is a strict no-no. NYC-based dermatologist Dr. Eric Schweiger told The HuffPost, "Sleeping in your makeup can result in unnecessary exposure to the free radicals in the environment, which the makeup holds on to," and that can lead to the breakdown of collagen, fine lines, clogged pores, and even acne. With heavy-duty makeup around your eyes, you need to be extra careful to remove them, so you don't damage the skin and your lashes.
Oil-based cleansing balms are best to remove heavy eye makeup with minimal damage to lashes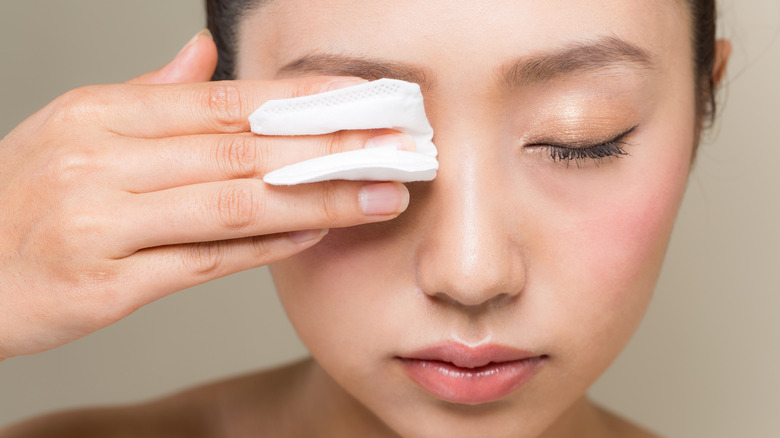 kei907/Shutterstock
Your eyes are always telling a story, and they can be the area on your face that can show the first signs of aging. According to Healthline, the skin around your eyes is "thinner and more delicate" than the skin on the rest of your body and is prone to fine lines and puffiness. When you wear waterproof mascara or long-lasting eye makeup, you might be tempted to rub it off, but that can irritate the sensitive area and make you lose your lashes. Yikes!
Board-certified dermatologist Azadeh Shirazi, M.D., recommends using oils or more decadent cleansing balms to gently rub the eye area to "dissolve heavy eye makeup first" (via Mind Body Green). This puts less pressure around your eyes and lashes, so you aren't pulling on the skin, which could damage your lashes. Byrdie gives its vote of approval to double cleansing heavy eye makeup with a cleansing balm at first because the oil will melt and gently remove the heavy makeup from your eyes and lashes without damaging the area. They recommend using a water-based cleanser second to remove the oil from the cleansing balm so the ingredients from your eye cream can treat your skin after. Waterproof mascara can withstand everything, including makeup removers and you want to remove them incredibly gently. Bustle recommends wiping your stubborn mascara with oil in a downward direction so you don't accidentally rip them off.
Best heavy makeup removers that are gentle on your delicate lashes
Since the skin around your eyes is extra delicate, being rough around the area can cause skin damage, fine lines, and pull your lashes off. You only want to use non-irritating makeup remover and handle the area with care with these amazing cleansing balms. Mind Body Green recommends Farmacy Green Clean Makeup Removing Cleansing Balm to say bye-bye to heavy makeup without causing too much friction in the area. According to Farmacy Beauty, it has sunflower and ginger root oils to remove traces of all stubborn makeup without stressing your skin out. It seamlessly dissolves even the toughest of all eye makeup.
Byrdie loves Sunday Riley's Blue Moon Tranquility Cleansing Balm because the balm melts into a luxurious oil to gently remove even the most stubborn eye makeup. The brand claims this balm has Blue Tansy and German chamomile oils to reduce skin irritation and prevent dryness. For a more affordable pick, Bustle is a fan of Johnson's Baby Oil because it can melt waterproof and longest-lasting makeup with a few gentle swipes. Make sure never to tug or pull on the most sensitive part of your face because you will only irritate it more or, worse, lose your lovely lashes.