Here's How Tall Kristin Chenoweth Really Is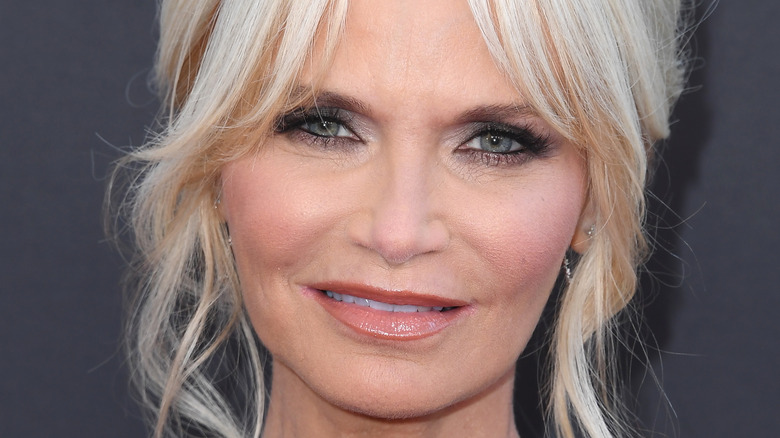 Steve Granitz/Getty Images
In "A Midsummer Night's Dream," Shakespeare once wrote, "Though she be but little, she is fierce!" (via Goodreads). This sums up Kristin Chenoweth's demeanor.
Chenoweth is a quadruple threat who sings, dances, acts, and even writes books. Many Broadway fans may know her best for originating the role of Glinda in the Broadway production of "Wicked." Her screen credits are equally as impressive. In fact, she received multiple Emmy nominations for her role in "Glee," and she won an Emmy for playing Olive Snook in "Pushing Daisies" (via Emmy).
One of Chenoweth's many TV gigs includes a starring role in "GCB." The ABC show aired for one season in 2012. Despite the show's quick cancellation, the actresses seemed to have fun on set. While working on "GCB," Leslie Bibb used to pick up co-star Chenoweth because of her size. She also gave her the nickname Snack Pack.
In 2012, Chenoweth shared with "Access Hollywood Live" that being picked up has become a common practice in her life because of her size (via NBC Miami). She also mentioned that she didn't mind being picked up. Being so short makes people feel comfortable lifting her up, but is Kristin Chenoweth really as short as she appears?
Kristin Chenoweth is under 5 feet tall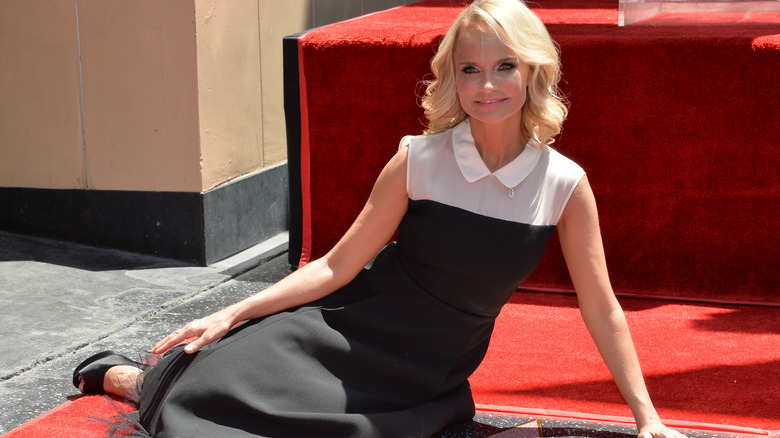 Featureflash Photo Agency/Shutterstock
Kristin Chenoweth lives up to her "Snack Pack" nickname by only being 4 feet, 11 inches tall. In an interview on The Meredith Vieira Show from 2014, Chenoweth jokingly shared some of the perks of her height, a list that included being shorter than George Clooney and not having to worry about flats.
On the negative side of being short, she listed her inability to see over bank countertops, the dangers of loading dishes, and sometimes being invisible at parties because no one can see her. An additional perk of being short is that tall men want to date her. In a 2012 "Access Hollywood Live" interview, Chenoweth shared that she mainly dates men taller than her (NBC Miami). She said that she can't help that short men don't want to date her. The tallest man she had dated at that time was 6 feet, 6 inches tall.
Chenoweth cleared up that she does have a height limit, though, per TMZ. When asked if she would date someone as tall as Dallas Mavericks player Boban Marjanović (who is 7 feet, 3 inches tall), she responded, "I don't know. I have a bad neck."
Kristin Chenoweth is a foot shorter than her fiancé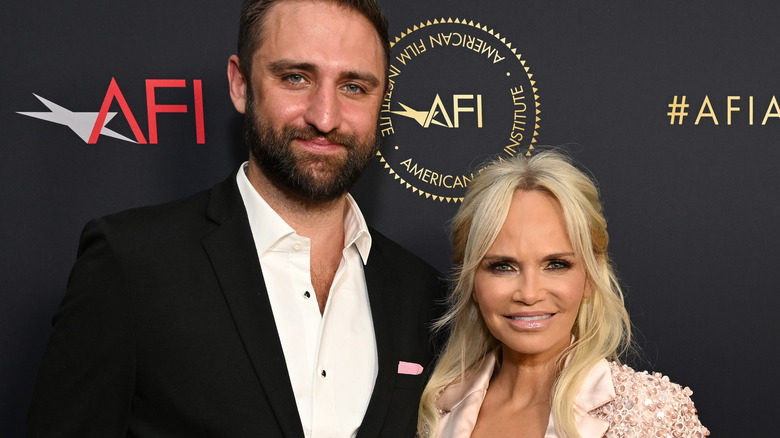 Michael Kovac/Getty Images
Kristin Chenoweth may have found her perfect match fiancé Josh Bryant. He's not too tall or too short for her. According to The U.S Sun, Bryant is 5 feet, 11 inches tall, exactly a foot taller than her. The pair also shares a 14-year age gap; she's 53 and he's 39. 
Family get-togethers brought Bryant and Chenoweth together. In fact, the two first met at her niece's wedding. Bryant's band, Backroad Anthem, played at the wedding in 2016. In 2018, Bryant and his band were also hired by Chenoweth's nephew for his wedding. According to Vogue, that's when the pair began their romance. After three years of dating, Bryant asked Chenoweth to marry him in 2021.
The pair made their engagement announcement on Instagram in October 2021. Vogue revealed that he gave Chenoweth a stunning engagement ring when he popped the question on the rooftop of the New York City Rainbow Room. Chenoweth told Rachael Ray on the "Rachael Ray Show" that she and Bryant plan to have a small, intimate wedding with just family. She also shared that she will not be singing at her own wedding.