Kim Kardashian Faces Backlash Over Possible Photoshop Mishap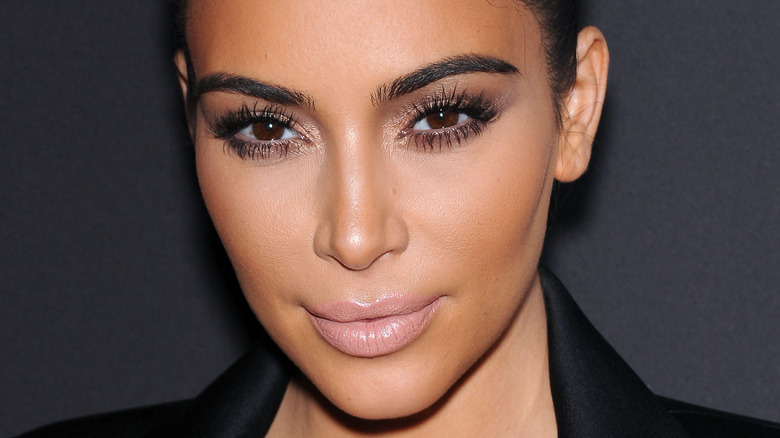 DFree/Shutterstock
When it comes to controversial photos, Kim Kardashian is no stranger. In fact, the "Keeping up with the Kardashians" star has been at the root of a few Instagram debacles (via Seventeen). Some of her controversies have been a bit silly, like photoshopping her butt to look smaller in a post from 2018. Others have been more serious, like the accusation that she photoshopped an image of her daughter, North, to make her waistline look smaller. 
Kardashian has experienced much backlash for her social media presence, but her photoshopping fails seem to bring in the most conversation amongst fans. Most recently, she decided to doctor up a photo of her boyfriend. According to Marie Claire, she's been accused of photoshopping Pete Davidson's face in one of her photos, making fans wonder if he had a glow-up or was yet another victim of Kardashian's photo editing. 
Her photoshopping habit on Instagram has become so well known that a graphic designer exclusively told The List how followers can easily spot her photo editing. Alec Whitmore, a graphic designer in Seattle, told us that "weird color spots, mismatching lighting, awkwardly grafted faces on mismatched bodies and irregular ratios" can all be telltale signs that a photo has been altered.
One might think that the reality star would check her photos twice before posting them, but she recently found herself in the headlines yet again for a hilarious photoshop blunder.
Fans have weighed in on Kim Kardashian's latest photoshop fail
When Kim Kardashian posts obviously photoshopped images on Instagram, fans are usually quick to react in the post's comments section. When followers assumed she had altered Pete Davidson's face in a photo, for example, they sounded off in the comments with questions like, "Why does Pete not look like himself did Kim photoshop him, or did he glow up" (via Cosmopolitan).
In her most recent photoshop accusation, she is facing more backlash than usual, mostly because the blunder is a bit comical (via Page Six). In a recent Instagram photo, Kardashian can be seen wearing sweatpants and posing by a pool. The only problem is that it looks as though her belly button appears to be missing.
Of course, fans sounded off in the comments. One user wrote, "You forgot to leave in your belly button!" while another chimed in, "Where on earth is your belly button, yo??" Another fan even started a hashtag to get to the bottom of the incident, writing, "#WheresKimsBellyButton."
The Kardashians, especially Kim, are no strangers to photoshop conspiracies, but this one seems too obvious to miss, though maybe this is part of their success. After all, when you keep folks talking, they keep you in business.