Graphic Designer Shares Telltale Signs A Kardashian Pic Has Been Photoshopped - Exclusive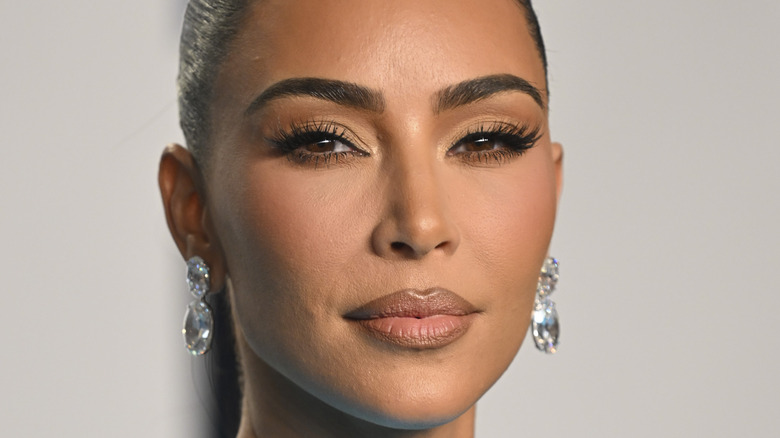 Karwai Tang/Getty Images
Okay. So we know the Kardashians photoshop some of their social media photos. Case in point: Khloé recently admitted to a photoshop fail when she shared that for her daughter True Thompson's birthday, they visited Disneyland for the first time. The problem was, months earlier, Kim shared pics of True at Disneyland with her daughter, North West. Oops.
While we still don't know why the sisters felt it necessary to photoshop True's head onto what fans speculate was Kylie Jenner's daughter Stormi's body at the theme park in the original shots, Khloé's confession confirms what we've long suspected — the reality TV family does alter photos from time to time.
Another instance where fans felt they caught Khloé red-handed, so to speak, was when the mom of one shared selfies that featured creepily-elongated hands. And then there was the time that Kim clearly changed the carpet in photos of herself with her boyfriend, Pete Davidson (via Marie Claire).
Again, the impetus behind the alterations in Kardashian photos is not always clear. But most recently, fans have suggested that the SKIMS mogul had Davidson's jawline and nose perfected in a new Instagram post of the couple taken on the night of "The Kardashians" premiere. The List talked to an expert to find out exactly how to know whether the images in question were in fact photoshopped.
Did she or didn't she?
The hubbub over the photos of Kim Kardashian and Pete Davidson started when fans pointed out that in other pictures of the comedian, his jawline and nose looked different — less perfect, so to speak (via Page Six). While the debate continues over the veracity of these claims, The List turned to Alec Whitmore, a Seattle-based photographer and graphic designer, to understand what to look for to determine if a picture has been altered.
"When we try to detect altered images, there are always telltale signs," Whitmore told The List. What are they? "Weird color spots, mismatching lighting, awkwardly grafted faces on mismatched bodies and irregular ratios," he told us. But it's not that simple, because as Whitmore went on to explain, "There are also plenty of hacks to cover up those signs."
Most of the time, it's an eagle-eyed follower who spots a detail like a warped body part or background, giving away that a picture was manipulated (via Life & Style). Those mess ups aren't intentional obviously, because as Whitmore explained, "Your end goal when you're compositing an image is to make it visually cohesive, and an easy way to do that is by adding a layer of film grain or noise over an image — kind of like a layer of veneer or paint."
This step ensures fans are less likely to "find discrepancies."
This photo would be easy to photoshop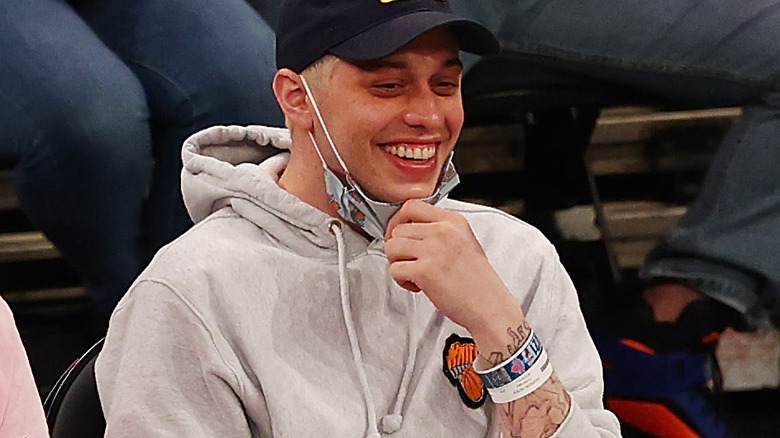 Mike Stobe/Getty Images
As Alec Whitmore told The List, adding a layer of "film grain or noise over an image" will smoothe over "potentially distracting details," making the task of weeding out a photoshop fail far more challenging for the reality family's devotees. "So when the Kardashians' nifty photoshop sleuths pretend to play 'zoom and enhance,' all they can come up with is a crummy blur," the photographer and graphic artist said.
In the case of the Instagram image of Kim Kardashian and Pete Davidson enjoying a "late nite snack" post-Hulu premiere, it's worth considering the style of the candid picture. "Since the photo of Kim and Pete is supposed to be a casual snap in a dark indoor environment, it already has a ton of natural grain and obscura," Whitmore explained to The List, adding that this particular style of photo is more simple to alter. "You're just working with less detail," he said.
To be fair, we still don't know if the newly-divorced star had her boyfriend's face photoshopped as widely-shared side-by-side photos of the "SNL" star have not been "an apples-to-apples comparison," according to a source who talked to Page Six.