The One Move Queen Elizabeth Made That Reportedly Left Prince William Dumfounded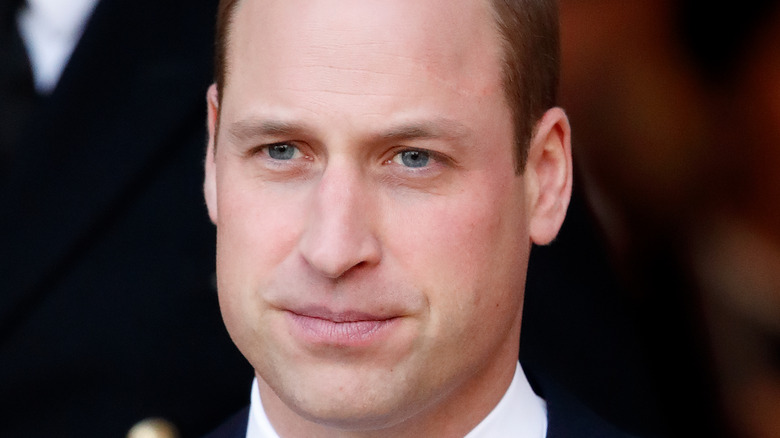 Max Mumby/indigo/Getty Images
The relationship between Prince William and Prince Harry has unfortunately disintegrated in recent years. People notes the brothers initially bonded over losing their mother, Princess Diana, as well as growing up in the spotlight. However, Harry's relationship with Meghan Markle and the couple's decision to leave the royal family in early 2020 has reportedly torn the brothers apart. As royal author, Penny Junor, explained, "Broadly speaking, they have always been very different characters but very close because of their situation ... They relied upon each other."
Yet, William and Harry were competitive too, fighting to be the best in school, both serving in the army and striving to make their mark with public service just as Diana did. Although we'll probably never know where it all went wrong, or why, insiders claim William warned his brother to move slowly with Markle, who later clashed with his own wife, Kate Middleton. As royal historian Robert Lacey put it, "Clearly, human emotion and feelings that had once been so strong went sour, creating bitterness that is going to take a long time to overcome."
The warring brothers reunited in 2021 for a statue unveiling in honor of their late mother and seemed to be in good spirits, per Town & Country magazine, but behind the scenes, their relationship is allegedly still strained. However, sources close to the royal family are confident William and Harry will work things out. If nothing else, the elder brother certainly had Harry's back when their grandmother made a harsh decision back in 2019.
Prince Harry refused to be drawn on whether he missed Prince William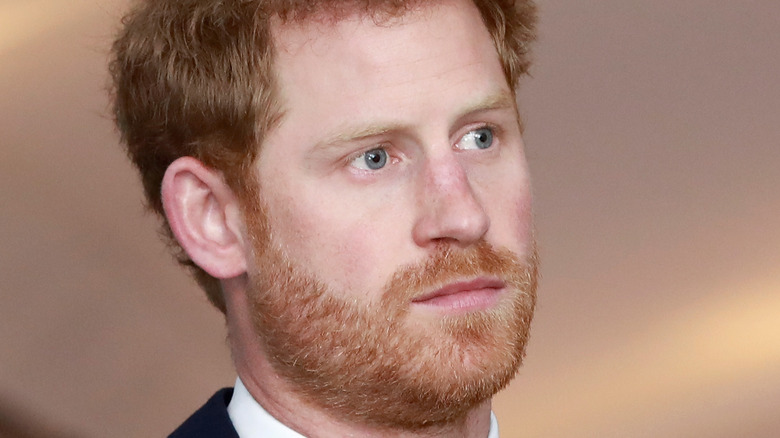 John Phillips/Getty Images
Per The Independent, during his recent interview with Today's Hoda Kotb, Prince Harry was asked straight out about whether he misses his estranged brother, Prince William, and their father, Prince Charles. Harry acknowledged missing his family, expressing, "Yes, especially over the last two years. For most people, have they not missed their family? Right, the ability to get home? Of course, you know, that's a huge part of it," (via YouTube). When pressed about specific members of the family, he clammed up.
In fact, Harry deflected the question completely, swerving to discuss the Invictus Games instead — the reason why he was in the Netherlands in the first place — as well as his home life with his wife Meghan Markle and their two young children. "For me, at the moment, I'm here to focus on these guys and these families, and giving everything I can," Harry reasoned. "To make sure that they have the experience of a lifetime. That's my focus here, and then I leave here, I get back, and my focus is my family, who I miss massively," (per YouTube).
Fans were stunned over Harry's answer to whether he misses William and Charles, though there are also concerns he might have crossed the line by discussing them at all. A royal expert notably claimed Harry has reportedly used up all of his chances with Charles. However, judging by this latest revelation, all is not lost between the two brothers at the very least. 
Prince William knew his brother would be hurt by the queen's decision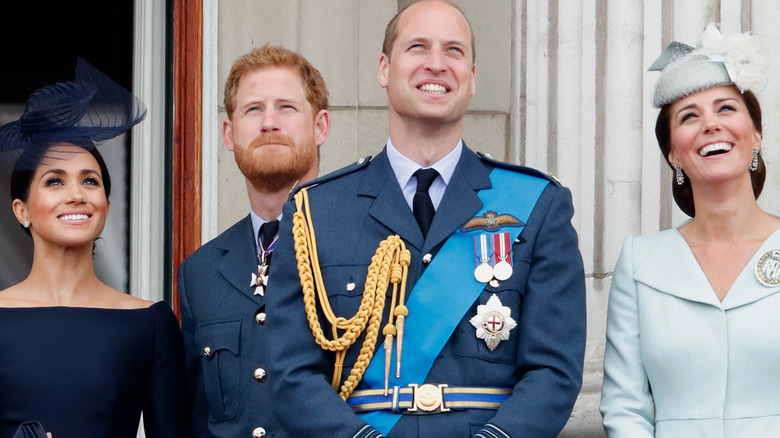 Max Mumby/indigo/Getty Images
They might not be on the best of terms, but Prince William is still in his brother's corner, with a new book claiming the duke was "appalled" when his grandmother, Queen Elizabeth, took a photo of Prince Harry and Meghan Markle off her desk before her annual Christmas broadcast to the nation. Per Fox News, former Vanity Fair editor Tina Brown made the shocking claim in her upcoming book, "The Palace Papers: Inside the House of Windsor — the Truth and the Turmoil."
According to Brown, in late 2019, just a few short weeks before the Sussexes would officially step down from royal duties, the queen was preparing to give her festive address. Just beforehand, she allegedly "pointed at a winsome portrait of Harry, Meghan, and baby Archie. 'That one,' said the queen. 'I suppose we don't need that one.'" As a result, Brown reckons the couple felt unwanted when they watched her Christmas broadcast, reasoning any lingering doubts were expunged upon seeing it.
The former editor noted, "Her Majesty eloquently made the point in her speech by saying nothing. The subtext was all in the flotilla of carefully arranged family photographs positioned on her writing desk." William was shocked, knowing deep down how angry his brother would be. Indeed, the younger prince later revealed to Oprah Winfrey that palace aides had prevented him from having a one-on-one conversation with his grandmother in the run-up to the Sussexes' exit.