Madelyn 'Juicy' Rusinyak Details Her Daily Experience On Temptation Island - Exclusive
When tuning in to a reality dating show, it's no wonder so many of us consider what it'd be like to compete for love. What does a typical day look like for these contestants? Are the cocktail parties and group dates actually fun? Can any of these couples seriously last outside of this unique environment? There are so many questions, and with the reality dating show landscape drastically changing, we had to ask an insider what USA's "Temptation Island" was really like behind the scenes, as it has significantly set itself apart from the other dating shows on television.
"Temptation Island" is not your typical couple-falls-in-love dating show. Established couples head to a gorgeous location to put their relationship to the ultimate test — single, gorgeous men and women are there to "tempt" each significant other, and the shake-ups are dynamic, to say the least. As Season 4 ramps up, we sat down with Madelyn "Juicy" Rusinyak — one hopeful single — to get her inside perspective on the show and all the ups and downs that come with it. We asked her what a day in the life looked like while filming, and her response may surprise you.
There was no such thing as a typical day for Madelyn during Temptation Island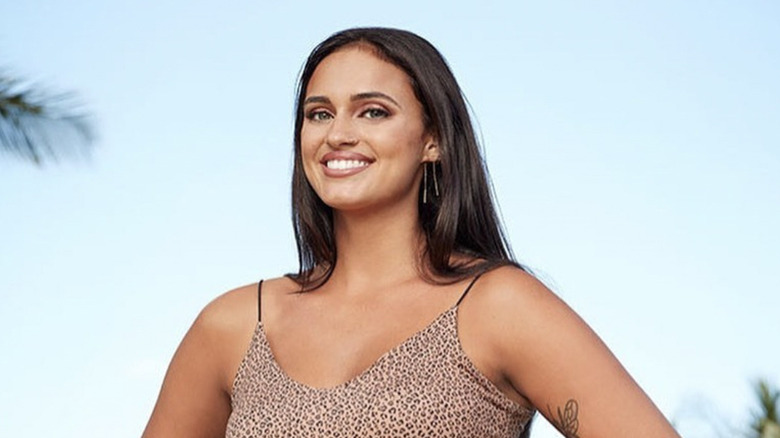 USA
When considering a veteran dating show like "The Bachelor," it's easy to think of a cookie-cutter setup. There's always the frontrunner, the villain, and the virgin, all competing in cocktail hour and group date settings. It all feels rather predictable, but "Temptation Island" is anything but that, according to Madelyn "Juicy" Rusinyak. When we asked her what a typical day during filming looked like for her, her answer came as a surprise — there was no such thing as a normal day on the "Temptation Island" set.
"I would love to tell you one day that was a routine, but I couldn't," Rusinyak said during our exclusive interview. "Every day we woke up and I was like, 'What's going to happen today? Is there going to be a bonfire? Is there going to be an elimination? Are they picking dates?'"
With so many questions circling on set, Rusinyak told us that her anxiety was at a 10 "always," and every time she saw host Mark L. Walberg, she knew that things were bound to shake up once again.
"Every time I saw Mark walk into that house, I was like, 'Leave. You got to go. You can't bring good news,'" Rusinyak recalled. "We could never get comfortable."
Madelyn found it difficult to be out of her normal routine
A new environment can always present some challenges, but for Madelyn "Juicy" Rusinyak, "Temptation Island" lacked structure, which made it difficult for her to stick to her off-camera habits. Since there was no such thing as a "typical" day, Rusinyak started to learn fairly quickly that she needed her alone time when the cameras weren't rolling, and she has a newfound respect for her healthy habits, including yoga and mindful eating.
"It's hard for me to live with 11 other girls and not ever get alone time," Rusinyak told us of the on-set dynamic. "I also learned that I need my sleep. It was really hard to sleep there. I remember leaving. I slept. I came home and I slept for three days straight. I was so tired. Then, I was like, 'I've got to get back into yoga,' because I like to have a routine."
Speaking of the lifestyle on "Temptation Island," Rusinyak recalled that while she would drink on the weekends before the show, being on-camera was like an all-hours party. "Living there, we were drinking every single day," she said. "I was like, 'I've got to take care of my body.' It was rough, honestly."
You can catch new episodes of "Temptation Island" on USA on Wednesdays at 10:00 p.m. ET.