How The April 30 New Moon Will Affect You If You're A Pisces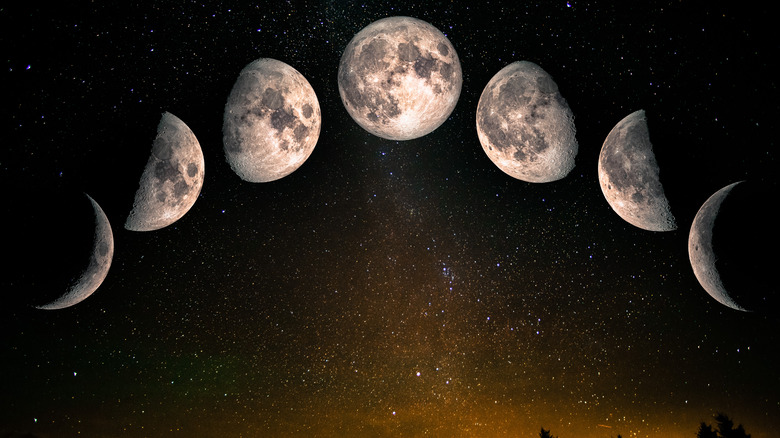 Elena11/Shutterstock
April has been quite a month for many members of the zodiac. The month kicked off with a new moon in Aries (via the New York Post), followed by a full moon in Libra, per Today. Now, the month will end with another new moon on April 30, which will be coupled with a solar eclipse, which is sure to shake things up, per Bustle. According to the outlet, the occurrence of two new moons in one month is called a "Black Moon." The lunation paired with the eclipse is said to be a powerful one, which has the tendency to bring about big changes that appear to come swiftly. Meanwhile, the final new moon of April falls under the sign of Taurus, which often highlights money, pleasure, and self-worth, so it seems that any possible changes could be positive ones.
Astrologer Stephanie Campos tells Refinery 29 that those who are open to the changes may find themselves happy with whatever comes their way. "When we embrace the uncertainty, we will be rewarded," she says. "This solar eclipse is also having a supportive conversation with Mars in Pisces, which will lend us the emotional courage to follow our hearts, take a risk and invest in our dreams. It's time to make them a reality."
For those born under the sign of Pisces, the new moon may help you express yourself in some very creative ways.
Pisces should lean into their spiritual side during the new moon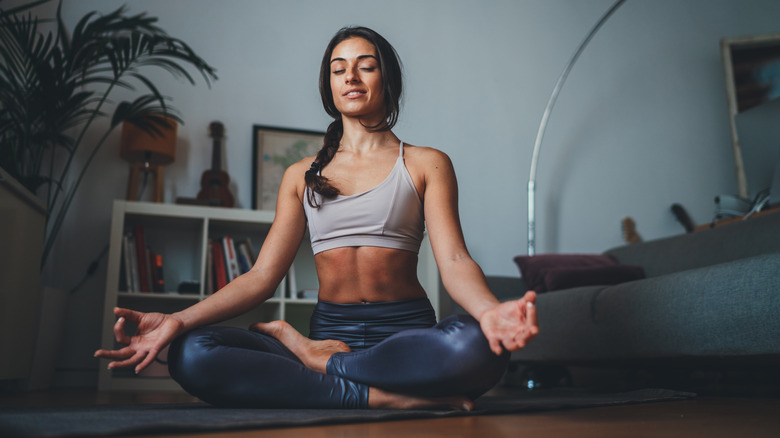 ImYanis/Shutterstock
If you're a Pisces (born between February 19 and March 20), the new moon on April 30 could prove to do wonders for your spiritual journey, per Bustle. The water sign may feel compelled to explore their spiritual side as the month begins to wind down. This could come in the form of meditation or manifestation. Perhaps you'll start a journal, or simply make a point to spend more time connecting with yourself and nature. In addition, you may find yourself gaining new friendships and connections as well. Be open to all of the possible changes around you, and lean into whatever seems to resonate with you.
However, as the new moon approaches you may find some drama creep in, per Allure. Emotions may run high due to the lunation and the eclipse, so if you can, steer clear of major social engagements to end the month, and instead try to spend the weekend alone in a peaceful environment as a way to recharge before the new month.
The new moon on April 30 could bring out the creative side of Pisces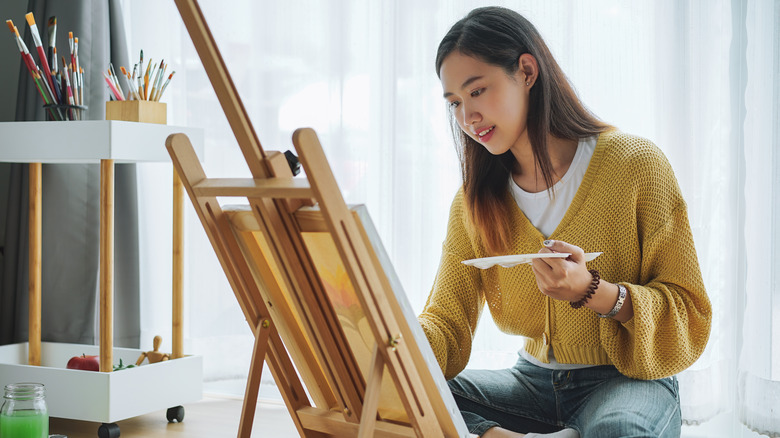 kenchiro168/Shutterstock
Best Life reveals that Pisces may feel pulled to tap into their artistic and creative side as well during the new moon on April 30. During the time of the lunation, feel free to explore that side of yourself by doing whatever feels right. Whether it's writing a poem, painting a portrait, sketching in a notebook, or finding a simple DIY craft to add a little something extra to your living space, go with the flow and create from your heart.
Woman and Home notes that Pisces possesses create creative talent and can use their spiritual ability to connect with the universe and find inspiration for their artistic work. However, if mediation isn't cutting it, the outlet suggests using something like tarot cards to try to communicate with the universe. A psychic reading may also do the trick if you're so inclined. Whatever you do, express yourself in a way that feels natural and brings you joy.
It appears that the new moon will bring Pisces a journey of self-reflection, and by diving into spirituality and the arts could bring the sign so much joy as the month wraps up.