Author Claims Meghan And Harry's New Life Isn't Living Up To Expectations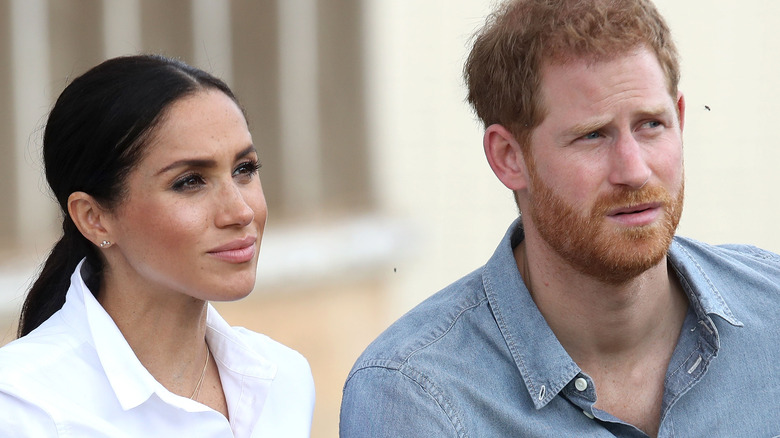 Chris Jackson/Getty Images
After stepping down from their royal duties in 2020, Prince Harry and Meghan Markle set up a new life for themselves in California. The pair spent a few months in Los Angeles before purchasing a nine-bedroom, 16-bathroom mansion in Santa Barbara for $14.65 million (per Page Six). "They both love California, and Santa Barbara has a magic to it — the mountains, oceans, vineyards, flowers, gardens," a source told People. For Harry and Meghan, it was the perfect place to settle down with their son, Archie, as well as their daughter, Lilibet Diana, who arrived less than one year after the move.
The Duke and Duchess of Sussex also got to work on becoming financially independent. They signed a three-year podcasting deal with Spotify for an estimated $15 million to $18 million, as well as a five-year deal with Netflix that is reportedly worth $100 million, per Yahoo! While his relationship with the royal family — particularly Prince Charles and Prince William — has reportedly been strained, Harry revealed to Hoda Kotb that he has adjusted well to life in the United States. "Home for me now is, you know, for the time being, it's in the States. And it feels that way as well," he said (via Today). He added that he and Meghan were "welcomed with open arms and we have such a great community up in Santa Barbara." 
According to a new book, though, leaving the royal family apparently hasn't been as easy as Harry and Meghan expected it to be.
Prince Harry and Meghan Markle no longer have the power of the palace behind them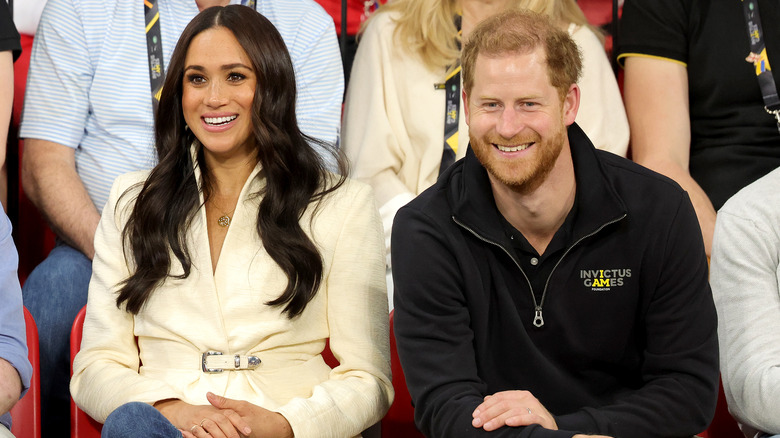 Chris Jackson/Getty Images
While Prince Harry and Meghan Markle seem to be enjoying their lives in the U.S. after making the decision to leave the royal family, Tina Brown, author of "The Palace Papers," revealed that the couple has reportedly "underestimated" how difficult things would be without the support of Buckingham Palace.
"They both completely underestimated what it was going to be like to be without the palace platform," Brown said in an interview with The Washington Post. "What the palace does, of course, it has amazing convening power, there's no one who won't take a phone call if they say 'Buckingham Palace on the phone, Kensington Palace on the phone.' Every major invitation in the world comes through that conduit. All of that is now gone," Brown explained.
The former Vanity Fair editor went on to predict that Harry and Meghan would eventually lose their Netflix deal, but that Harry should be fine because of his work as the founder of the Invictus Games. As for Meghan, Brown is less optimistic. "Meghan doesn't really have a brand, is the truth," Brown stated. "You feel that she is grasping at whatever is the 'Twitter caring' of the moment. It's vaccinations, it's Ukraine, it's women's rights, it's my 40th birthday, let's have a mentoring scheme. Nothing is really going anywhere for Meghan."
Meghan and Harry, for their part, have not responded to Brown's comments. 
Prince Harry may be waiting to have his say in his upcoming memoir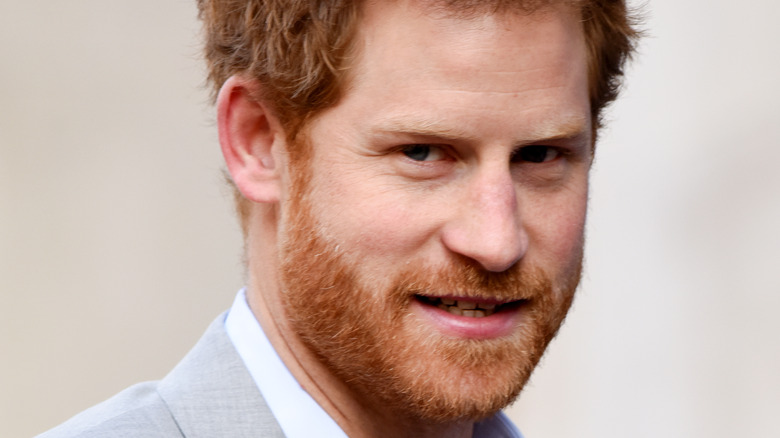 LINGTREN.COM/Shutterstock
While Tina's Brown's "The Palace Papers" is generating a lot of press, Prince Harry's upcoming memoir will likely create waves of its own and impact public opinion of the Duke and Duchess of Sussex. The book is intended for publication later in 2022. According to the press release from Penguin Random House, the memoir is tantalizingly described as "an honest and captivating personal portrait, one that shows readers that behind everything they think they know lies an inspiring, courageous, and uplifting human story."
Royal author Phil Dampier told the Daily Mail he believes Harry's book will be successful. "[Harry] is being paid a lot of money — even if some is going to charity — and so the publishers will want something sensational." Speculating about the book's contents, Dampier added, "He is bound to revisit Megxit and justify the reasons [why] he and his wife left the royal family."
JR Moehringer, a journalist who has won the Pulitzer prize, is collaborating with Harry and acting as a ghostwriter for the project, per Independent. Without mentioning specifics, Harry said in the press release that he's "excited for people to read a firsthand account of my life that's accurate and wholly truthful."
As to what those truths may be, Brown has a few ideas of her own. The author acknowledged the possibility that Harry would name the royal family members who he accused of being racist during his and Meghan Markle's interview with Oprah. "I'm told it's going to be very harsh," Brown told The Washington Post. "Personally I think the royal family should write a huge check," Brown suggested, "and say, 'here Harry, here's a check for your security — maybe you could just sort of postpone [the memoir] indefinitely'."