RHOA's Marlo Hampton Makes A Bombshell Claim About Kenya Moore's True Feelings Toward Her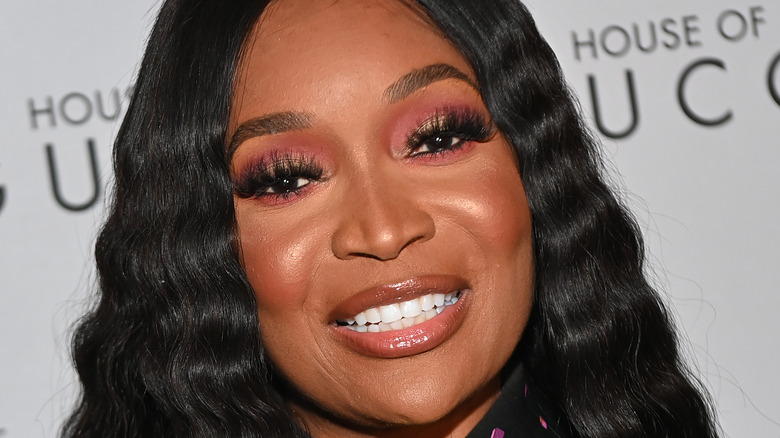 Paras Griffin/Getty Images
When Marlo Hampton waltzed onto "The Real Housewives of Atlanta" in Season 4, she instantly rewrote the script on what it means to be a "friend of." For any true "Real Housewives" fan, you'll be familiar with the concept of "friends" on the show. These are the ladies that make brief appearances and earn this title by stirring up some drama during their dip in the "Real Housewives" pool (per ScreenRant). Of all the franchises, no one has made quite the impact that Hampton has in this arena. 
Over her 10 years with the show, fans have been perplexed as to why the Marlo's Closet CEO has yet to earn a peach, which would provide her with a position as a full-time housewife. Bestie and "RHOA" star NeNe Leakes explained to Essence that she believes Hampton has been robbed of the title due to her torrid past, but after a long 10 years, it looks like Bravo has finally given the fans what they want. 
When Bravo TV finally announced that Hampton would be getting a peach in the upcoming 14th season of "RHOA," fans couldn't believe it, though the move was long overdue. Hampton has always delivered everything from elite fashion to hilarious clap backs, and at this point, she's more of an OG presence than half the existing cast. With her debut season set to air on May 1, 2022, Hampton has opened up and dished insider information about how one of her castmates really feels about her new title.
Marlo Hampton claims Kenya Moore isn't happy about her joining RHOA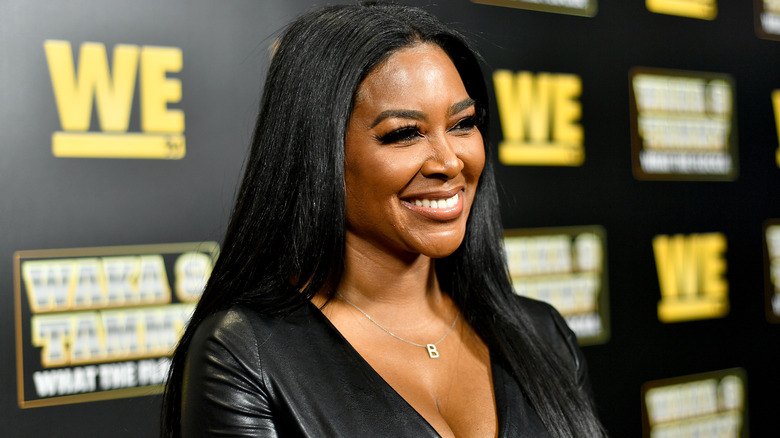 Paras Griffin/Getty Images
Marlo Hampton has wasted no time with her peach, as rumors have already started circulating about her getting into a huge fight with OG Kandi Burruss during the upcoming season. Burruss confirmed the rumors to E! News and explained, "I have been telling everybody, 'Marlo needs her peach ... Then she gets the peach and comes for me." Knowing Hampton, she's unlikely to leave things at just one feud, and it looks like there's a revival of a previous quarrel that's been on and off for years now. 
Speaking to Page Six about joining "RHOA" full-time, Hampton shared, "I've been here for 10 years, so it's home." The Le' Archive founder added, "But it's like the next level now and I'm just so excited because I know all my fans and supporters are so excited to really get to see all of Marlo." With the fans aside, Hampton dropped some shade towards her frenemy Kenya Moore, "I don't feel Kenya was that happy at all." 
Hampton explained her theory on how Moore feels about her peach, "She didn't want me to be her equal or sitting on the couch next to her." She added, "I've been there, but she's always been able to feel like she had one on top of me, saying she was a peach holder. But I don't think she was genuine at all in being excited for me." Considering their tumultuous past, Hampton might be right about this one.
Kenya Moore and Marlo Hampton have always butted heads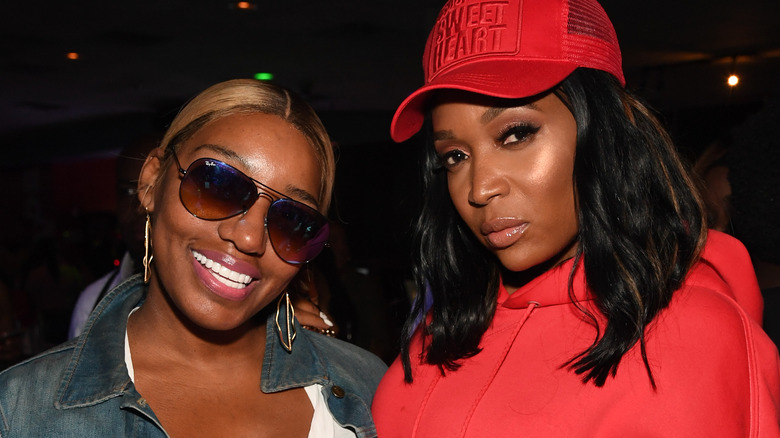 Paras Griffin/Getty Images
It can be tough to trace the ups and downs of any "Real Housewives" friendship. It's especially shocking to think that Marlo Hampton and Kenya Moore started off as close friends who often giggled together. However, once Hampton reconciled with ex-BFF NeNe Leakes, who has now left "RHOA," their friendship changed — potentially due to Leakes' own issues with Moore, per Distractify. 
Ever since then, Hampton and Moore have had some low points. Who could forget when Hampton took a dig at Moore's difficult relationship with her mother? (per All About The Tea). Meanwhile, Moore has taken her own bold shots by crashing Hampton's wig-launch party with a marching band (via Reality Blurb). Hampton gave an update on their friendship to Bravo TV in October 2021 where she revealed, "Kenya and I are great ... I'm glad that we're just at a positive happy place 'cause we actually were really friends." 
That didn't last long. By December 2021 the "friends" unfollowed each other on social media and shared shady Instagram stories hinting at "draining souls," according to Radar Online. Hampton vented to Page Six about their messy friendship, "I put in the work. Like, I'm going to show this girl what being a friend is ... Every damn time I give, she just f—king takes some water and throws it right in my face." 
It looks like they're back to the "off" setting in their friendship, which is guaranteed to make for some big drama for Season 14 of "RHOA."