Donald Trump's Odd Admission In A Court Deposition Had Lawyers Squabbling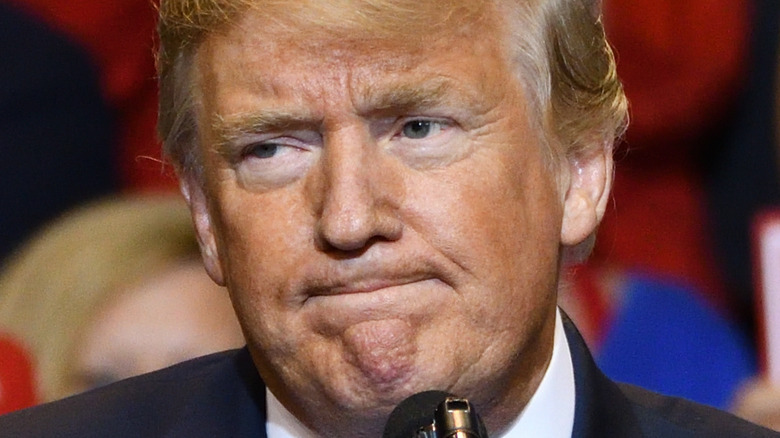 Evan El-Amin/Shutterstock
It's been a rough year for former President Donald Trump. He's currently the subject of a civil probe conducted by New York Attorney General Letitia James over his business practices, which is a legal battle he recently got some bad news about. According to The Washington Post, Trump was held in contempt of court after he was ordered to turn over important legal documents by March 31. When those documents were withheld, the court decided to issue a fine of $10,000 for every day the former president failed to comply.
Trump will be in court for a while, as there were 19 legal actions being taken against him as of early February (via the Guardian). These cases range from financial and election fraud to his role in the January 6 U.S. Capitol riots.
While these legal issues are certainly serious, there was a somewhat silly moment in court that had both lawyers and members of the public laughing.
Trump's commentary in court left many speechless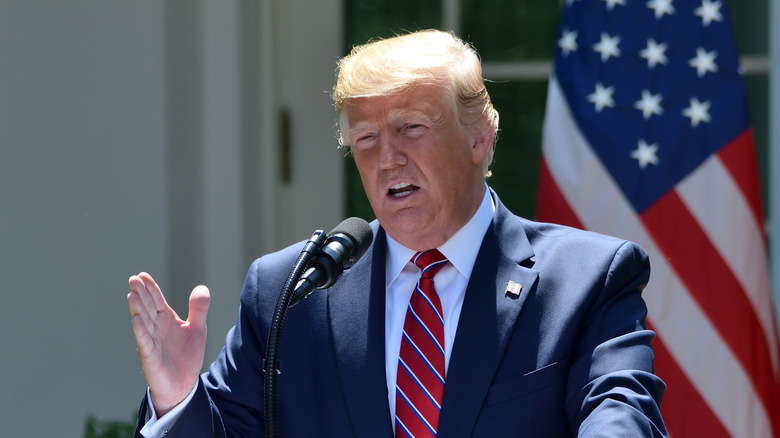 Evan El-Amin/Shutterstock
Donald Trump's legal battles have been heating up in New York City courtrooms lately, but one unearthed admission by Trump has everyone scratching their heads. According to the Daily Beast, transcripts that were recently released from a deposition in 2021 show Trump stating that a handful of fruits can be used as dangerous weapons and can therefore serve as a valid excuse for excessive "self-defense."
In the deposition, Trump seemed to be fairly concerned that he could be killed by someone throwing a piece of fruit at him (via Vanity Fair). His fear of fruit dates back to his 2016 campaign, when he told those attending one of his infamous rallies, "If you see someone getting ready to throw a tomato, just knock the crap out of them, would you?"
Reflecting on the event, he claimed his team had warned him about potentially being pelted with fruit that day. According to Vanity Fair, he said, "You get hit with fruit, it's — no, it's very violent stuff. We were on alert for that," adding, "It's worse than tomato, it's other things also. But tomato, when they start doing that stuff, it's very dangerous. There was an alert out that day."
The moment was comical for the lawyers involved, with one stating, "A tomato is a fruit after all, I guess," as Trump's attorney followed up the claim with "It has seeds" (via the Daily Beast).