Christina Hall Shares A Cryptic Post Amid Custody Drama With Ant Anstead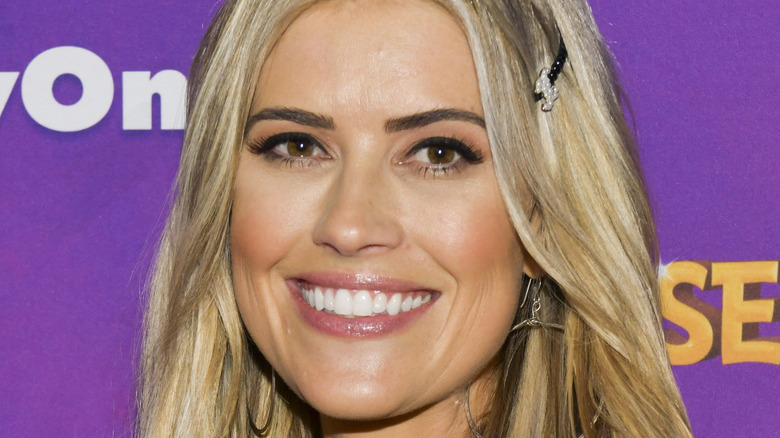 Rodin Eckenroth/Getty Images
There are always two sides to a story. First, we heard Ant Anstead's. He's the ex-husband of Christina Hall from "Flip or Flop" fame, of course, who was married to the HGTV star for just two years. Their divorce was an ugly one, insomuch as Anstead made it clear that separating wasn't his idea. The "Celebrity IOU Joyride" star told People previously, "Every day is an improvement. Obviously, going back a couple of months, I mean, it was a big hit."
But in the time since the couple's breakup, both parties had seemingly moved on with flair. The "Christina on the Coast" star married Joshua Hall while Anstead has been blissfully coupled up with actress Renée Zellweger, recently sharing a tribute to the star a year to the day after their meeting. 
And, by all accounts, it appeared as if the exes were successfully and amicably co-parenting their son, Hudson. As the British TV personality told ET Online in 2021 about navigating their "blended family," "Hudson's peers and kids at school are all in very similar situations and it just has to come from a place of love really because ultimately if the decision is in favor of the child, it's ultimately the right decision."
Fortuitously, the star also commented on how important it was to him to handle his side of things in a way that would make him proud years from now. Anstead further noted he's witnessed unhealthy co-parenting relationships, which he views as a "shame."
Ant Anstead loses his bid to gain sole custody for now
No matter what Ant Anstead said in the past about co-parenting with Christina Hall, it seems something has changed, because the star has asked for sole custody of their son. In fact, according to People, the U.K. native filed an emergency request to gain full custody of Hudson, but was denied by a California judge, with the case being deferred until June at which time the motion will be considered. 
While we don't know exactly why Anstead, who frequently documents his time with his son on social media, is requesting full custody, he did claim in the filing that Hall spends very little time with their 2-year-old and that he has been the primary caregiver since their divorce.
For her part, the newlywed mom of three (she also shares daughter Taylor and son Brayden with ex-husband Tarek El Moussa) shared a statement with the outlet about her reaction to the shocking filing. "What Ant is doing deeply saddens me," Hall said, adding her wishes would have been for the matter to be handled privately.
Now, she is also sharing a cryptic post on Instagram amid the custody drama.
Christina Hall intimates it's Ant Anstead who has the problem
With the public left to speculate about why Ant Anstead would want to end the joint custody agreement in place, so far, Christina Hall had only shared the statement about feeling saddened by the filing. But now, the reality star is also taking to Instagram to let fans in on how she's really feeling about this very unsettling situation.
The HGTV star, who also often shares photos of her family online, posted a quote attributed to Jill Blakeway that clearly alludes to how her ex-husband treats her, from her perspective. "When a toxic person can no longer control you, they will try to control how others see you," Hall's caption reads. "The misinformation will feel unfair, but you stay above it, trusting that other people will eventually see the truth just like you did."
The post also includes a lengthier quote that talks about a man's need to control a woman if he feels "threatened." 
She shut off comments to the post.
Meanwhile, Anstead's social media is quiet at time of writing, with the car expert not yet reacting to his ex-wife's mysterious share.