Everything We Know About Naomi Judd's Grandchildren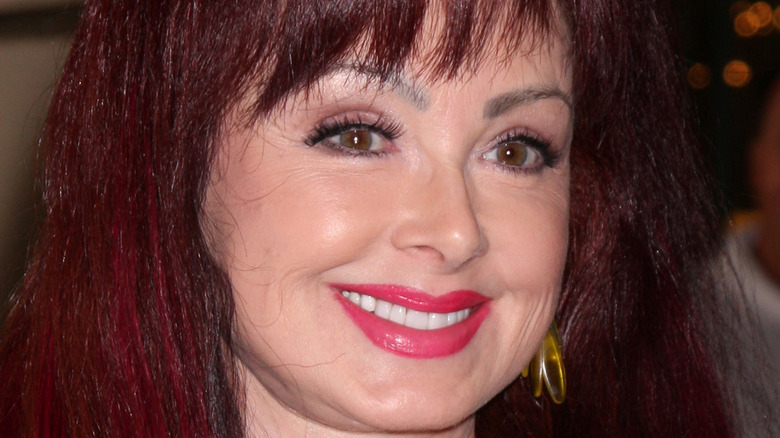 Kathy Hutchins/Shutterstock
A day before she was to be inducted in the Country Music Hall of Fame, it was announced that Naomi Judd had died at the age of 76. Naomi's daughters, Wynonna and Ashley Judd, both shared on Twitter, "Today we sisters experienced a tragedy. We lost our beautiful mother to the disease of mental illness." Naomi was one half of the mother-daughter duo, The Judds, that dominated the country music scene in the 1980s and early 1990s. 
According to The Washington Post, Naomi and Wynonna started their music career together after the mother of two had already experienced a failed marriage and living off welfare. In a 1994 interview with Dallas Morning News, Naomi said, "I'd been through fires, earthquakes, been slam-dunked, my heart ripped out and stomped on by men. By the time I got into country music, I feel like what I did was just communicate." The Grammy-winning group had 14 No. 1 singles, and Wynonna credits her mom for her start in music. In 2015, the singer said, "I started singing, and Mom'd be doin' chores and she'd start singing lower harmony. We'd sit around the supper table and just sing to pass the time." 
Not only was Naomi a great mother, but she was also a wonderful grandmother as well. 
Naomi loved being 'completely present' with her grandchildren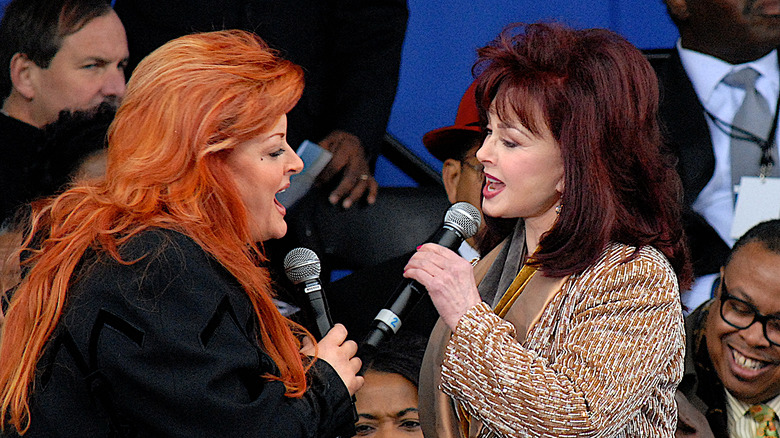 mark reinstein/Shutterstock
Wynonna Judd has two children from her marriage with Arch Kelley III — Elijah and Grace — who would refer to their late grandmother, Naomi Judd, as "Mawmaw," according to People. When talking about her grandkids in 2008, Naomi said that she enjoyed being "completely present" with them. She even almost missed a flight once after Elijah and Grace stopped by to visit their grandmother and they talked over some hot chocolate. When responding to why she was late, Naomi said, "Life is more important than show business." 
While Naomi loved her grandchildren greatly, she did once say in 2007 that the birth of Elijah was "the most terrifying experience in [her] life" (via Grand Magazine). Wynonna had a difficult time during the birth, but Naomi, who was a registered nurse, was there by her daughter's side the entire time. In that same interview, Naomi also shared she would tell both Elijah and Grace that she "was the first person to see them second only to their mommy." In fact, Elijah would respond, "Mamaw's boy," whenever asked by Naomi, "Whose boy are you?" 
While Naomi had said that Elijah could be a comedian one day and that Grace could sing as well, she admitted that she didn't want her grandchildren to follow in her family's show business footsteps. 
Naomi also admitted she was just as proud of her grandkids as she was her Grammy awards
It seems having a busy music career may have led Naomi Judd's granddaughter down a different path. Grace Pauline Kelley, Wynonna Judd's daughter, was sentenced to eight years in prison after violating her probation. Kelley had been ordered to enter a drug rehab facility after pleading guilty to the sale and possession of methamphetamine, but left early in 2017 (via People). Instead of having to serve her full eight-year sentence, Kelley was released early in 2019. In a 2020 interview on Fox Nation's "The Pursuit! with John Rich," Wynonna Judd admitted that when she was Kelley's age, "I was on a bus with my mother. Kind of hard to get in trouble." However, she also said that her daughter was "healthier than [she] was at 23." She even said, "My daughter is the strongest Judd woman in our 'herstory.'"
At the same time that his younger sister was getting into some legal troubles, Elijah Judd was proposing to his now-wife, Hailey. Wynonna shared the moment on Instagram, saying, "I am one proud Mama." She later shared another Instagram post in December 2020 with a picture from Elijah and Hailey's wedding day, saying, "To my first born, who turns 26 today, I look at this picture & it's hard to believe that you're married!" 
While Naomi doesn't have any photos of her grandkids on her Instagram, she did admit in her 2007 Grand Magazine interview, "Being 'Mamaw' is a reward right up there with my seven Grammys and all my other awards and being a New York Times best-selling author and the mother of two good girls."