Inside Naomi Judd's Relationship With Her Famous Daughters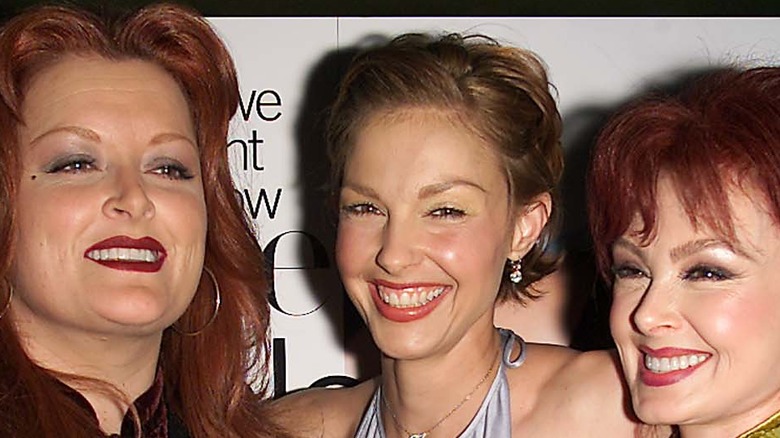 Evan Agostini/Getty Images
Wynonna and Ashley Judd announced the heartbreaking death of their mother, Naomi Judd, on April 30. The statement, which was shared with The Associated Press, read, "Today we sisters experienced a tragedy. We lost our beautiful mother to the disease of mental illness." Both Wynonna and Ashley also shared the statement on their personal Twitter accounts, and revealed, "We are shattered. We are navigating profound grief and know that as we loved her, she was loved by her public. We are in unknown territory."
Naomi had dealt with severe depression for years. In 2016, she sat down with Robin Roberts for an ABC News interview, where the country music singer discussed her struggles. She even admitted her reason for speaking up, saying, "If I live through this, I want someone to be able to see that they can survive." While Naomi may be most known as one half of country duo, The Judds, she has always been a mother first and foremost. 
Naomi supported her daughters through welfare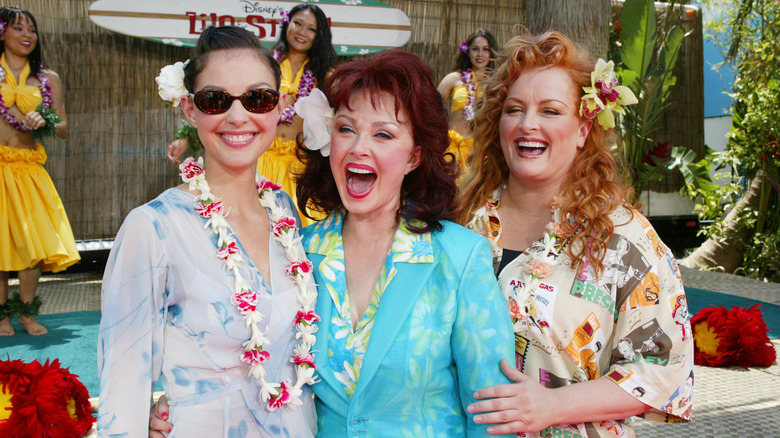 Kevin Winter/Getty Images
Before The Judds were winning Grammys and performing in sold out arenas, Naomi Judd was just a struggling mother of two, living off government-sponsored welfare (via The Washington Post). Naomi actually got pregnant with Wynonna at a very young age. According to USA Today, the birth of Wynonna in 1964 caused Naomi, who was 17 at the time, to miss her high school graduation. While Wynonna's father left town after hearing of Naomi's pregnancy, the country music singer married another man, Michael Ciminella, according to The New York Times. 
Ciminella was actually the father of Ashley Judd, who was born in 1968. Unfortunately, Naomi's first marriage did not work out and she was left raising her two kids alone by 1972. She didn't let the setbacks stop her and even went to school during this time to become a registered nurse. At the same time, Naomi also encouraged her daughters to pursue their dreams in the arts. Wynonna even admitted in a 2015 interview, "I started singing, and Mom'd be doin' chores and she'd start singing lower harmony. We'd sit around the supper table and just sing to pass the time" (via The Washington Post). 
This was just the start of what would become the mother-daughter duo, The Judds, with Naomi and Wynonna. The two were then signed by RCA Records and quickly became one of country music's biggest groups in the 1980s with hits like "Mama He's Crazy" and "Turn It Loose."
Naomi supported Ashley outing Harvey Weinstein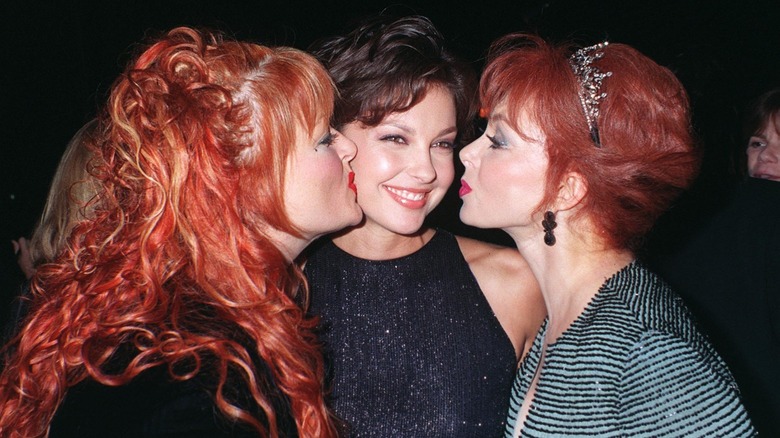 Featureflash Photo Agency/Shutterstock
While Ashley Judd wasn't a part of the mother-daughter duo, she went on to become a star on the silver screen in films like "Double Jeopardy" and "Where The Heart Is." When talking about her famous daughters, Naomi Judd said in a 2006 AARP interview, "The good news is, I raised two very creative, strong-willed, expressive, passionate women." She also joked, "The bad news is, I raised two very creative, strong-willed, expressive, passionate women." 
Naomi's relationship with her two daughters wasn't always smooth sailing. In her 2011 memoir, "All That Is Bitter & Sweet," Ashley admitted, "My family of origin, the one into which I was born, was also brimming with love but was not a healthy family system" (via HuffPost). She also shared that Naomi "created an origin myth for the Judds that did not match [her] reality." According to Ashley, "She and my sister have been quoted as saying that our family put the 'fun' in dysfunction. I wondered: Who, exactly, was having all the fun? What was I missing?" 
Despite having a rocky childhood, Ashley later admitted that it was her mother who gave her the courage to speak up about her alleged sexual harassment by Harvey Weinstein. Ashley told "Access Hollywood" that her mother told her, "Honey, go get him." It's clear that Naomi was always there to support her daughters in everything they did.