The Sunday Riley Face Oil Phoebe Dynevor Swears By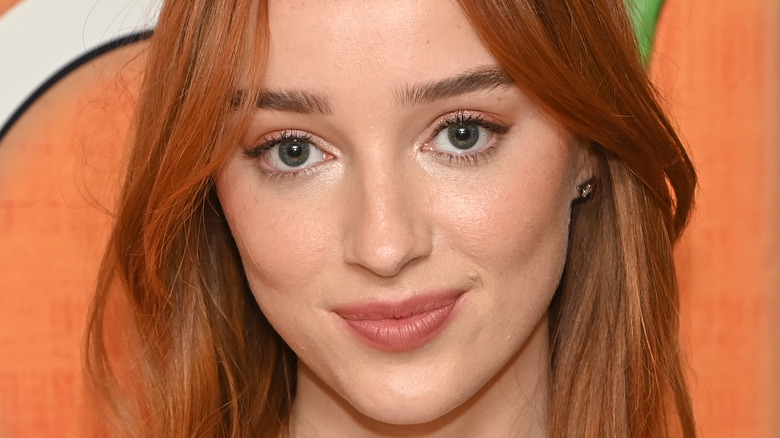 Kate Green/Getty Images
Netflix's "Bridgerton" has gained massive popularity with its binge-worthy storyline where many of us vicariously live through the characters, and it has inspired countless makeup looks. The show is so huge that it collaborated with the iconic Pat McGrath to release the "Bridgerton" collection, not once but twice, per Elle. The Regency-era show has influenced modern-day makeup, focusing on flawless skin that glows from within, which made Phoebe Dynevor and Ashley Simone overnight beauty sensations. We are dying to find out their beauty secrets, and one of them is face oil.
Face oils have become a staple in skincare, and perhaps a decade ago, we wouldn't dream of slathering oil all over our faces on a regular basis but come to find out, they are actually great for your skin. Cosmetic chemist Nick Dindio told Allure, "Oils can help replenish [the] lipid layer that is stripped away to moisturize the skin," and added that oils can strengthen the skin barrier by preventing moisture loss by forming a layer on the skin surface. If you are wondering about the secret to Phoebe Dynevor's beauty, you can get your hands on her go-to face oil.
Phoebe Dynevor's favorite face oil is loaded with antioxidants and superfoods
"Bridgeton" breakthrough star Phoebe Dynevor has enviable porcelain skin, and thankfully, she's shared some of her skin secrets. She admitted to using Vaseline all over her face until she was 14 before learning about skincare (via Vogue). She is "obsessed" with the brand Sunday Riley and uses many of their products religiously. She is the ambassador for this cult-favorite skincare brand but actually spoke highly of the oil before she became the face of Sunday Riley, per Style Caster. Lucky her! Dynevor has dry skin and is a huge fan of the Sunday Riley Juno Antioxidant + Superfood Face Oil. "I love this product so much," Dynevor told Vogue. She added, "Especially in winter, I just put it on day and night and hope for the best." Now you know the secret to her super-hydrated, radiant-looking skin.
According to Sunday Riley, this oil is perfect for dehydrated skin because it can restore your skin's natural moisture barrier and give an instant glow. It is infused with blackberry seed oil, which is a potent antioxidant and omega fatty acids rich oils like blueberry, cranberry, and red raspberry. It also has wild carrot seed oil that helps your skin's elasticity. It is a beautiful blend of yummy superfoods that is a blessing for your skin. No wonder our Daphne looks so picture-perfect.
Phoebe Dynevor's other favorite beauty products
The gorgeous Phoebe Dynevor is the ambassador of Sunday Riley for a reason; just look at her flawless complexion. She is a big fan of some of their other products that have been immensely popular before she took on the role. One of her favorite products is their Sunday Riley C.E.O. 15% Vitamin C Brightening Serum that she is "obsessed" with and uses after washing her face with cold water (via Vogue). According to the brand, it has 15% vitamin C that helps with hyperpigmentation, dullness, and premature aging.
Dynevor credits Sunday Riley Good Genes All-In-One AHA Lactic Acid Treatment for her "smooth, clear and instantly radiant" skin, per Get The Gloss. She prefers to use a product with multiple benefits, which is why she is a fan of Sunday Riley's Good Genes and told the outlet, "What more could you want in one product, especially when you're always on the move for work?" This Allure Best of Beauty Award Winner has a cult-like following for a reason. According to Sunday Riley, it has lactic acid to gently exfoliate and reveal younger-looking skin. In addition, it has licorice to brighten and arnica to soothe.
Regarding makeup, she is a minimalist and was already a big fan of Charlotte Tilbury before becoming the face of the namesake brand (via Harper's Bazaar). In Bridgerton, her character's signature lip color was the iconic Charlotte Tilbury Pillow Talk lipstick, and she loves it in real life too.