Jada Pinkett Smith Shows She's Doing Well In The Wake Of The Oscars Slap Controversy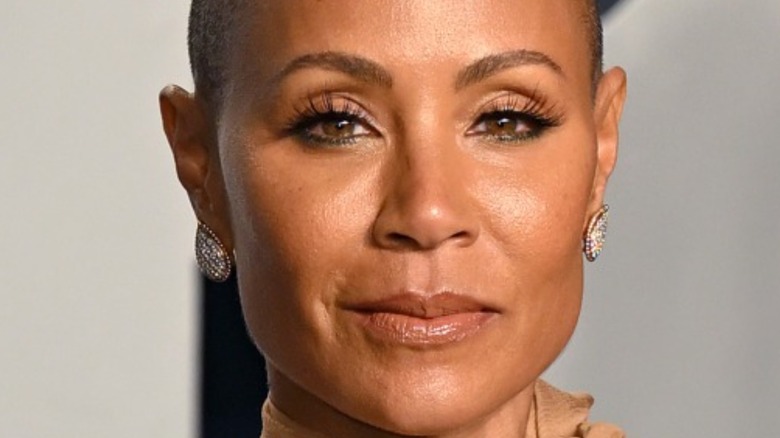 Karwai Tang/Getty Images
Jada Pinkett Smith has been pretty coy about her reaction to husband Will Smith's Oscars slap controversy. Rather than respond to mounting criticism and concerns over the viral moment, Jada has stayed relatively quiet on the surprising incident. Though Will publicly apologized to Chris Rock and the Academy, Jada has left fans to decipher her true feelings from ambiguous posts on social media and footage showing alternate angles of the tense moment. In a March 29 Instagram post, two days after the Oscars, Jada addressed what happened with a single quote: "This is a season for healing and I'm here for it." She posted the simple photo of the quote without a caption.
Then, during the April 20 episode of her hit Facebook Watch series "Red Table Talk," the opening title card seemed to reference the controversy. "Considering all that has happened in the last few weeks, the Smith family has been focusing on deep healing," the title card read in part. "Some of the discoveries around our healing will be shared at the table when the time calls." It's possible that the "The Matrix Revolutions" star will bring up the incident on her series down the line, but Variety pointed out that the Season 5 press release shows an already jam-packed schedule.
Now, Jada is showing that her family is fully intent on healing.
Jada Pinkett Smith is focusing on healing and channeling positivity
Page Six reports that Will Smith, who has kept off the radar since the Oscars slap controversy, is currently in India and has been there since April 23. Multiple photos surfaced of Will posing with fans after landing in Mumbai, per Daily Mail. A source revealed to People that the purpose of the trip is restorative and spiritual, and that Will is committed to repairing the harm done. However, according to Page Six, some are questioning the intent behind the trip as the "King Richard" star allegedly has yet to apologize to Chris Rock in private.
Per Us Weekly, the trip was planned before the Oscars moment that will live on in infamy. In the face of this skepticism surrounding the trip, Jada Pinkett Smith is choosing to focus on the positive. The "Girls Trip" star turned to Instagram to share her current state of being. She posted a selfie where she is visibly glowing and captioned it, "Smile within your heart and be reminded that life is a gift and so are you." The focus of this trip makes it clear the Smith family is doing their best to move on.