Drew Barrymore Apologizes After Her Joke About Amber Heard And Johnny Depp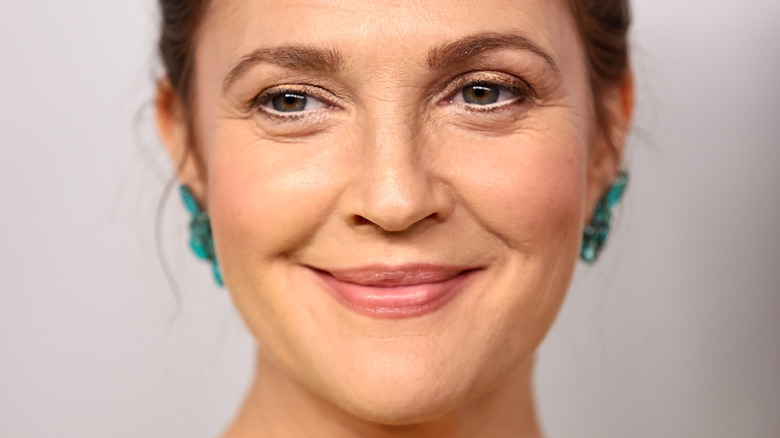 Dimitrios Kambouris/Getty Images
It seems like the entire country is tuning in to the highly publicized defamation trial between Johnny Depp and Amber Heard. In the trial, Depp and Heard are facing off after Depp claimed Heard's 2018 Washington Post op-ed damaged his professional reputation. Both celebrities have revealed shocking insights into their former courtship and marriage, including allegations of Depp's drug abuse, physical and verbal altercations from both sides, and an intense and ongoing power struggle during their relationship (via BBC News).
With the Depp v. Heard case being televised, both fans and Hollywood stars have been watching and sounding off about which side they're on. Some, like Ricki Lake and "The Walking Dead" star Laurie Holden appear to be in support of Depp, while others like Howard Stern have slammed the actor for being "narcissistic." Drew Barrymore added her voice to the conversation while discussing the trial on her show, "The Drew Barrymore Show," but she was quickly met with backlash from critics.
Drew Barrymore apologized for poking fun at Johnny Depp and Amber Heard's legal battle
As the Depp v. Heard trial continues to unfold, Drew Barrymore decided to discuss the courtroom events with her guest, Anthony Anderson, on "The Drew Barrymore Show." The two joked about the trial, with Barrymore calling it a "seven-layer dip of insanity." She then went on to say, "I know what it's like to have your life put out in public, I understand all the feelings." Despite having some empathy for the situation, Barrymore's comments didn't sit well with critics. According to People, fans took to Twitter to criticize the actress, saying they'd "lost all respect" for her and that "abuse is not funny."
Barrymore has now apologized for poking fun at Depp and Heard's legal battle. The talk show host took to Instagram, posting a one-minute video where she said she realized she had offended some after "making light of Johnny Depp and Amber Heard." She then offered a heartfelt apology, thanking those who called her out and offering her a "teachable moment" to learn from. Barrymore said, "I can be a more thoughtful and better person moving forward because all I want to do is be a good person ... I will grow and change from [the backlash]."