What Is Hair Frosting And Will It Replace Your Balayage?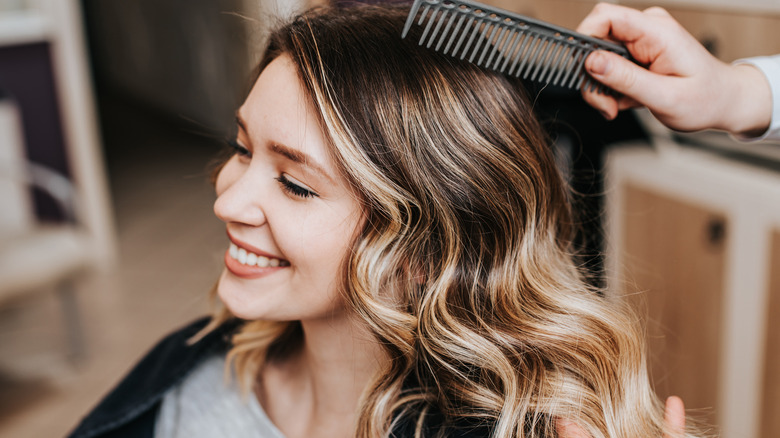 hedgehog94/Shutterstock
We love checking out all the new hair fads to see what's trending in the beauty world. Currently, we're obsessed with the hairstyles you'll be asking for in spring 2022, which include dramatic layers and chic bobs. Are you looking for a way to change your hair soon but aren't sure what you want to do or what's trending? According to Harper's Bazaar, some significant hair trends leading the charge consist of fun fishtail braids, sassy space buns, cute copper hues, curtain bangs, bold shaved heads, and bobs with some texture.
While many people will enjoy exploring those wild hair trends, we understand that not everyone wants to commit to copper, maintain bangs, or buzz off all their beautiful hair. Luckily, for anyone who doesn't want to make a drastic change to their hair but wants a fresh update for their locks, hair frosting is a fun option receiving plenty of attention (via Glam). If you hope to go lighter but don't want to lighten your whole head or even commit to foil highlights, hair frosting is the perfect trend for you.
Hair frosting provides a subtle contrast
According to Refinery29, hair colorists create the frosted hair look by lightening single pieces of hair rather than focusing on multiple strands at one time. This helps to frost someone's natural, darker hair color for a more low-key spin on traditional or chunky highlights. Adopting the hair frosting trend adds some cool brightness to your locks and it isn't high-maintenance, plus it looks flattering on a plethora of hair types.
If you want to more clearly understand what hair frosting looks like, scroll through some pictures of this stylish trend on Instagram, or take a look at the always gorgeous Hailey Bieber rocking this hairstyle. This coloring is attractive for long hair and short tresses, plus straight and wavy hair, too. Although hair frosting looks excellent year-round, this contrasting hair color gives off a sunny vibe, so it's particularly perfect for warmer days, making it one of the best summer hair colors for you to choose!
Hair frosting vs. balayage
Another popular hairstyle that's been around significantly longer than hair frosting is balayage. According to Marie Claire, the balayage hairstyle doesn't require much maintenance, and hair colorists paint the balayage onto the lower parts of your hair to create its signature blended effect.
There are different variations of balayage, which could be why this style has been popular for such a long time. Sometimes you can't really notice balayage at first glance when it's created toward the bottom of someone's hair (via Instagram), while other times it's more noticeable due to an intense look. Although people typically think of a blond balayage when they hear the term, you can also create balayage in a more adventurous color, such as blue.
So, should you lighten your hair with hair frosting or balayage? According to My Imperfect Life, hair frosting gives you a gentler style, so the main difference between these two hair trends is that hair frosting is much subtler than balayage. Although My Imperfect Life believes that hair frosting will be trendier over time, what you choose depends on what you're looking for and your personal preference. If you want a more natural-looking pop of lightness, hair frosting would probably be the better fit. However, if you want to add a bit more drama without being too over-the-top, go for a balayage instead.