Jessica Simpson's Thoughts About Weight Loss Might Inspire You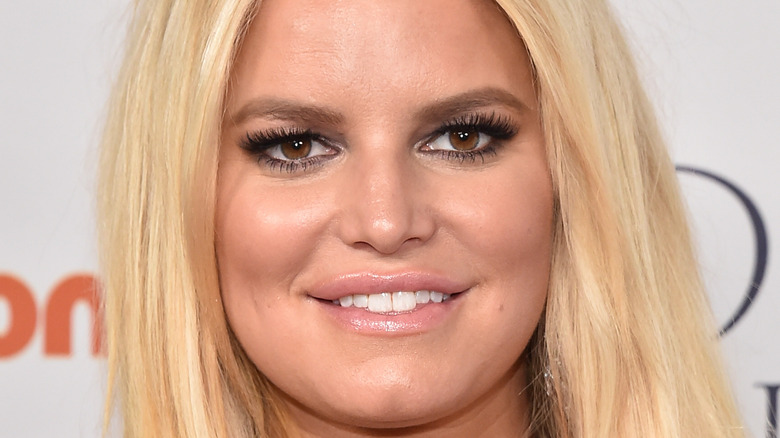 DFree/Shutterstock
Jessica Simpson was just a teenager when her body was first put under a microscope by the music industry. Her father, Joe Simpson, once claimed that his daughter was pushed out of gospel music because her breasts were "too sexy" (via Vanity Fair). After moving on to pop music, Simpson wrote in a diary that she thought of her body "80%" of every day after being body-shamed by a label executive. She also shared in her memoir "Open Book" that she was told to lose weight early in her career, prompting her to take diet pills for several years, per US Weekly. 
The negative attention on the singer's body didn't stop as she progressed in her career. Tabloids ruthlessly attacked her figure, including an infamous 2009 fiasco involving a pair of high-waisted jeans that resulted in fat-shaming headlines (via People). Simpson's mother told People that the scrutiny about her weight was so damaging that the pop star and actress didn't want to leave the house.
More recently, Simpson's weight continues to fluctuate, especially after having children. The mom of three revealed in an Instagram post that she weighed 240 pounds after giving birth to her third child, Birdie Mae. But according to Simpson, she only feels pride for how far her body has come.
Jessica Simpson focuses first on how she feels, not how she looks
Jessica Simpson proudly shared a bikini photo on Instagram in April 2022, along with a caption stating that she had gained and lost 100 pounds three separate times in her life. Though the famous mom is happy with the weight she's lost, she told People that she's appreciated her body in every size. Simpson explained, "I always celebrate my body ... The fact that it made children is unreal ... but you just don't ever think you're going to fit back into things. It's crazy. A woman's body is phenomenal in what it can do."
The star believes that body image should truly come from the inside out and that it's best to start with changing how you feel on the inside. For Simpson, losing the baby weight was just the cherry on top. "For me, as a woman, to be able to look as good as I feel was a major moment ... You're proud of yourself and you deserve it ... [and you're] understanding yourself and feeling good on the outside. When those two things click, the sky's the limit," she explained. 
Jessica Simpson avoids extreme weight loss plans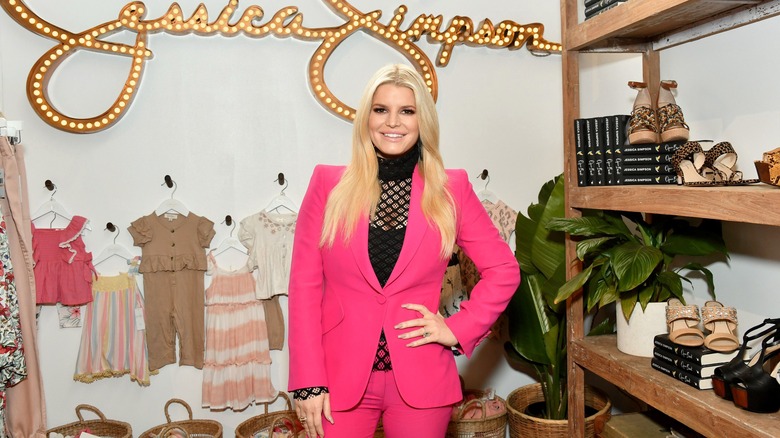 Amy Sussman/Getty Images
Loving your body like Jessica Simpson doesn't require making major sacrifices — but it might involve throwing out your scale. Simpson told Today that she no longer weighs herself and has "no idea how much" she currently weighs. If she puts on a pair of pants only to discover they've become too tight, she simply swaps them for a bigger size from her closet.
For those committed to a weight loss journey, Simpson and her personal trainer, Harley Pasternak, have practical advice. Pasternak told E! that Simpson lost weight by eating healthy proteins and vegetables, though she was allowed to indulge in her favorite foods throughout the week. The star also walked 14,000 steps each day, which Simpson says is both a form of cardio and a way to connect with her family on walks (via People).
Overall, Simpson seems to love her figure after losing weight but knows the importance of embracing your body in any size or shape. That's why she prioritizes offering a large range of sizes in her clothing line. She told Allure in 2017, "It's very important for me to let every woman feel included ... If I make a shirt, I'm going to make sure every size is available. I have been every size, trust me."