Pete Davidson Literally Has Kim Kardashian's Back In Emotional New Video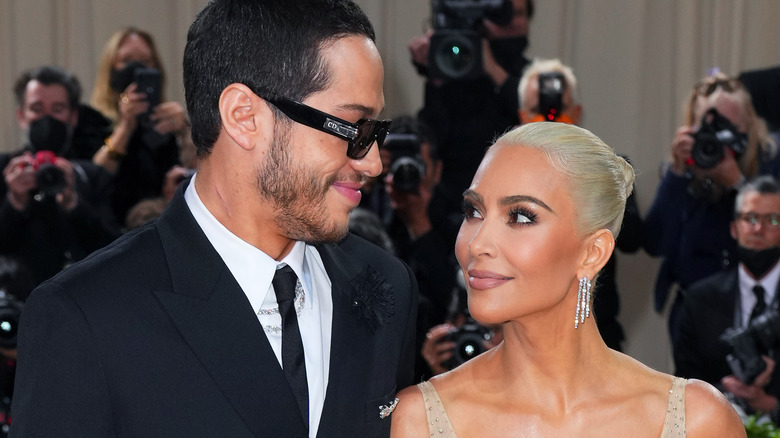 Gotham/Getty Images
Kim Kardashian and Pete Davidson became red carpet official at the White House Correspondents' Dinner, but it was their sweet display at another event a couple days later that had everybody talking. The SKIMS founder was among the best-dressed stars at the 2022 Met Gala in a glittering gown once worn by Marilyn Monroe. As Page Six notes, this was only the couple's second official appearance together. They had a near miss at the premiere for her family's new reality show, but Kardashian ultimately opted to walk the red carpet alone after arriving with Davidson. The unlikely duo has been dating since October 2021.
The "SNL" star planted a sweet kiss on his lady's head at one point as they posed for photos. However, Kardashian was reportedly "very relieved" after the event (via E! News). A source alleged that partly had to do with everything it took to get into Monroe's famous dress. Kardashian had people upset over her extreme weight loss, which involved intense exercise, no carbs, and no sugar for three weeks leading up to the Gala. "She is so grateful she had the opportunity to wear Marilyn [Monroe]'s dress but was very stressed about fitting in it properly ahead of the Met," the source claimed. 
"There was a point in time where she thought she might not be able to pull it off." As it turns out, Davidson was instrumental in getting Kardashian ready to stun the world.
Pete Davidson reassured Kim Kardashian her Met Gala dress would fit
In behind-the-scenes footage shared by TMZ, Pete Davidson is seen cheering on Kim Kardashian as she struggles to get into her gown for the 2022 Met Gala. The couple was at Ripley's Believe It or Not in Orlando with Kardashian in the midst of a grueling diet and exercise regime. The clearly nervous reality star fretted that the dress wasn't going to go over her famous butt as a team of white-gloved dressers cautiously eased it up inch by inch. 
Davidson coached the SKIMS founder to just relax and trust that the dress will fit. As the comedian points out, the last time she tried it on, the dress wouldn't even go up halfway, so Kardashian had clearly made a lot of progress already. Although the zipper didn't fully close at the top, Kardashian accessorized with a chic white fur stole, which hid it perfectly. 
Ripley's purchased the dress for a whopping $4.81 million back in 2016, and Kardashian clearly took the responsibility of wearing it very seriously. She wrote on Instagram that she was "honored" to do so. "I always thought she [Monroe] was extremely curvy. I imagined I might be smaller in some places where she was bigger and bigger in places where she was smaller," the reality star admitted to Vogue. "So when it didn't fit me I wanted to cry because it can't be altered at all." Thankfully, it all worked out.