Mel B Gushes After Sharing A Special Moment With Prince William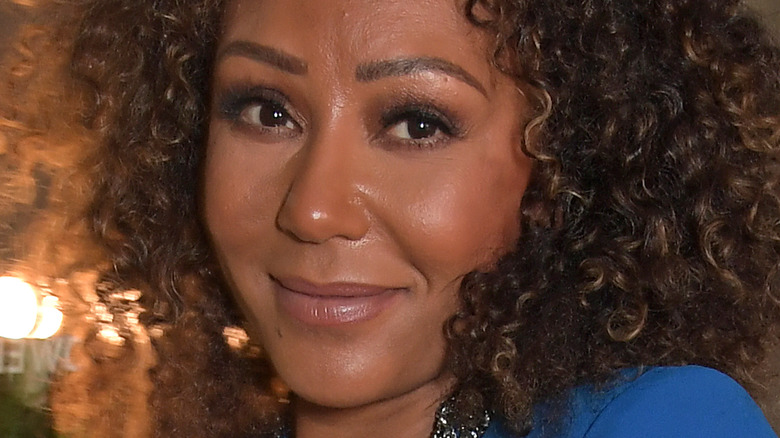 David M. Benett/Getty Images
Some people might look at Melanie Brown, AKA Mel B, and instantly think of the Spice Girls. While you're not wrong, there's also so much more to the woman than just singing. Mel B has devoted much of her post-singing career to advocating for domestic violence victims. Mel B has paired up with Women's Aid, a UK-based grassroots organization with a mission to "promote and create the respect, protection, and fulfillment of equal rights for women and to work towards the elimination of discrimination against women, in particular the elimination of violence against women," according to the organization's website. Mel B has become a voice for women that have gone through domestic abuse. Her work isn't going unnoticed, either. The singer got a high honor from Prince William, and, oddly enough, the ceremony ended with "giggles."
Mel B's work with Women's Aid doesn't just include speaking events and donating money. After experiencing what she has said was domestic abuse — her ex-husband has denied all allegations — she became a patron of Women's Aid, doing speaking engagements, meeting survivors, and actually making a movie with the company. "I have had my own experiences of abusive relationships but as Patron of Women's Aid I have spoken to so many other women, listened to what they have gone through and I know how very real the danger is to so many women out there," Mel B tells The Courier.
Domestic abuse is a heavy topic. It turns out that not even royals are immune to not knowing how to navigate tough conversations, but Mel B responded in the best possible way when she met Prince William. 
Mel B received an MBE from Prince William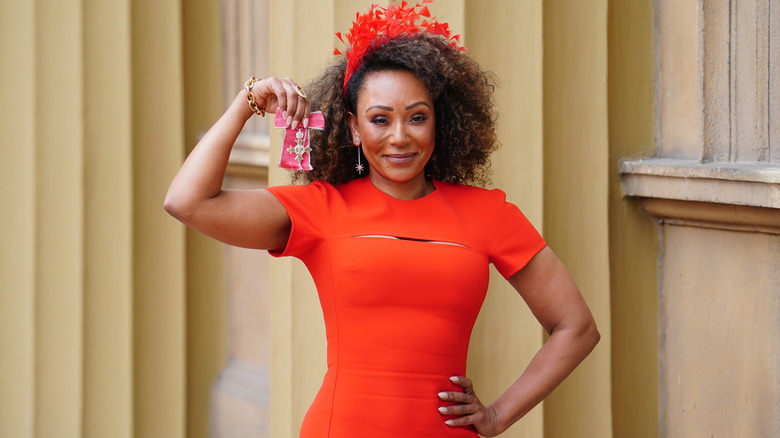 Pool/Getty Images
All Melanie Brown's, AKA Mel B, hard work in advocacy has royally paid off. As People reports, Mel B took to Buckingham Palace to receive The Most Excellent Order of the British Empire (MBE) from Prince William for her work with Women's Aid. Upon her visit to the royal's home to receive the honor, Prince William got a little awkward when presenting the award to the singer.
According to her own account, Mel B is a survivor of domestic violence, which is what sparked her involvement with the grassroots organization. The singer gushed about her time at Buckingham Palace and even revealed the comment from Prince William that made her giggle. "He commended me on all my work that I've been doing, and he goes, 'I'm so sorry you went through such a horrible time'," Mel B tells the PA news organization, according to Huff Post. "He did say, 'I can't believe I'm giving you one of these — I'm delighted,' and I said, 'Aw, thank you,' and we had a giggle."
It certainly is a day filled with highs for all her advocacy and some lows for the fact that, as she has said, is her struggles with domestic violence. "I never thought I would be here getting this MBE for the work I've been doing," Mel B said. "It's amazing to have but it's not just for me — it's for all those other women."
Another Spice Girl was at the event — sort of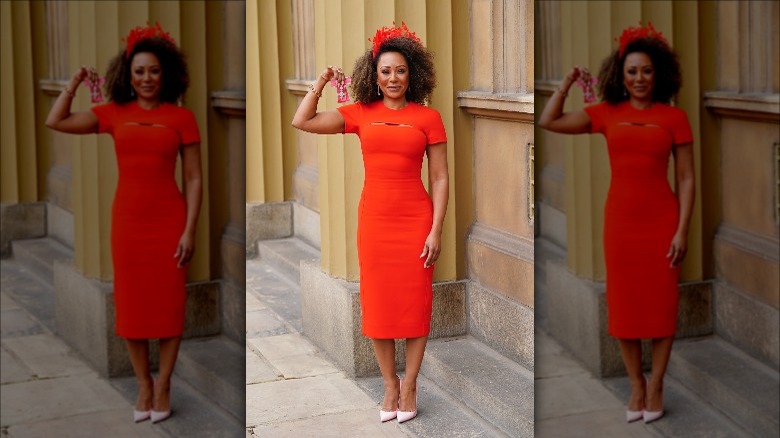 Pool/Getty Images
Okay, so none of Melanie Brown's, AKA Mel B, fellow Spice Girls went with her for the big day, but one of them was there in spirit. According to Mirror UK, Victoria Beckham, AKA Posh Spice, designed both Mel B and her mom's dresses for the visit to Buckingham Palace.
"A true role model," Beckham said on Instagram. "It was such an honour to dress you and your mum." According to the Instagram stories post, Mel B is wearing the Fitted T-Shirt Dress in Tomato Red and her mom is wearing another Victoria Beckham T-Shirt Dress. Mel B's dress is a cool $1,390 if you're looking to replicate the look for a big night. Mel B paired the look with a gorgeous bright red hairpiece that made the look even more royal.
The Spice Girls might not be getting together anytime soon, but it's incredible to see them come together and support each other years later.