Amy Schumer And Venus Williams Chat About Will Smith's Infamous Slap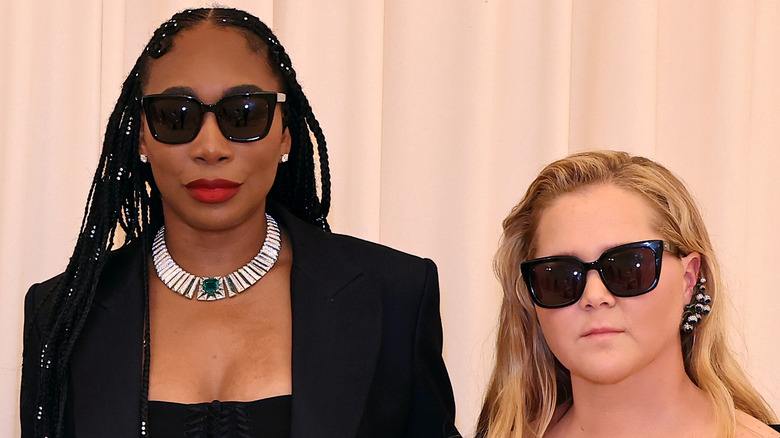 Arturo Holmes/mg22/Getty Images
The world was left reeling when Will Smith stormed the Oscars stage and slapped presenter Chris Rock across the face, after the comedian made an ill-advised joke about Smith's wife, Jada Pinkett Smith. The fallout was immediate and fierce, with celebrities and normies alike taking sides in what quickly became an insanely complex moral argument. At the end of it all, after launching a full investigation into the incident, the Academy of Motion Picture Arts and Sciences banned Smith from its events for a decade, per People.
Academy President David Rubin and CEO Dawn Hudson also acknowledged, in a letter obtained by the outlet, "During our telecast, we did not adequately address the situation in the room. For this, we are sorry. This was an opportunity for us to set an example for our guests, viewers, and our Academy family around the world, and we fell short — unprepared for the unprecedented." They thanked Rock himself, alongside hosts Amy Schumer, Wanda Sykes, and Regina Hall, for keeping their cool under the circumstances.
Smith accepted the decision in a statement (he'd already resigned from the board days prior, regardless). Earlier this week, Rock made a joke about the incident immediately after Dave Chappelle was attacked on stage, suggesting he's moved on from it. In a video from the event, shared by the Daily Mail, Rock quips, "Was that Will Smith?" According to Schumer, the comedian is doing great in the aftermath of the controversy.
Amy Schumer and Venus Williams are both looking on the bright side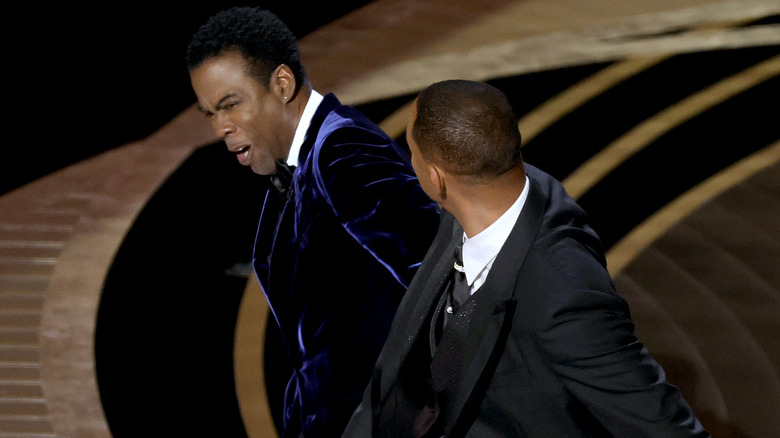 Neilson Barnard/Getty Images
Amy Schumer co-hosted the 2022 Academy Awards, so she had a front-row seat to the slap heard around the Dolby Theatre. During an interview earlier this week, the comedian offered some insight into the biggest Oscars story since "La La Land" mistakenly being named Best Picture over "Moonlight." Although Schumer's was among the 2022 Met Gala looks that missed the mark, she had plenty of good cheer to spread around. "Chris [Rock] is good," Schumer confirmed to Entertainment Tonight. "He's such a badass and I'm so proud of him. I'm proud of what [fellow Oscars hosts] Wanda [Sykes] and Regina [Hall] and I did that night." 
Tennis legend Venus Williams, who attended alongside the comedian and posed for photos in similar attire, acknowledged she's still proud of "King Richard," the biopic about her father in which Will Smith starred. The actor also notably won the best actor award for his performance, an achievement for which Williams and her family are similarly proud. The tennis icon made no mention of the slap itself, or Smith's bizarre acceptance speech, during which he described patriarch Richard Williams as "a fierce defender of his family," per British Vogue, seemingly by way of an explanation for his behavior. The actor also asserted "love will make you do crazy things." He subsequently apologized to Rock directly, on Instagram.