The Joke From Kim Kardashian's SNL Hosting Gig That Seriously Rubbed Kanye West The Wrong Way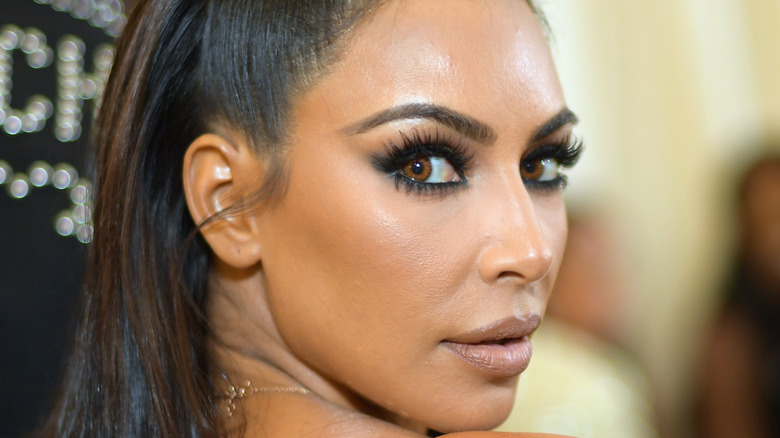 Matt Winkelmeyer/mg18/Getty Images
We assumed they'd met on the set of "Saturday Night Live," where he's a regular player, but Kim Kardashian and Pete Davidson's meet-cute happened earlier than we all originally thought. In fact, during the debut episode of "The Kardashians," the reality star opened up about how Davidson prepared her for the gig. 
According to Page Six, Kardashian recounted running into the comedian at the Met Gala and admitting how nervous she was to host. Kardashian shared how Davidson reassured her all it really took was good reading comprehension, hilariously advising, "Can you read cue cards? You're good." 
The reality star impressed everybody with her "SNL" debut, from the genuinely funny opening monologue to her willingness to get involved with the various wacky skits. In fact, Kardashian's "SNL" appearance had a surprising effect on ratings, notably increasing viewership thanks to her millions of fans all over the world. 
However, Kris Jenner was hesitant about Kardashian hosting because, as the momager acknowledged during an appearance on "The Ellen DeGeneres Show" (via ET), she isn't exactly known for her comedic stylings.
Luckily, Kardashian killed it. "The things that she said, the jokes she told, were so obviously silly to us as a family that it was just worth mentioning and making fun of," Jenner said. "We don't take ourselves too seriously." 
In fact, everybody thought the reality star was "hilarious," according to an insider. One person who wasn't too impressed, though, was estranged husband Kanye West.
Kanye West felt his genius was misrepresented on SNL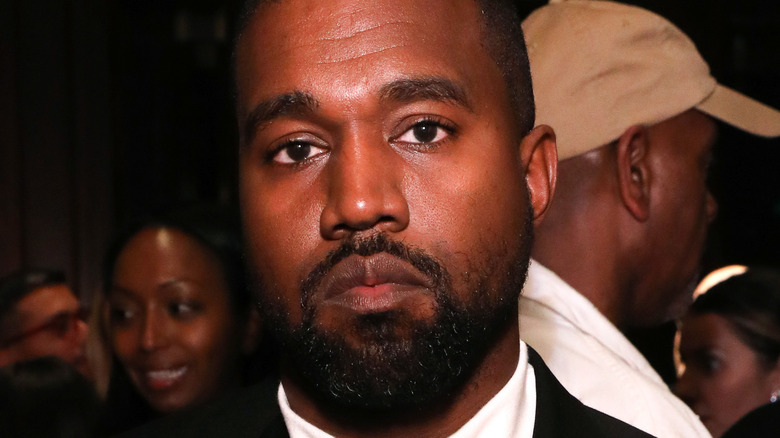 Robin Marchant/Getty Images
Kanye West wasn't as chill about Kim Kardashian's "Saturday Night Live" hosting stint as the rest of her loved ones. Per Hollywood Life, during a recent episode of "The Kardashians," she revealed that the rapper took offense to a joke made during her opening monologue. 
She memorably quipped, "I married the best rapper of all time. Not only that, he's the richest Black man in America. A talented, legit genius who gave me four incredible kids. So, when I divorced him, you have to know it came down to just one thing — his personality." In fact, West actually walked off set midway through. 
However, the controversial star wasn't upset that his soon-to-be ex-wife claimed he had a terrible personality. Rather, as Kardashian explained, West "wished I'd used the words 'filed for divorce,'" presumably because it wouldn't have seemed so final or like she was in control. West was upset about his divorce being covered in such a way that implied Kardashian left him, after all. 
Likewise, he wasn't happy about being described as simply a rapper, reportedly telling the reality star emphatically, "I'm so much more." Kardashian wasn't impressed, reasoning she'd publicly endured significantly worse throughout their relationship.
It's worth noting that her extended family was fully onboard with the trainee lawyer making fun of them, as she told i-D. Kardashian did pull back one joke about sister Khloé Kardashian and baby daddy Tristan Thompson, though, admitting, "I could've maybe gone further."