Kim Kardashian And Pete Davidson's Meet-Cute Happened Earlier Than We All Originally Thought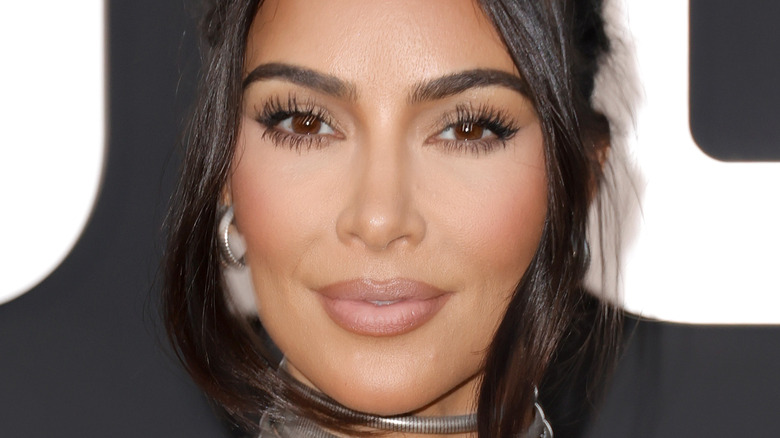 Frazer Harrison/Getty Images
"Keeping Up With The Kardashians" aired its final episode in June 2021, but a whole lot has happened with the family since then. Fans are no doubt thrilled that reality TV's first family is launching a new show, because the world needs some catching up on Kim Kardashian's life alone. Now that the megastar has been declared legally single in her divorce from Kanye "Ye" West, per the BBC, she is hitting up red carpet premieres with boyfriend Pete Davidson in tow. 
While Kim has moved quickly since hitting it off with Davidson during her "SNL" appearance in 2021, things are also heating up in the other Kardashian-Jenners' love lives. Per Bustle, Kendall Jenner — who has been dating NBA star Devin Booker since 2020 — admitting to watching all of her boyfriend's basketball games. Meanwhile, Kourtney Kardashian fake-married fiancé Travis Barker in Las Vegas, just so she can be ready when they walk down the aisle for real. Now, Kim is announcing the adorable way that she and Davidson first met, according to Page Six. Cleary, the show's premiere can't come soon enough! Until "The Kardashians" hits Hulu later in April, people are relying on interviews to get all the juicy details — so it's a good thing Kim is filling us in during the meantime.
Kim Kardashian and Pete Davidson first met at the Met Gala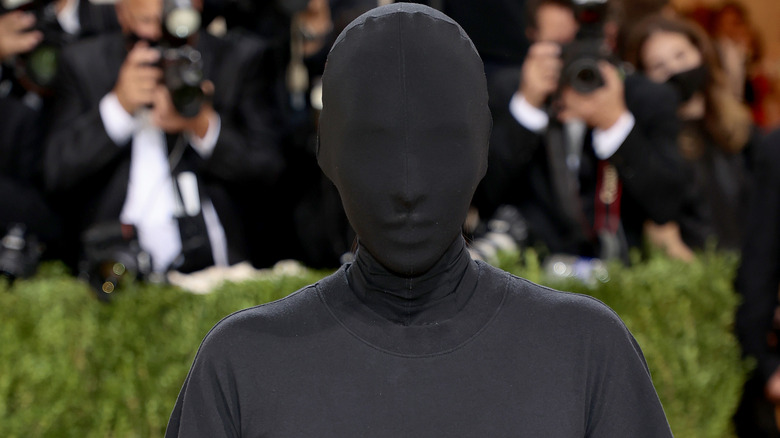 Dimitrios Kambouris/Getty Images
While the world collectively assumed that Kim Kardashian and Pete Davidson first met on the set of "SNL," it turns out that we were all wrong. The pair apparently met a month prior at the Met Gala in September 2021, according to Page Six. The star-studded event is where Kim actually asked Davidson for advice about going on the show. "I ran into Pete Davidson at the Met and I was like, 'I am so scared. I don't know what I signed up for,'" Kim revealed (via Page Six).  "And he's like, 'Can you read cue cards? You're good. You're good.'" To be completely honest, there's a good chance that Davidson didn't even know who he was talking to at the time.
Buzzfeed reports that Kim famously donned an all-black Balenciaga body stocking to the Met Gala. Because the outfit covered her entire face, arms, and legs, Davidson would have had to identify her by her ponytail. All jokes aside, it's still a seriously cute way to meet! It's refreshing to hear that this celebrity relationship started in an authentic way. 
Kim Kardashian and Pete Davidson are taking things slowly
Despite their on-screen kiss, this celebrity couple is still taking things relatively slowly. True, the two made things Instagram official in March, after Kim Kardashian posted a sweet carousel to her feed. But considering that Pete Davidson once infamously proposed to Ariana Grande within five months of knowing her, per Seventeen, things with Kim are on a much slower track.
In fact, they're not putting a label on their relationship at all. "I am a relationship kind of girl, for sure, and I wouldn't be with someone if I didn't plan on spending a lot of my time with them," Kim revealed in an interview with "Good Morning America" in April. "Obviously, I want to take my time, but I'm very happy and very content. And, it's such a good feeling just to be at peace." According to Page Six, Davidson will not be seen in the first season of "The Kardashians," but Kim says she's not writing him off his appearance in future installments of the show. Let's just say we're definitely not done keeping up with this family!