Queen Elizabeth Makes A Big Decision Regarding Her Attendance At Future Events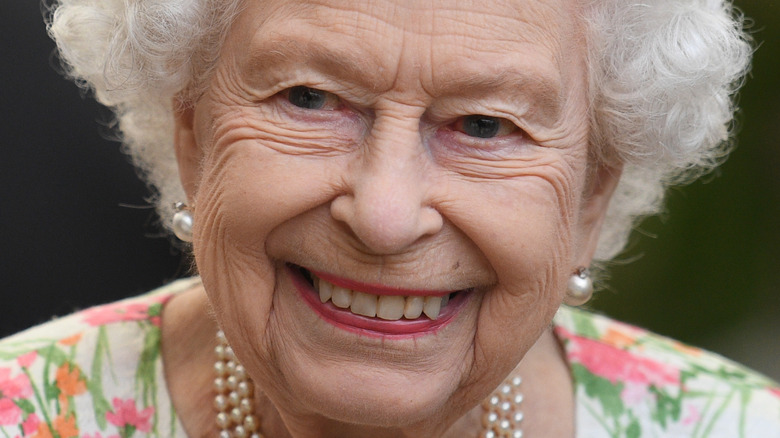 Wpa Pool/Getty Images
Queen Elizabeth's Platinum Jubilee is truly a cause for celebration. Occupying the British throne for 70 years is a feat no other monarch has accomplished. At the same time, the historic milestone is a solemn reminder that all good things must end, and the queen has shown signs of slowing down in recent months. The loss of her beloved husband, Prince Philip, was a devastating blow, and at his funeral, the public saw a rare glimpse of the queen at her most vulnerable and emotional. 
Since then, Her Majesty has suffered a series of health setbacks that have forced her to cut back on her official engagements. Although the queen is said to hate having her health discussed in the media, it was nonetheless news that she was seen walking with a cane, spent a night in the hospital, suffered a sprained back, and contracted COVID-19, all in the course of five months, per People. There have even been murmurs that the monarch is using a wheelchair. These have resulted in the queen missing out on a number of official engagements and sending other members of the royal family in her place.
The latest such report came on May 5, 2022, when Buckingham Palace announced that the queen would once again be absent from the royal garden parties she has hosted for the last 60 years. 
The queen's mobility isn't what it used to be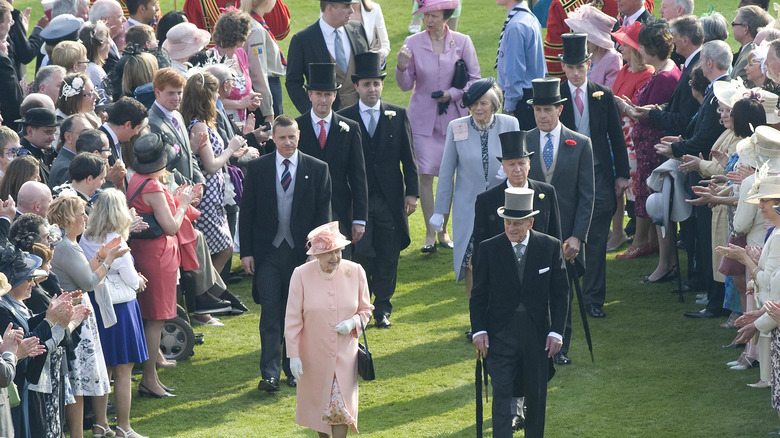 Wpa Pool/Getty Images
One of the most anticipated royal events of the summer season is the annual garden parties at Buckingham Palace. Per Royal Central, they're scheduled for the last three Wednesdays in May, plus one at Holyroodhouse in Edinburgh on June 29, and a special party on May 12 for injured and ill military members.
However, guests hoping to greet the queen in person in 2022 will be disappointed. The palace said in a statement (via The Independent), "Her Majesty The Queen will be represented by other members of the royal family at this year's garden parties, with details on attendance to be confirmed in due course." 
It's thought that mobility issues are to blame for the queen's absence. Given her recent troubles with her back and knees, plus her advanced age, the 96-year-old monarch may simply not be capable of standing and walking up and down the long lines of guests. Royals expert Angela Levin commented (via The Daily Mail), "it's a good decision for the Queen not to attend garden parties, as there would be too much standing. What a shame, though." 
Now everyone is wondering about the big Platinum Jubilee weekend celebration taking place in June 2022. There's already debate over whether Prince Harry will attend the Jubilee festivities, and having the queen miss out on the party in her honor would be an even bigger shame.