The Three Issues Steve Bannon Believes Biden May Be Impeached Over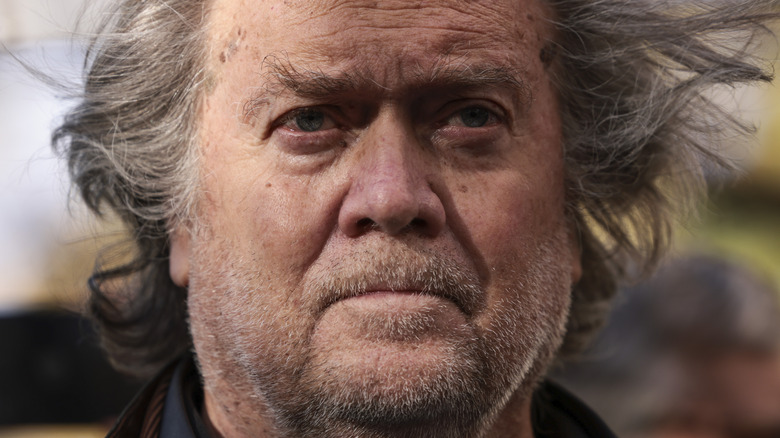 Anna Moneymaker/Getty Images
Steve Bannon, the co-founder of the far-right news outlet, Breitbart (via The Truth With Lisa Booth), went from reporting on politics to serving in former President Donald Trump's administration and back again (via NPR). Bannon was one of the architects behind Trump's campaign, and he became a fixture in the White House following his election. 
He served as executive chairman of Breitbart from 2012 until he stepped down from the company in 2018. At that point, Bannon had already left the White House amidst rumors of growing tension between himself and Jared Kushner (per the BBC). So, it was back to Breitbart Bannon went. That didn't last too long, though. The constant ups and downs of his career came to an all-time low when he was arrested in 2020 and accused of fraud. He was pardoned by Trump; however, Bannon still faces legal troubles (via Forbes). 
For instance, his future was called into question after he was indicted and held in contempt of Congress over his refusal to participate in the House investigation of the January 6 riot (via the Department of Justice). Instead of worrying about his own legal trouble, Bannon recently voiced his opinion on the downfall of President Joe Biden. 
More specifically, he believes the president will be impeached for three reasons.
Steve Bannon thinks immigration will play a role in Joe Biden being impeached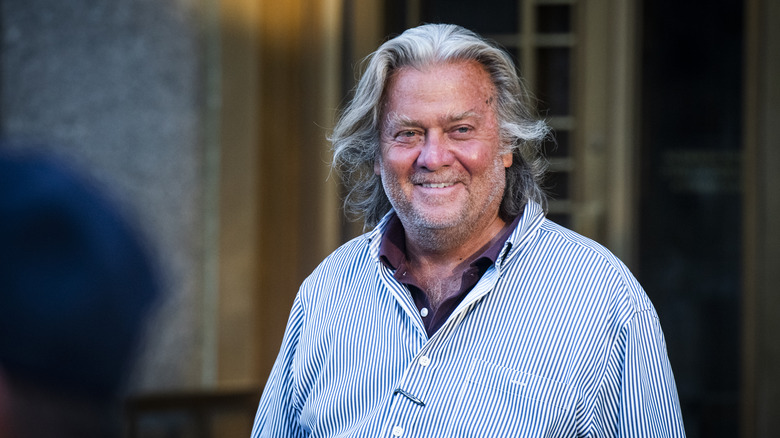 Bloomberg/Getty Images
Steve Bannon believes President Joe Biden will be impeached, and he made his position clear during a podcast appearance. While chatting on The Truth with Lisa Boothe, Bannon went all-in on his thoughts about the president's future. The former journalist turned strategist to former President Donald Trump noted that he believes Biden will be impeached for his son Hunter Biden's laptop, immigration laws, and how the administration handled the pandemic.
"I strongly believe Biden will be impeached by the House after thorough investigation," he said. "I think the first article will be his initiation and exacerbation of the invasion on the Southern border. I think the Hunter Biden laptop will be another, all the aspects of that." Bannon wrapped up his reasoning by looking at the pandemic. "And I think Fauci and what they knew about Fauci, CDC, FDA with health from the American people will be the third."
This isn't the first time there has been talk about impeaching Biden. For example, the day after his inauguration, Congresswoman Marjorie Taylor Greene filed articles of impeachment (via the Independent). The articles went nowhere. However, Bannon seems to be certain Biden will be successfully impeached at some point.