You Won't Believe How Over The Top Kim Kardashian's Incredible Hulk Party For Psalm Is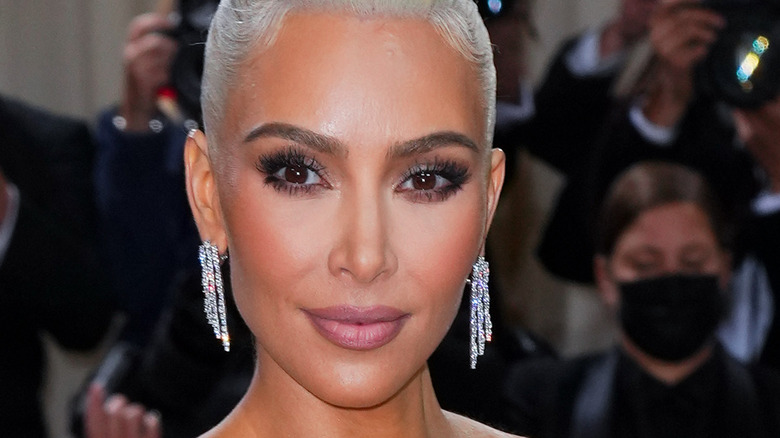 Gotham/Getty Images
Fresh off the over-the-top Easter extravaganza Kris Jenner threw for her kids and grandkids, complete with personalized gumball machines and giant, monogrammed chocolate eggs, Kim Kardashian is chronicling her son Psalm's Incredible Hulk-themed third birthday party — and let's just say it's as overblown as the Easter celebration. Taking to her Instagram Story, the mom of four shared photos and videos from the superhero-inspired soiree that will literally blow your mind. 
First, we see her preschooler riding a mini ATV to arrive to this fantasy function, which is decorated with everything a child could ever dream of to celebrate their birthday just like the Marvel icon.
Kardashian's series of posts reveal details worthy of the most famous family on Earth. We see what looks like a Hulk-inspired crafting station where kids can create green, scented slime, a bevy of green balloons and a life-size Hulk to supervise the situation, of course. There's even a balloon tunnel and what look like churros adorned with a photo of Psalm's face on top of Hulk's body. And don't forget the decadent-looking giant green cake created by Hansen's Cakes, with Hulk's fist smashing through the top of it and a wall of similar fists for small superhero fans to admire.
Kim Kardashian thought of everything — except inviting Psalm's dad
As E! Online reports, Psalm West doesn't turn 3 until May 9th, but clearly Kim Kardashian is celebrating him already. Of course, this wouldn't be a Kardashian party without over-the-top touches, such as the star bringing in a party planner — that's right, for a preschool party. Celebrity party planner Mindy Weiss reportedly helped pull off this blowout birthday complete with calling in a balloon styling company to create the impressive balloon features for 3-year-olds. And did we spy an oversized bounce house outside as well? This is one impressive party for someone who may not even be potty trained yet!
Meanwhile, another video posted to an Instagram account devoted to all things Kardashian and Jenner showed Psalm with his siblings and cousins clearly having a blast at the party. They're making slime, smashing a piñata and using a mallet to chip into what else but a chocolate Hulk fist!
While the birthday bonanza was clearly a hit for Psalm and his family members, it wouldn't be a Kardashian affair without criticism. As one person commented, "Who Cares??? Kids are starving in This Country!!!"
It's also worth noting that according to Page Six, one person not on hand for the party was Psalm's dad, Kanye West, who is reportedly in Tokyo at this time.