Christina Hall Fans Troll Ant Anstead Over Hudson Custody Fight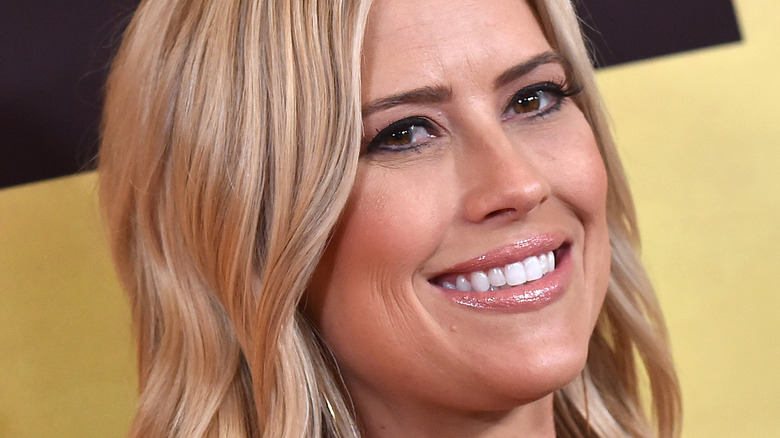 DFree/Shutterstock
Ant Anstead has been mostly quiet on social media following his filing for sole custody of his son with ex-wife Christina Hall — she's now remarried to realtor Joshua Hall. The shocking turn of events took place late last month, with the British TV personality alleging that the HGTV mainstay had not been spending even half the month with 2-year-old Hudson, going on several months (via People). It's worth noting Hall has refuted this claim.
Before the filing hit the news, Anstead had been very active on Instagram, with the dad of three (he shares two other children with his first ex-wife, Louise according to Life & Style) gushing about his girlfriend Renée Zellweger just days prior to asking a judge to end his current custody arrangement with Hall. Since that post, the "Celebrity IOU: Joyride" host has kept personal shares on a backburner, perhaps because part of his court filing included a request that Hudson no longer be featured on social media in paid content. Incidentally, Hall has continued to share posts about their son since the filing.
But even if Anstead is keeping his Instagram strictly business, that fact hasn't stopped Hall's fans from trolling the dad amid the custody drama.
Fans debate the merits of the stars' parenting on Instagram
Ant Anstead shared an update on his weekend plans in Miami with his Instagram followers, posting a reel of photos and videos chronicling his time spent rubbing elbows with celebrities like James Marsden and hanging out at the race track. While most fans enthused over how awesome the experience looked, some of Christina Hall's supporters used the comments section of the post to share their thoughts about Anstead's move to win sole custody of Hudson.
"Kids Need both Parents. Don't do the control thing and just make out a good parenting plan," chided one of Hall's fans. "Christina a good mom n person. Hope u can see that," another fan commented.
To be fair, plenty of Anstead's supporters popped into the conversation to defend him, calling him a great dad and calling out Hall for her recent choices.
Ant Anstead also has his supporters
Although Ant Anstead's Instagram post had nothing to do with his family drama and did not feature his little boy, Hudson, who is at the center of the custody battle, that didn't prevent fans from taking to the comments section to call him a "clown" among other insults.
But not everyone who commented on the series of photos and videos was team Christina Hall. In fact, plenty of people expressed solidarity with Anstead, with one person saying, "Ant is awesome & is an amazing father." 
A lot of other commenters to the post also chastised Hall and her first ex-husband Tarek El Moussa for sharing photos of their sick son Brayden, who spent the weekend in the hospital after needing an emergency appendectomy. Many people felt the parents should not have posted such a personal picture of the 6-year-old and also bashed the "Christina on the Coast" star for blocking negative comments to her posts as well as people who comment on Anstead's content. 
Several other "experts" on their relationship blasted the HGTV personality for her poor parenting, citing her admission that she smoked a psychedelic drug around the time she met Joshua Hall as one recent misstep.